SECONDARY AORTOENTERIC FISTULA – AN UNCOMMON SOLUTION FOR A COMPLEX CASE
Keywords:
Aortoenteric fistula, graft infection, axillobifemoral bypass, hepatorenal bypass, renal revascularization
Abstract
Introduction
Secondary aortoenteric fistula is a fearsome complication of aortic surgery due to its high morbidity and mortality. Therapeutic decision-making is mostly determined by the possibility of concomitant prosthetic infection.
Case report
We present the case of a 55 year old male patient with previous juxta-renal aortic aneurysm resection and tube graft interposition. A left kidney infarction was detected at the third post-operative month during investigation for persistent lumbar pain. The patient was admitted 14 months after the surgery with a four-month history of fever, night sweats and weight loss and. A CT angiogram revealed thickening of peri-aortic tissues and a fluid collection anteriorly to the left iliopsoas muscle. A PET scan showed increased uptake around the graft, indicating the presence of infection.
The patient underwent axillobifemoral bypass and removal of the infected graft with ligation of the para-renal aorta. Revascularization of the right kidney was achieved via hepatorenal bypass with inverted great saphenous vein. A fistulous tract in the third portion of the duodenum was noted, mandating duodenectomy and Roux-en-Y gastrojejunostomy. The patient completed a three-week course of triple antibiotic and anti-fungal therapy and a further week of double antibiotic therapy, being discharged after 30 days. A CT angiogram at six weeks showed continued patency of the revascularization procedures and no intra-abdominal complications.
Conclusion
Open surgery remains the most effective treatment in good-risk patients. The adoption of alternative solutions is a necessity to cope with the anatomic singularities of more complex cases.
Downloads
Download data is not yet available.
References
1 - Batt M, Jean-Baptiste E, O'Connor S, et al: Early and late results of contemporary management of 37 secondary aortoenteric fistulae. Eur J Vasc Endovasc Surg 2011; 41:748-57
2 - Seeger JM, Back MR, Albright JL, et al: Influence of patient characteristics and treatment options on outcome of patients with prosthetic aortic graft infection. Ann Vasc Surg 1999; 13:413
3 - Reilly LM: Aortic graft infection: evolution in management.  Cardiovasc Surg  2002; 10:372
4 - Vollmar JF, Kogel H; Aorto-enteric fistulas as postoperative complication. J Cardiovasc Surg 1987; 28:479
5 - Kuestner LM, Reilly LM, Jicha DL, et al: Secondary aortoenteric fistula: contemporary outcome with use of extraanatomic bypass and infected graft excision. J Vasc Surg 1995; 21-184
6 - Clagett GP, Bowers BL, Lopez-Viego MA, et al; Creation of a neo-aortoiliac system from lower extremity deep and superficial veins.  Ann Surg  1993; 218-39
7 - Libertino JA, Zinman L, Breslin DJ, et al; Hepatorenal artery bypass in the management of renovascular hypertension. J Urol 1976; 115(4): 369-72
8 - Fergany A, Kolettis P, Novick AC; The contemporary role of extra-anatomical surgical renal revascularization in patients with atherosclerotic renal artery disease. J Urol 1995; 153(6):1798-801
9 - Rigdon EE, Durham JR, Massop DW, et al; Hepatorenal and splenorenal artery bypass for salvage of renal function. Ann Vasc Surg 1991; 5(2):133-7
10 - Lerussi G, O'Brien N, Sessa C, et al; Hepatorenal bypass allowing fenestrated endovascular repair of juxtarenal abdominal aortic aneurysm: a case report. Eur J Vasc Endovasc Surg 2010; 39:305-7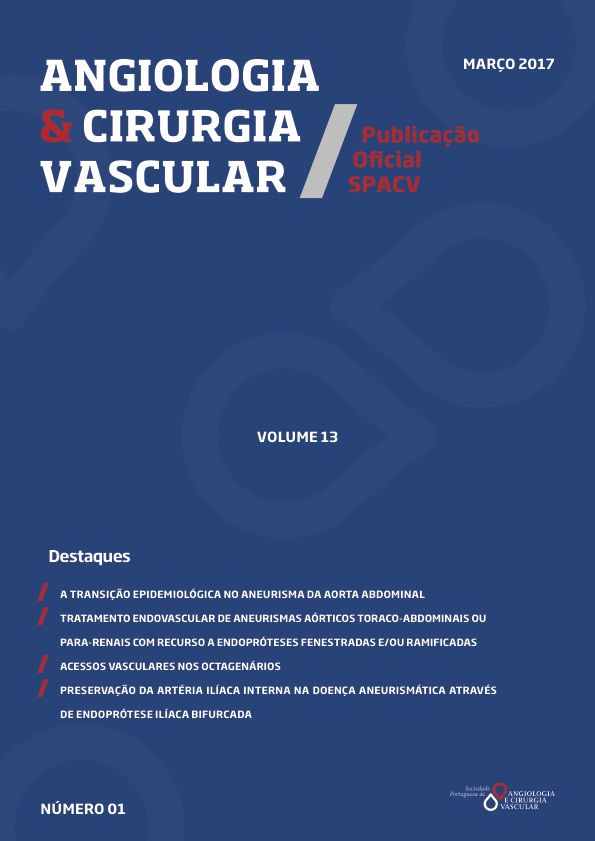 Downloads
How to Cite
1.
Ferreira T, Ministro A, Martins P, Evangelista A, Moutinho M, Fernandes e Fernandes J. SECONDARY AORTOENTERIC FISTULA – AN UNCOMMON SOLUTION FOR A COMPLEX CASE. Angiol Cir Vasc [Internet]. 2017 Jun. 3 [cited 2023 Jun. 7];13(1):46-9. Available from: https://acvjournal.com/index.php/acv/article/view/59