POST-TRANSPLANT RENAL ARTERY KINKING ASSOCIATED WITH THE PATIENT'S POSITION: CASE-REPORT
Keywords:
Kidney Transplantation, Renal Artery, Renal Artery Obstruction, Vascular surgery
Abstract
Introduction: Transplant renal artery kinking is an unusual post-kidney transplant complication usually associated with early graft dysfunction.
Methods: We present an unusual clinical manifestation of post-transplant renal artery kinking. A review of the clinical process was made with patient consent.
Results: A 52-year-old male with end-stage renal disease secondary to IgA nephropathy was submitted to cadaveric donor kidney transplant. The patient had good renal function postoperatively, however, after three months the patient began a gradual reduction of diuresis and worsening of renal function, needing to remain in a "squatting position" 5 hours a day to maintain a normal urine output. A bypass between the left external iliac artery and the graft renal artery with an ipsilateral autologous great saphenous vein was made to correct a renal artery kinking and the patient fully recovered.
Conclusion: Renal artery kinking commonly manifested as renal graft dysfunction may have a singular form of presentation. Early intervention is essential to preserve graft viability.
Downloads
Download data is not yet available.
References
1. Hurst FP, Abbott KC, Neff RT, et al. Incidence, predictors and outcomes of transplant renal artery stenosis after kidney transplantation: analysis of USRDS. Am J Nephrol 2009; 30(5): 459–67.

2. Osman Y, Shokeir A, Ali-el-Dein B, et al. Vascular complications after live donor renal transplantation: study of risk factors and effects on graft and patient survival. J Urol 2003; 169(3): 859–62.

3. Miah M, Madaan S, Kessel DJ, Newstead CG, Guleria S. Transplant renal artery kinking: a rare cause of early graft dysfunction. Nephrol Dial Transplant 2004; 19(7): 1930–1.

4. Chua GC, Snowden S, Patel U. Kinks of the transplant renal artery without accompanying intraarterial pressure gradient
do not require correction: five-year outcome study. Cardiovasc Intervent Radiol 2004; 27(6): 643–50.

5. Ayvazoglu Soy EH, Akdur A, Kirnap M, Boyvat F, Moray G, Haberal M. Vascular Complications After Renal Transplant: A Single-Center Experience. Exp Clin Transplant 2017; 15(Suppl 1): 79–83.

6. Ghazanfar A, Tavakoli A, Augustine T, Pararajasingam R, Riad H, Chalmers N. Management of transplant renal artery stenosis and its impact on long-term allograft survival: a single-centre experience. Nephrol Dial Transplant 2011; 26(1): 336–43.

7. Buturovic-Ponikvar J. Renal transplant artery stenosis. Nephrol Dial Transplant 2003; 18 Suppl 5: v74-7.

8. Granata A, Clementi S , Londrino F, e t al. Renal t ransplant vascular complications: the role of Doppler ultrasound. J Ultrasound 2015; 18(2): 101–7.

9. Irshad A, Ackerman SJ, Campbell AS, Anis M. An overview of renal transplantation: current practice and use of ultrasound. Semin Ultrasound CT MR 2009; 30(4): 298–314.

10. Reddy VS, Guleria S, Abdullah S, Bansal R. A kink in transplantation: A rare cause of early graft dysfunction. Saudi Journal of Kidney Diseases and Transplantation 2013; 24(5): 965–8.

11. Meier R, Fournier I, Toso C, Berney T, Bednarkiewicz M. Surgical Repair of a Living-Donor Kidney Graft Artery Kink by a Postanastomotic External Iliac Artery Rotation and Reanastomosis. Ann Vasc Surg 2017; 44: 414 e5- e9.

12. Ngo AT, Markar SR, De Lijster MS, Duncan N, Taube D, Hamady MS. A Systematic Review of Outcomes Following Percutaneous Transluminal Angioplasty and Stenting in the Treatment of Transplant Renal Artery Stenosis. Cardiovasc Intervent Radiol 2015; 38(6): 1573–88.

13. Rouer M, Godier S, Monnot A, et al. Long-term Outcomes after Transplant Renal Artery Stenosis Surgery. Ann Vasc Surg 2018.

14. Kolli KP, LaBerge JM. Interventional Management of Vascular Renal Transplant Complications. Tech Vasc Interv Radiol 2016; 19(3): 228–36.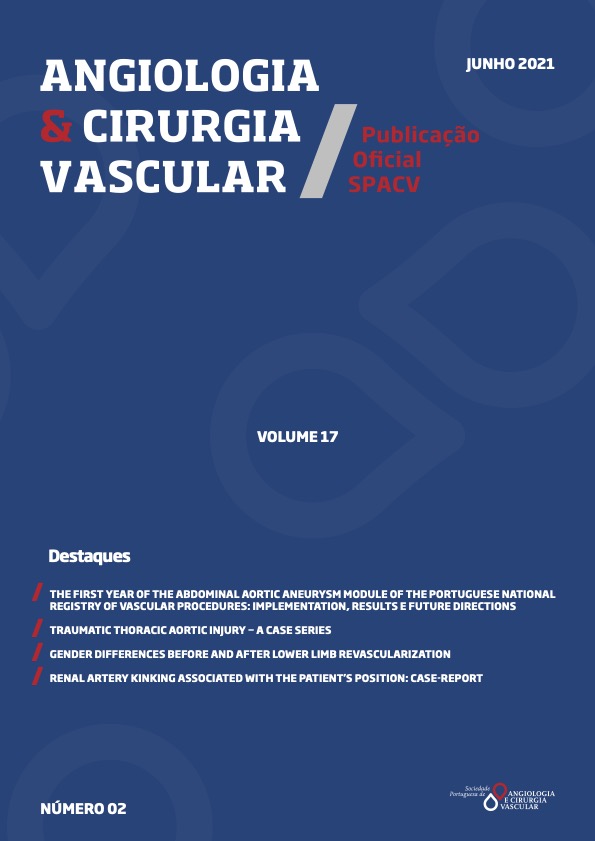 Downloads
How to Cite
1.
Mendes D, Machado R, Veiga C, Veterano C, Rocha H, Castro J, Pinelo A, Almeida H, de Almeida R. POST-TRANSPLANT RENAL ARTERY KINKING ASSOCIATED WITH THE PATIENT'S POSITION: CASE-REPORT. Angiol Cir Vasc [Internet]. 2021 Sep. 10 [cited 2023 Jun. 7];17(2):142-5. Available from: https://acvjournal.com/index.php/acv/article/view/373