LIVING DONOR RENAL TRANSPLANTATION — A COMPLEX VASCULAR CASE
Keywords:
Renal transplantation, Living donor, Complex anatomy, Vascular reconstruction
Abstract
Introduction: The presence of multiple renal vessels is frequent in the general population and, when present in a donor, increases the complexity of renal transplantation surgery, increasing the risk of complications. Although transplantation of cadaver donor grafts with these characteristics is accepted, the same procedure in living donor remains controversial. 
The objective of this work is to present the case of a living donor renal transplant surgery with complex vascular anatomy - two arteries and two renal veins. 
Clinical case: 42-year-old woman with end stage renal disease due to IgA nephropathy, on regular hemodialysis program for 9 months, evaluated in more than one center for living donor renal transplantation and rejected by the complexity of the vascular anatomy of the donor - right kidney with two arteries and two short renal veins. In our center, where vascular surgery integrates the multidisciplinary team of renal transplantation, the transplant was accepted considering that the ex-vivo vascular reconstruction of the graft (back table) was technically feasible. 
Arterial reconstruction was performed on a lateral-lateral anastomosis of the two renal arteries. Venous reconstruction included the stretching of the renal veins with the great saphenous vein of the recipient and its posterior lateral-lateral anastomosis. The kidney was implanted in the recipient's right iliac fossa. 
Immediate diuresis after dislodging was observed, with a rapid decrease in creatinine values to normal and discharged on the 16th postoperative day. 
Conclusion: Organ shortage is an important limiting factor for renal transplantation. Inclusion of donors with multiple renal vessels has shown good results and may increase organ availability. The integration of an experienced vascular surgeon in the multidisciplinary team of renal transplantation allows the accomplishment of complex arterial and venous reconstructions in grafts with less favorable vascular anatomy. 
Downloads
Download data is not yet available.
References
1. Registo Português de Diálise e Transplantação Renal 2018, obtido de Sociedade Portuguesa de Nefrologia: http://www.bbg01.com/cdn/rsc/spnefro/gabreg/305/RelatriosAnuais2018.pdf, consultado pela última vez a 14 de Junho de 2018.

2. Donald E. Hricik. Transplant Immunology and Immunosuppression: Core Curriculum 2015, Am J Kidney Dis. 2015;65(6):956-966.

3. Port FK, Dykstra DM, Merion RM, Wolfe RA. Trends and results for organ donation and transplantation in the United States. Am J Transplant. 2005;5(4 Pt 2):843.

4. Vella J. Patient survival after renal transplantation, em www. uptodate.com, revisto pela última vez a 15 de Setembro de 2017, consultado pela última vez a 14 de Junho de 2018.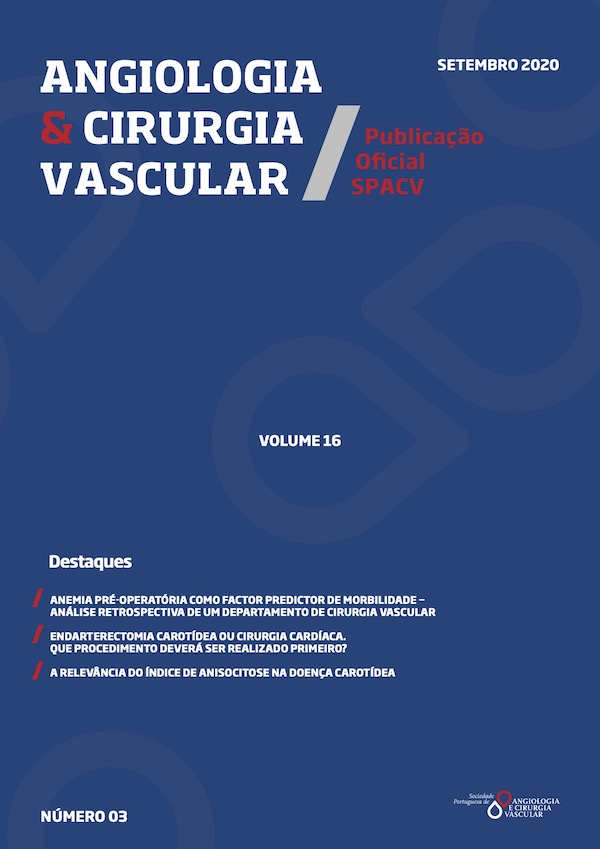 Downloads
How to Cite
1.
Pinto V, Ministro A, Silvestre L, Mendes Pedro L, Lopez N, Guerra J, Baptista L. LIVING DONOR RENAL TRANSPLANTATION — A COMPLEX VASCULAR CASE. Angiol Cir Vasc [Internet]. 2020 Dec. 13 [cited 2022 Aug. 18];16(3):181-5. Available from: https://acvjournal.com/index.php/acv/article/view/262