A terapêutica antitrombótica: atual e em desenvolvimento
Ana Afonso

Serviço de Angiologia e Cirurgia Vascular, Hospital Garcia de Orta, Almada, Portugal

Gil Marques

Serviço de Angiologia e Cirurgia Vascular, Hospital Garcia de Orta, Almada, Portugal

Ana Gonçalves

Serviço de Angiologia e Cirurgia Vascular, Hospital Garcia de Orta, Almada, Portugal

Pedro Barroso

Serviço de Angiologia e Cirurgia Vascular, Hospital Garcia de Orta, Almada, Portugal

Antonio Gonzalez

Serviço de Angiologia e Cirurgia Vascular, Hospital Garcia de Orta, Almada, Portugal

Hugo Rodrigues

Serviço de Angiologia e Cirurgia Vascular, Hospital Garcia de Orta, Almada, Portugal

Maria José Ferreira

Serviço de Angiologia e Cirurgia Vascular, Hospital Garcia de Orta, Almada, Portugal
Abstract
Thrombosis is one of the major causes of death worldwide. Continous increase in the knowledge about the pathophysiological changes associated with thrombosis led to the development of effective therapies (anti-platelet, anticoagulant and fibrinolytics) for the prevention and treatment of the thromboembolic disease.
However, better understanding of the underlying processes is still crucial for the development of more effective and safer antithrombotic drugs.
The aim of this review is summarize the current treatment, as well as the new agentes and to highlight their proven or possible role in Vascular Surgery.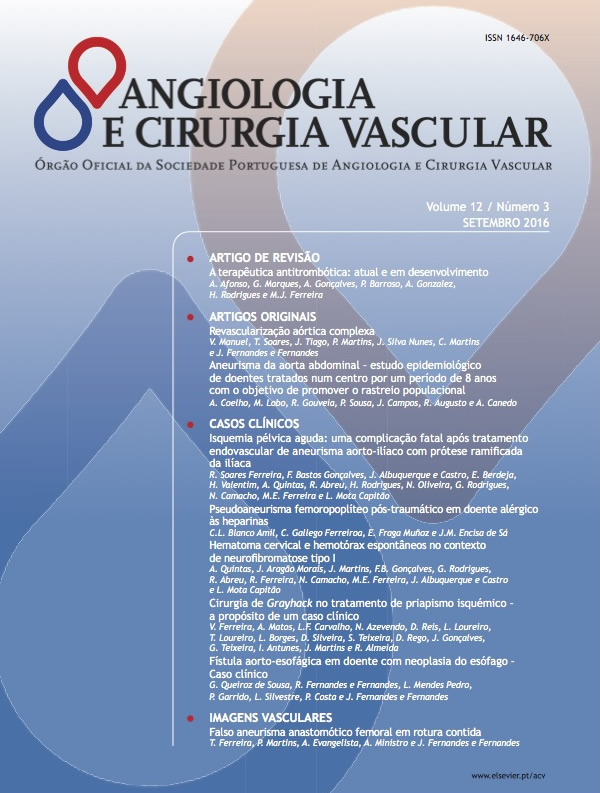 How to Cite
AFONSO, Ana et al. A terapêutica antitrombótica: atual e em desenvolvimento.
Angiologia e Cirurgia Vascular
, [S.l.], v. 12, n. 3, p. 170-179, nov. 2016. ISSN 2183-0096. Available at: <
http://acvjournal.com/index.php/acv/article/view/3
>. Date accessed: 19 oct. 2017.