ENDOVASCULAR TREATMENT FOR TOTALLY IMPLANTABLE CENTRAL VENOUS ACCESS DEVICE-RELATED SUPERIOR VENA CAVA SYNDROME — CASE REPORT
Keywords:
Superior vena cava syndrome, Totally implantable vascular access device, Late complications, Endovascular treatment
Abstract
Introduction: Benign superior vena cava syndrome (SVCs) is rare and may be related to a totally implantable vascular access device (TIVAD). In the past 20 years, percutaneous endovascular placement of a stent has been rising as a viable option for SVCs treatment.
Case Report: We report the case of a 42-year-old woman with the diagnosis of classical Hodgkin lymphoma who presented a SVCs one year after placement of a TIVAD. After failure of conservative treatment, we placed an auto-expansible stent through the TIVAD with good radiologic and clinical result.
Conclusion: Endovascular treatment for TIVAD-related SVCs is safe and may be considered a first line approach.
Downloads
Download data is not yet available.
References
1. Straka C, Ying J, Kong F-M, et al. Review of evolving etiologies,
implications and treatment strategies for the superior vena cava
syndrome. SpringerPlus. 2016;5:229.
2. Tonak J, Fetscher S, Barkhausen J, et al. Endovascular recanalization
of a port catheter-associated superior vena cava syndrome. J
Vasc Access. 2015;16(5):434–6.
3. Crawford JD, Liem TK, Moneta GL. Management of catheter-associated
upper extremity deep venous thrombosis. J Vasc Surg
Venous Lymphat Disord. 2016 Jul;4(3):375–9.
4. Rizvi AZ, Kalra M, Bjarnason H, et al. Benign superior vena cava
syndrome: Stenting is now the first line of treatment. J Vasc Surg.
2008 Feb 1;47(2):372–80.
5. Lacout A, Marcy P-Y, Thariat J, et al. Radio-anatomy of the superior
vena cava syndrome and therapeutic orientations. Diagn
Interv Imaging. 2012 Jul;93(7–8):569–77.
6. Stanford W, Jolles H, Ell S, et al. Superior vena cava obstruction:
a venographic classification. AJR Am J Roentgenol. 1987
Feb;148(2):259–62.
7. Pikwer A, Acosta S, Kölbel T, et al. Endovascular intervention
for central venous cannulation in patients with vascular
occlusion after previous catheterization. J Vasc Access. 2010
Dec;11(4):323–8.
8. Nakazawa N. Challenges in the Accurate Identification of the
Ideal Catheter Tip Location. J Assoc Vasc Access. 2010 Jan
1;15(4):196–201.
9. Gray BH, Olin JW, Graor RA, et al. Safety and Efficacy of Thrombolytic
Therapy for Superior Vena Cava Syndrome. Chest. 1991
Jan;99(1):54–9.
10. Kishi K, Sonomura T, Mitsuzane K, et al. Self-expandable metallic
stent therapy for superior vena cava syndrome: clinical observations.
Radiology. 1993 Nov 1;189(2):531–5.
11. Qanadli SD, El Hajjam M, Mignon F, et al. Subacute and chronic
benign superior vena cava obstructions: endovascular treatment
with self-expanding metallic stents. Am J Roentgenol. 1999 Jul
1;173(1):159–64.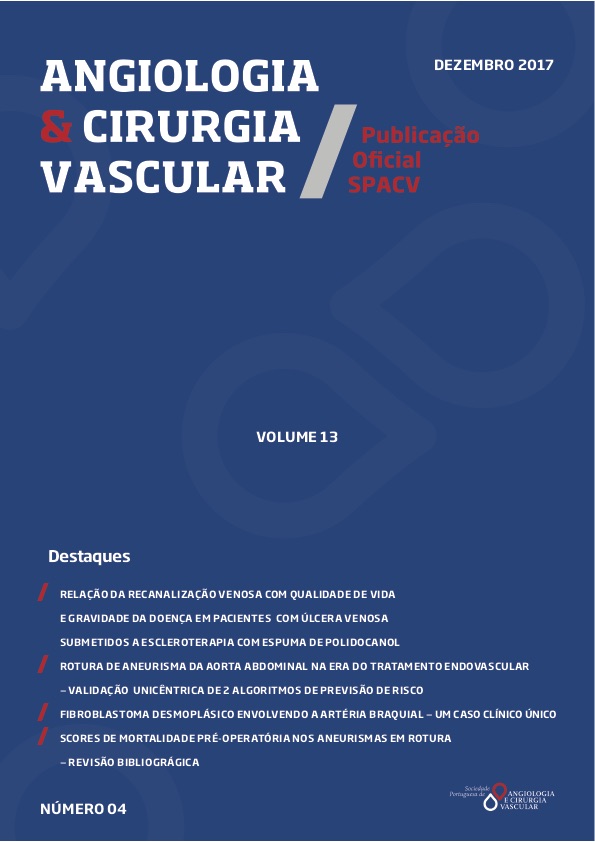 Downloads
How to Cite
1.
Fróis Borges M, Eiró FC, Afonso A, Rodrigues H, Gonzalez A, Marques G, Barbas MJ. ENDOVASCULAR TREATMENT FOR TOTALLY IMPLANTABLE CENTRAL VENOUS ACCESS DEVICE-RELATED SUPERIOR VENA CAVA SYNDROME — CASE REPORT. Angiol Cir Vasc [Internet]. 2017 Dec. 30 [cited 2022 Aug. 9];13(4):42-5. Available from: https://acvjournal.com/index.php/acv/article/view/45