NELLIX® ENDOPROTHESIS IN THE TREATMENT OF AAA — REPORT OF OUR UNSUCCESSFULL EXPERIENCE
Keywords:
Abdominal Aortic Aneurysm, Endovascular Aneurysm Sealing (EVAS), Complications
Abstract
Introduction: Nellix® endoprosthesis (Endologix Inc., Irvine, CA) is composed by two ballon-expandable stents surrounded by endobags, which are filled with a polymer, thus obliterating the aneurysmal sac – Endovascular Aneurysm Sealing (EVAS). Initially, due to its properties, was introduced with extended IFU, allowing the use in more complex abdominal aortic aneurysms. However, during the initial experience with this endoprosthesis, a high number of poor outcomes have been described, leading to the progressive restriction of IFU. Currently, it has been discontinued and is only available in selected centers for clinical research purposes. Our study aim to report the institutional results of the use of the Nellix® endoprosthesis in the treatment of AAA.
Material and Methods: A retrospective study was designed, including patients with AAA treated with Nellix® endoprosthesis treated at a universitary tertiary care facility. Elective and urgent patients we're included, and patients we're identified through the institutional files. Thoraco-abdominal aneurysm we're excluded. Data about baseline characteristics, surgery, hospitalization course and follow-up post discharge was obtained by consulting personal clinical files. Primary endpoints are technical and clinical success at 30 days, as complications and secondary interventions at mid and long-term.
Results: Between 2015 and 2017, this endoprosthesis was used in 12 patients, 9 male and 3 female, with a mean age of 71 (±8) years. The most common comorbidities associated we're hypertension (n=12), current or former tobacco use (n=7), coronary heart disease (n=7), peripheral artery disease (n=6) and chronic kidney disease (n=6) In all patients, the treatment indication was primary degenerative aneurysm, with one exception, which was the presence of type 1a EL after EVAR. Ten patients underwent elective and 2 urgent surgery due to symptomatic aneurysm. Three we're aortoiliac aneurysms and the remaining aortic aneurysms (n=9) with three having involvement of at least one renal artery. Nine patients underwent conventional EVAS; the remaining EVAS with chimney (ChEVAS) for the renal artery(ies) or superior mesenteric artery (n=3). The average preoperative diameter was 57(±6.5) mm. One patient was simultaneously submitted to endovascular repair of a popliteal artery aneurysm with covered stent. By 30 days, death occurred in 2 patients, all submitted to ChEVAS. The most common post-operative complications we're respiratory failure (n=3), AKI with dialysis (n=3), being that in two patients there was intentional covering of the renal arteries (patients with pre-dialysis CKD). In this time frame, we verified one reintervention: catheter-directed thrombolysis for acute limb ischemia due to popliteal covered stent thrombosis. After 30 days, 4 deaths occured (2 year survival 60%, SE 0.154). The most common complications were type 1a EL(n=3), type 1b EL(n=1) and aortic stent thrombosis (n=1). Two patients have already been reintervened: one submitted to femoro-femoral crossover bypass and the other to surgical endoprosthesis explantation and in situ reconstruction aortobifemoral bypass. The last was deceased in the early postoperative period. Two patients are waiting reintervention for type Ia EL and aneurysmal sac growth. The average sac diameter in last follow-up or before secondary intervention was 59(±10.6) mm. Mean follow-up time is 2,3(±1,6) years. 
Conclusions: In our institution, the use of Nellix® endoprosthesis is associated with a high rate of perioperative morbidity and mid to long-term aneurysm-related complications, being type Ia EL the most common. Although the free use of the endoprosthesis is currently discontinued, patients who have previously undergone EVAS lack a specific and more intensive surveillance plan for the timely detection and correction of complications.
Downloads
Download data is not yet available.
References
1. Thompson MM, Heyligers JM, Hayes PD, Reijnen MMPJ, Böckler D, Schelzig H, et al. Endovascular Aneurysm Sealing: Early and Midterm Results from the EVAS FORWARD Global Registry. J Endovasc Ther. 2016;

2. Böckler D, Holden A, Thompson M, Hayes P, Krievins D, De Vries JPPM, et al. Multicenter Nellix EndoVascular Aneurysm Sealing system experience in aneurysm sac sealing. J Vasc Surg. 2015;

3. Patel R, Sweeting MJ, Powell JT, Greenhalgh RM. Endovascular versus open repair of abdominal aortic aneurysm in 15-years' follow-up of the UK endovascular aneurysm repair trial 1 (EVAR trial 1): a randomised controlled trial. Lancet. 2016;

4. Carpenter JP, Cuff R, Buckley C, Healey C, Hussain S, Reijnen MMPJ, et al. One-year pivotal trial outcomes of the Nellix system for endovascular aneurysm sealing. In: Journal of Vascular Surgery. 2017.

5. Thompson M, Youssef M, Jacob R, Zerwes S, Reijnen M, Szopinski P, et al. Early Experience With Endovascular Aneurysm Sealing in Combination With Parallel Grafts for the Treatment of Complex Abdominal Aneurysms: The ASCEND Registry. J Endovasc Ther. 2017;

6. Reijnen MMPJ, De Bruin JL, Mathijssen EGE, Zimmermann E, Holden A, Hayes P, et al. Global experience with the Nellix endosystem for ruptured and symptomatic abdominal aortic aneurysms. J Endovasc Ther. 2016;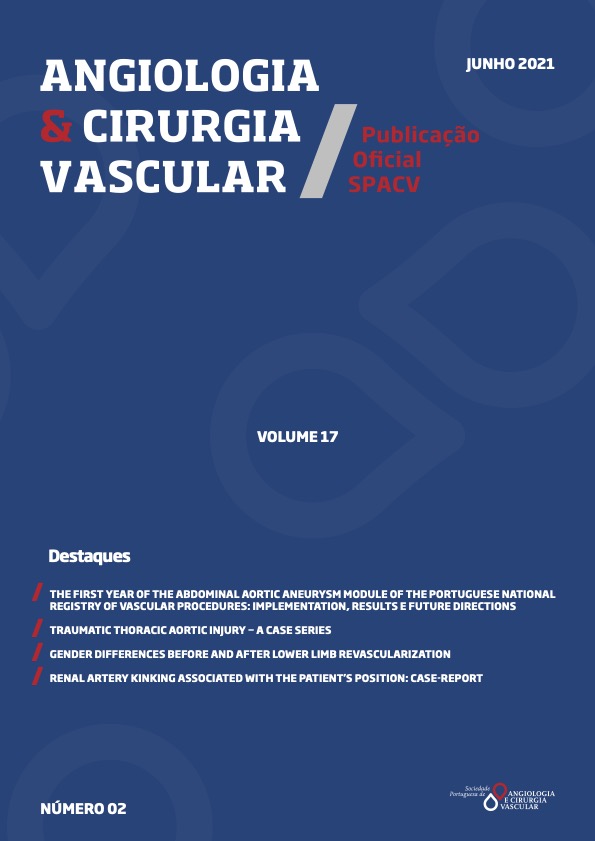 Downloads
How to Cite
1.
Ribeiro T, Ferreira RS, Alves G, Catarino J, Vieira I, Correia R, Bento R, Garcia R, Pais F, Cardoso J, Gonçalves FB, Ferreira ME. NELLIX® ENDOPROTHESIS IN THE TREATMENT OF AAA — REPORT OF OUR UNSUCCESSFULL EXPERIENCE. Angiol Cir Vasc [Internet]. 2021 Sep. 10 [cited 2022 Aug. 9];17(2):88-96. Available from: https://acvjournal.com/index.php/acv/article/view/317