TREATMENT OF ARTERIAL PATHOLOGY IN THE PORTUGUESE NATIONAL HEALTH SERVICE — A REPORT OF THE YEARS 2009-2017
Keywords:
Vascular Surgery, Registry, Health policy, Epidemiology
Abstract
Introduction: The analysis of administrative databases, using administrative data from hospital codification, is an important tool to improve knowledge and management of healthcare. Through this, it is possible to evaluate tendencies as well as monitor and evaluate generic outcomes.
Method: The present report is a result of a collaboration protocol between the Portuguese Society of Angiology and Vascular Surgery and the NOVA National School of Public Health, based on the analysis of data resulting from hospital codification by homogeneous diagnostic groups gathered by the Portuguese Central Administration of Health System. It was an observational, retrospective, transversal study. It presents the tendencies observed in hospital admissions and interventions in the three main groups of arterial pathology (abdominal aneurysm, peripheral arterial disease and cerebrovascular disease) handled by Angiology and Vascular Surgery in Portugal.
Results: Data from hospital admissions within the Portuguese National Health Service in Continental Portugal was obtained from 2009 to 2017. The large majority of patients were in the range of 65 to 84 years-old and male sex was predominant. A significant proportion of admission were non-elective. Total number of admissions increased over the years. Globally, there was a gradual increase in the use of endovascular techniques, which were dominant in the majority of fields of intervention. However, conventional surgery remained relevant as a therapeutic modality and was dominant in the case of symptomatic carotid disease.
Conclusion: A tendency in increasing number of admissions as well as increasing proportion of endovascular treatment was noted, which has important implications in the National Healthcare System management and in the planning of activity by surgical departments. The use of administrative data has important limitations in the analysis, in obtaining patient characteristics and operative details, and represents only the reality of the National Healthcare System of Continental Portugal. Never the less, it has been the basis for better understanding the characteristics of patients and procedures in different areas of care and to support clinical and governance decisions.
Downloads
Download data is not yet available.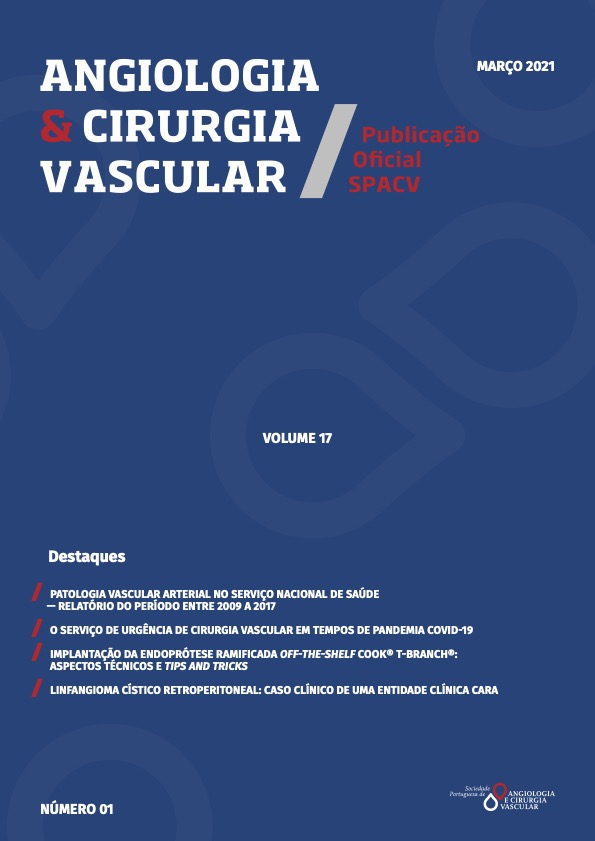 Downloads
How to Cite
1.
Bastos Goncalves F, Sousa P, Abreu D, Menezes JD, Mansilha A. TREATMENT OF ARTERIAL PATHOLOGY IN THE PORTUGUESE NATIONAL HEALTH SERVICE — A REPORT OF THE YEARS 2009-2017. Angiol Cir Vasc [Internet]. 2021 Jun. 2 [cited 2023 Sep. 23];17(1):1-6. Available from: https://acvjournal.com/index.php/acv/article/view/386