CHIMNEY TECHNIQUE FOR TREATMENT OF A SYMPTOMATIC ABDOMINAL AORTIC ANEURYSM IN AN URGENT SITUATION: A CASE REPORT
Keywords:
AAA, Juxtarenal Abdominal Aortic Aneurysm, Hostile neck, Chimney, CHEVAR, Parallel grafts
Abstract
The number of patients treated with abdominal aortic aneurysm (AAA) increased considerably in the last decades. Even though open surgery remains the gold standard for AAA treatment, endovascular techniques like Chimney grafts (CGs) showed to be reliable to treat patients with contraindications for conventional surgery and hostile neck aneurysms.
CGs are off-the-shelf stents which are accessible and useful for urgent/emergent cases.
This work reports a case of a 67 years-old caucasian male with a symptomatic infrarenal aortic aneurysm having a 2.5mm short neck and a maximum diameter of 67 mm. Due to patient comorbidities and after ruling out other causes for the pain, he was treated in urgency with chimney technique to prevent rupture.
Downloads
Download data is not yet available.
References
1. Igari K, Kudo T, Toyofuku T, Inoue Y. The outcomes of endovascular aneurysm repair with the chimney technique for juxtarenal aortic aneurysms. Ann Thorac Cardiovasc Surg. 2016;22(3):174–80.

2. Li Y, Zhang T, Guo W, Duan C, Wei R, Ge Y, et al. Endovascular chimney technique for juxtarenal abdominal aortic aneurysm: a systematic review using pooled analysis and meta-analysis. Ann Vasc Surg [Internet]. 2015;29(6):1141–50. Available from: http://www.ncbi.nlm.nih.gov/pubmed/26004962

3. Jabr A Bin, Lindblad B, Kristmundsson T, Dias N, Resch T, Malina M. Outcome of visceral chimney grafts after urgent endovascular repair of complex aortic lesions. J Vasc Surg [Internet]. 2016;63(3):625–33. Available from: http://dx.doi.org/10.1016/j.jvs.2015.09.023

4. Li Y, Hu Z, Bai C, Liu J, Zhang T, Ge Y, et al. Fenestrated and Chimney Technique for Juxtarenal Aortic Aneurysm: A Systematic Review and Pooled Data Analysis. Sci Rep [Internet]. 2016;6(January):1–12. Available from: http://dx.doi.org/10.1038/srep20497

5. Criado FJ, Donas KP. Overview of Chimney Endovascular Technique [Internet]. Vol. 12, Endovascular Treatment of Aortic Aneurysms. Elsevier Inc.; 2018. 27–29 p. Available from:https://linkinghub.elsevier.com/retrieve/pii/B9780323511483000066

6. Rouer M., El Batti S., Julia P., De Blic R., Fabiani J.-N., Alsac J.-M. Chimney stent graft for endovascular sealing of a pararenal aortic aneurysm (2014) Annals of Vascular Surgery, 28 (8) , pp. 1936. e15-1936.e18.

7. Calero A, Illig KA. Overview of aortic aneurysm management in the endovascular era. Semin Vasc Surg [Internet].
2016;29(1–2):3–17. Available from: http://dx.doi.org/10.1053/j.semvascsurg.2016.07.003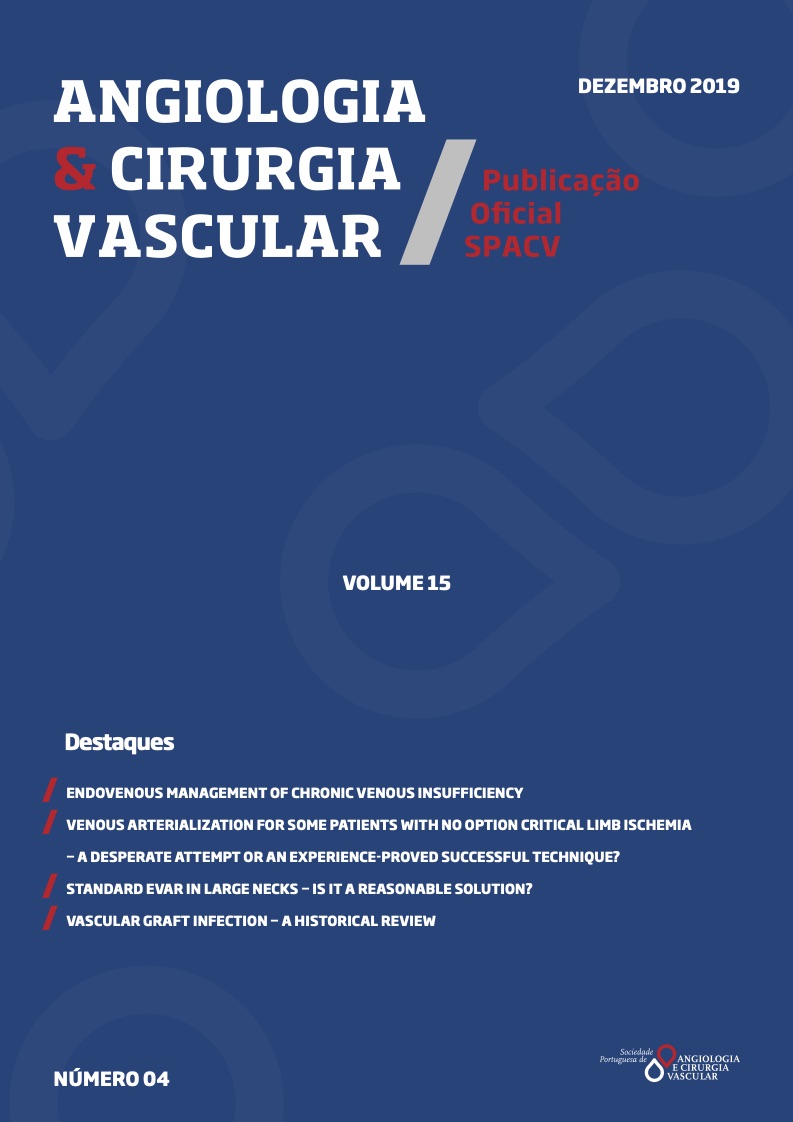 Downloads
How to Cite
1.
Castro JD, Sá Pinto P, Gonçalves J, Ferreira V, Veterano C, Veiga C, Teixeira G, Antunes I, Mendes D, Rocha H, Caetano Pereira MS, Machado R, Almeida R. CHIMNEY TECHNIQUE FOR TREATMENT OF A SYMPTOMATIC ABDOMINAL AORTIC ANEURYSM IN AN URGENT SITUATION: A CASE REPORT. Angiol Cir Vasc [Internet]. 2020 Feb. 7 [cited 2023 Jun. 7];15(4):265-8. Available from: https://acvjournal.com/index.php/acv/article/view/255