ABDOMINAL AORTIC ANEURYSM RUPTURE: WHAT IS THE REAL PREVALENCE IN PATIENTS WITH NO CRITERIA FOR SCREENING OR ELECTIVE REPAIR?
Keywords:
Abdominal aortic aneurysm, Screening, Primary prevention, Ruptured abdominal aortic aneurysm, Risk factors
Abstract
Introduction: The rupture of an abdominal aortic aneurysm (AAA) is frequently fatal and accounts for nearly 1% of all deaths. Data from literature states that screening is cost effective in male patients over the age of 65 with a 44% reduction in AAA related mortality. UK small aneurysm trial participants and other trials concluded that there was no long-term survival benefit of early elective open repair of small AAA (40-55mm). However when these trials began, endovascular aneurysm repair (EVAR) was not an option. Since many consider that EVAR is easier in smaller aneurysms, trials of early endovascular repair versus surveillance for small AAA are ongoing. The purpose of this study was to identify the proportion of abdominal aortic aneurysm ruptures that occur before the screening age or threshold diameter for operative repair is reached.
Methods: The clinical data of all patients admitted in our hospital with the diagnosis of ruptured AAA from January 2007 to December 2015 were retrospectively reviewed.
Results: A total of 60 patients were included in this study, 52 males and 8 females. Mean age at rupture was 74.6±9.5years. Eleven patients (18.3%) were younger than 65 years, with 21.1% of males and no females under the age of 65. Mean aneurysm diameter at rupture was 72.8±20mm. 12 patients (20%) had aneurysm size inferior to 55mm at rupture, and only in one of those infectious etiology was confirmed by histologic analysis. Female rupture below 55 mm reached 37.5% and male rupture reached 15.4%, with no statistically significant difference probably because of the small number of female patients. Between male patients, rupture occurred at a significantly inferior diameter in smokers (p<0,05).
Conclusions: The data from this study show that a 21% of men would not make it to the screening age of 65 before AAA rupture. It also shows that 20% of patients treated for ruptured AAA were below 55 mm diameter. Data from this study also support the previous finding that aneurysm size at the time of rupture is significantly smaller in male smokers.
Downloads
Download data is not yet available.
References
1. HA A, Buxton M, Day N, al e. The Multicentre Aneurysm Screening Study (MASS) into the effect of abdominal aortic aneurysm
screening on mortality in men: a randomised controlled trial. The Lancet. 2002; 16: p. 360(9345):1531-9.

2. Norman P, Jamrozik K, Lawrence-Brown M, al: e. Population based randomised controlled trial on impact of screening on
mortality from abdominal aortic aneurysm. BMJ. 2004; 27;: p.329(7477):1259.

3. Singh K, Bønaa K, Jacobsen B, al e. Prevalence of and risk factors for abdominal aortic aneurysms in a population-based study : The
Tromsø Study. Am J Epidemiol. 2001; 1;: p. 154(3):236-44.

4. Beek S.C. ea. Endovascular Aneurysm Repair Versus Open Repair for Patients with a ruptured Abdominal Aortic Aneurysm: A
Systematic Review and Meta-analysis of Short-term Survival. European jornal of Vascular and Endovascular Surgery. 2007; 47(6): p. 593-602.

5. Karthikesalingan Aea. Mortality from ruptured abdominal aortic aneurysms:clinical lessons from a comparison of outcomes in
England and the USA. Lancet. 2014; 15: p. 383(9921):963-9.

6. Ascher E ea. Ruptured versus elective abdominal aortic aneurysm repair: outcome and cost. Ann Vasc Surg. 1999; 13(6): p. 613-7.

7. Powell J, Brown L, Forbes J, al e. Final 12-year follow-up of surgery versus surveillance in the UK Small Aneurysm Trial. Br J Surg.
2007; 94(6): p. 702-8.

8. Zarrouk M, Lundqvist A, Holst J, al e. Cost-effectiveness of Screening for Abdominal Aortic Aneurysm inCombination with Medical
Intervention in Patients with Small Aneurysms. Eur J Vasc Endovasc Surg. 2016; e: p. 1-8.

9. Lederle F, Wilson S, Johnson G. Immediate Repair Compared with Surveillance For Small Abdominal Aortic Aneurysms. The New
England Journal of Medicine. 2002; 346(19): p. 1437-44.

10. Cao P DRPVFea. Comparison of Surveillance Versus Aortic Endografting for Small Aneurysm Repair (CAESAR): Results from a
Randomised Trial. Eur J Vasc Endovasc Surg. 2011; 41(1): p. 13-25.

11. Ouriel K, Clair D, Kent C. Endovascular repair compared with surveillance for patients with small abdominal aortic aneurysms.
J Vasc Surg. 2010; 51(5): p. 1081-7.

12. Moll F, Powel J, Fraedrich G. Management of Abdominal Aortic Aneurysms: Clinical Practice Guidelines of the European Society
for Vascular Surgery. Eur J Vasc Endovasc Surg. 2011; 41 Suppl 1: p. S1-S58.

13. Bown M, Powel J. Evidence Does Not Support Reducing the Threshold Diameter to 5cm for Elective Interventions in Women with
Abdominal Aortic Aneurysm. Eur J Vasc Endovasc Surg. 2014 Dec; 48(6):614-8.

14. Kontopodis N, Pantidis D, Dedes A. The – Not So – Solid 5.5 cm Threshold for Abdominal Aortic Aneurysm Repair: Facts, Misinterpretations, and Future Directions. Frontiers in Surgery. 2016 Jan; 25;3:1.

15. Laine MT, Vänttinen T, Kantonen I. Rupture of Abdominal Aortic Aneurysms in Patients Under Screening Age and Elective Repair
Threshold. Eur J Vasc Endovasc Surg. 2016; 51(4): p. 511-6.

16. Guirguis-Blake JM BTSXea. Primary Care Screening for Abdominal Aortic Aneurysm: A Systematic Evidence Review for the
U.S. Preventive Services Task Force. AHRQ Publication. 2014; 14-05202-EF-1.

17. Moll FL PJFGea. Management of Abdominal Aortic Aneurysms: Clinical Practice Guidelines of the European Society for Vascular
Surgery. Eur J Vasc Endovasc Surg. 2011 ; 41: p. S1-S58.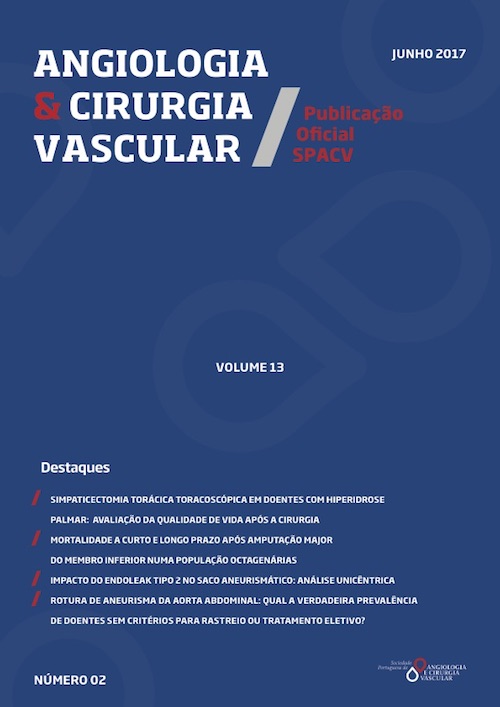 Downloads
How to Cite
1.
Coelho A, Lobo M, Gouveia R, Campos J, Augusto R, Coelho N, Canedo A. ABDOMINAL AORTIC ANEURYSM RUPTURE: WHAT IS THE REAL PREVALENCE IN PATIENTS WITH NO CRITERIA FOR SCREENING OR ELECTIVE REPAIR?. Angiol Cir Vasc [Internet]. 2017 Nov. 16 [cited 2022 May 19];13(2):35-41. Available from: https://acvjournal.com/index.php/acv/article/view/116