Time goals in ruptured abdominal aortic aneurysm – the experience of a tertiary centre
Keywords:
Aortic aneurysm, abdominal, aortic rupture, time factors
Abstract
INTRODUCTION: Guidelines state that ruptured abdominal aortic aneurysms should be treated shortly after the diagnosis and ideally within 90 minutes.
The main aim of this study is to assess the referral pattern of our centre regarding the intervals between the diagnosis of ruptured AAA and the surgical repair, considering the geographical referral areas of our hospital.
METHODS: We conducted an observational, retrospective cohort study from a single centre. The study population included all patients with the diagnosis of symptomatic or ruptured abdominal aortic aneurysm referred to Centro Hospitalar e Universitário Lisboa Norte (CHULN) between 2012 and 2021.
The moment of diagnosis was assumed to be the time of the CT angiography and the moment of treatment was assumed as the time of entering the operating room (OR).
RESULTS: During the study period a total of 150 patients (90.7% men, mean age 78.3, SD 8.7) were treated. Of these, 86% presented as ruptured aneurysms while 14% presented as symptomatic aneurysms.
The median time between the diagnosis and the initiation of surgical treatment was 150 (+/- 132) minutes. Only 22% of patients were treated within 90 minutes of diagnosis and this remained unchanged throughout the study period.
No statistically significant difference was observed between the median time intervals registered for survivors and deceased patients at 24 hours (p = 0.907), 48 hours (p = 0.743) and 30 days (p = 0.605) post-surgery.
CONCLUSION: In our study, only 22% of patients with ruptured or symptomatic abdominal aortic aneurysms are treated within the recommended time frame. Although there is no significant impact on mortality, the authors recognize unavailability of information regarding patients that died before arrival to our hospital as a relevant limitation.
Downloads
Download data is not yet available.
References
Chaikof E, Dalman R, Eskandari M, Jackson B, Anthony Lee W, Anshraf Mansour M, et al. The Society for Vascular Surgery practice guidelines on the care of patients with an abdominal aortic aneurysm. Society for Vascular Surgery Document. 2018;67:2-77
Davis FM, Sutzko D, Smith M, Gallagher K, Henke P, Osborne N. Variation in Hospital Door-to-Intervention Time for Ruptured AAAs and Its Association with Outcomes. Ann Vasc Surg. 2020;62:83-91.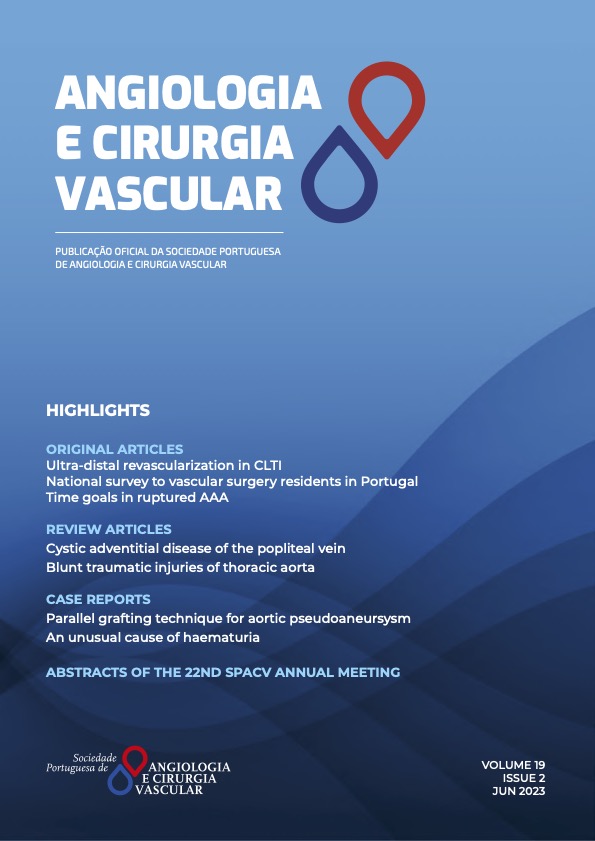 Downloads
How to Cite
1.
Rato JP, Amorim P, Lopes A, Gouveia e Melo R, Moutinho M, Mendes Pedro L. Time goals in ruptured abdominal aortic aneurysm – the experience of a tertiary centre. Angiol Cir Vasc [Internet]. 2023 Aug. 15 [cited 2023 Dec. 1];19(2):18-22. Available from: https://acvjournal.com/index.php/acv/article/view/513