POPLITEAL VENOUS ANEURYSM — REGARDING A CLINICAL CASE
Keywords:
Popliteal vein aneurysm, venography
Abstract
Aneurysms of the popliteal vein are rare, but with potential to cause serious thromboembolic complications, such as pulmonary embolism.
A large majority are detected in the context of thromboembolic disease, only a few are found incidentally or because of other type symptomatology.
Symptomatic aneurysms of the popliteal vein should be treated surgically, because of the high risk of recurrent pulmonary embolism, even in hypocoagulated patients.
The authors describe the case of a patient with saccular aneurysm of the left popliteal vein, causing compressive local symptoms and with end luminal thrombus, which was successfully surgically corrected.
Downloads
Download data is not yet available.
References
1. Park JS, Kim SD, Lee DS et al. Popliteal vein aneurysm as a source of pulmonar embolism: report of a case and review of the world literature. Ann Vasc Surg 2011; 25: 1139.e9-e12.
2. Donaldson C, Oklu R, Watkingd M et al. Popliteal venous Aneurysm: characteristics, management strategies, and clinical outcomes – a modern single-center series. Ann Vasc Surg. 2014;28(8):1816-22.
3. May R, Nissl R. Aneurysma der Vena poplitea. Fortschr Geb Rontgenstr Nuklearmed 1968 Mar; 108 (3): 402 – 403.
4. Dahl JR, Freed TA, Burke MF. Popliteal vein aneurysm with recurrent pulmonary thromboemboli. JAMA 1976 Nov 29; 236 (22): 2531 – 2532.
5. McDevitt DT, Lohr JM, Martin KD et al. Bilateral popliteal vein aneurysms. Ann Vasc Surg 1993; 7:282-286.
6. Maleti O, Lugli M, Collura M. Aneurysmes veineux poplites: experience personelle. Phlebologie 1997; 50:53-59.
7. Sessa C, Nicolini P, Perrin M, et al. Management of symptomatic and asymptomatic popliteal venous aneurysms: a retrospective analysis of 25 patients and review of the literature. J Vasc Surg 2000; 32:902-912.
8. Hong D, Song SW. Pulmonary embolism caused by popliteal venous aneurysm. Korean J Thorac Cardiovasc Surg 2013; 46:76-79.
9. Nars W, Babbitt R, Eslami MH. Popliteal vein aneurysm: a case report and review of literature. Vasc Endovasc Surg 2008; 41:551e5.
10. Fernandez N, Espada C, Gamez F et al. Popliteal venous aneurysms: results of surgical treatment. Ann Vasc Surg 2013; 27: 501-09.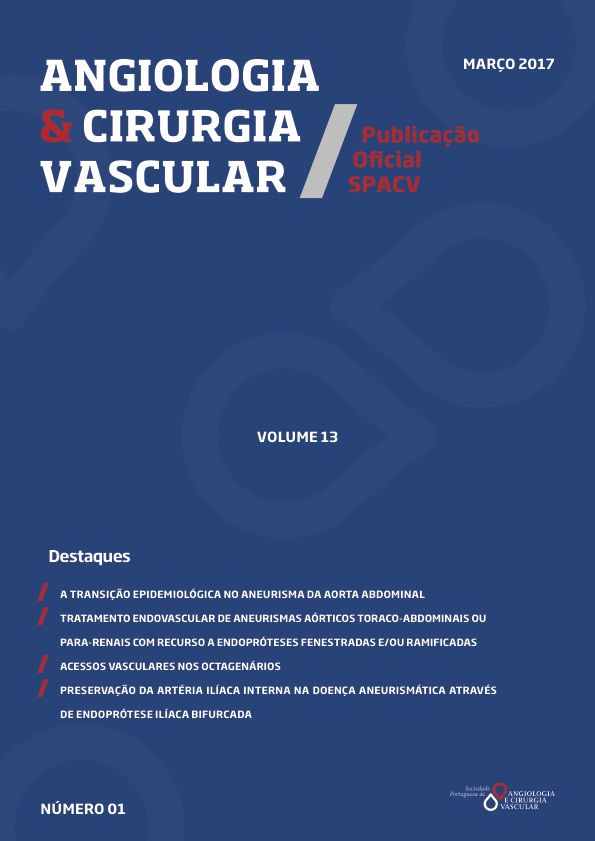 Downloads
How to Cite
1.
Machado L, Vilaça I, Mansilha A, Teixeira J. POPLITEAL VENOUS ANEURYSM — REGARDING A CLINICAL CASE. Angiol Cir Vasc [Internet]. 2017 Jun. 3 [cited 2022 Jul. 5];13(1):50-2. Available from: https://acvjournal.com/index.php/acv/article/view/60