Transposição de veia ovárica como um tratamento cirúrgico menos invasivo para a síndrome de nutcracker
Keywords:
Síndrome de Nutcracker, transposição de veia gonadal, auto-transplante renal, transposição de veia renal esquerda, Síndrome de Congestão Pélvica
Abstract
INTRODUÇÃO: O fenómeno de nutcracker refere-se à compressão da veia renal esquerda (VRE), habitualmente entre a aorta e a artéria mesentérica superior. Quando sintomático, designa-se síndrome de nutcracker. Os sintomas/sinais estão relacionados com o desenvolvimento de hipertensão venosa renal e o diagnostico depende da conjugação da clínica e alterações laboratoriais na presença de critérios imagiológicos. Habitualmente a indicação terapêutica depende da severidade dos sintomas. Existem várias opções terapêuticas: transposição/ pontagem da VRE para uma implantação mais distal na veia cava inferior, transposição da veia gonadal, auto- transplante renal, e tratamento endovascular.
CASO CLÍNICO: Doente de 40 anos, sexo feminino, observada em consulta de cirurgia vascular por varizes pélvicas e vulvares recidivadas. Por suspeita de síndrome de congestão pélvica, realizou estudo complementar com venoTAC que revelou fenómeno de nutcracker com dilatação importante da veia ovárica (VO) e varizes pélvicas. O exame sumário de urina revelou hematúria. Foram ponderadas várias opções de tratamento, tendo sido decidido fazer uma transposição da VO para a veia ilíaca comum (VIC). Através de uma pequena incisão paramediana esquerda (com cerca de 5cm) foi realizada uma abordagem retroperitoneal dos vasos. Procedeu-se à identificação e isolamento da VO (sinalizada com fio guia colocado pela veia femoral comum direita no início do procedimento). Localizada posteriormente à VO, isolou-se a VIC. Procedeu-se à secção transversal da VO e anastomose em termino-lateral da VO à VIC. O tratamento foi complementado com esclerose com espuma de varizes vulvares por via endovascular. A doente teve alta no primeiro dia de pós-operatório. Ao 6o mês de pós- operatório mantem-se sem recidiva das varizes e sem hematúria.
DISCUSSÃO: O Síndrome de nutcracker pode implicar uma morbilidade importante, com risco de trombose da VRE e perda da função renal. O melhor tratamento ainda não está definido e a seleção da melhor opção é dificultada pelo reduzido número de casos, ausência de estudos prospetivos randomizados, e pela ausência de follow-up a longo prazo de algumas das opções terapêuticas. A transposição da VRE é o procedimento mais habitual, seguido pelo auto-transplante renal. O nosso serviço tem vasta experiência na transplantação renal e o auto-transplante tem tido bons resultados; no entanto, não deixa de ser uma intervenção complexa, com riscos potenciais não desprezíveis, com uma convalescença prolongada e um impacto estético importante, sobretudo se aferido à idade jovem dos doentes. Corroborado pelo resultado do caso clínico apresentado, os autores consideram que a transposição da VO é uma alternativa terapêutica menos invasiva a ser considerada.
Downloads
Download data is not yet available.
References
Gulleroglu K, Gulleroglu B, Baskin E. Nutcracker syndrome. World J Nephrol 2014;3:277-81
He Y, Wu Z, Chen S, et al. Nutcracker syndrome--how well do we know it? Urology 2014;83:12-7
Macedo GL, Santos MA, Sarris AB, et al. Diagnosis and treatment of the Nutcracker syndrome: a review of the last 10 years. J Vasc Bras 2018;17:220-8
Novaes LF, Silva Saguia LN, Di Migueli CA, et al. Young woman with nutcracker syndrome without main clinic manifestation: hematuria-case report. Int J Surg Case Rep 2017;31:225-8
Rudloff U, Holmes RJ, Prem JT, et al. Mesoaortic compression of the left renal vein (nutcracker syndrome): case reports and review of the literature. Ann Vasc Surg 2006; 20:120-9
Takebayashi S, Ueki T, Ikeda N, et al. Diagnosis of the nutcracker syndrome with color Doppler sonography: correlation with flow patterns on retrograde left renal venography. AJR Am J Roentgenol 1999;172:39-43
Alaygut D, Bayram M, Soylu A, et al. Clinical course of children with nutcracker syndrome. Urology 2013;82:686-90
Del Canto Peruyera P, Vaquero Lorenzo F, Vallina-Victorero Vazquez MJ, et al. Recurrent hematuria caused by nutcracker syndrome. Ann Vasc Surg 2014;28:1036.e15-9
Kurklinsky AK, Rooke TW. Nutcracker phenomenon and nutcracker syndrome. Mayo Clin Proc 2010;85:552-9
Zhang H, Li M, Jin W, et al. The left renal entrapment syndrome: diagnosis and treatment. Ann Vasc Surg 2007;21:198-203
Noorani A, Walsh SR, Cooper DG, et al. Entrapment syndromes. Eur J Vasc Endovasc Surg 2009;37:213-20
Park SJ, Lim JW, Ko YT, et al. Diagnosis of pelvic congestion syndrome using transabdominal and transvaginal sonography. AJR Am J Roentgenol 2004;182:683-8
Polguj M, Topol M, Majos A. An unusual case of left venous renal entrapment syndrome: a new type of nutcracker phenomenon? Surg Radiol Anat 2013;35:263-7
Kim KW, Cho JY, Kim SH, et al. Diagnostic value of computed tomographic findings of nutcracker syndrome: correlation with renal venography and renocaval pressure gradients. Eur J Radiol 2011;80: 648-54
Venkatachalam S, Bumpus K, Kapadia SR, et al. The nutcracker syndrome.
Ann Vasc Surg 2011;25:1154-64
Ozkurt H, Cenker MM, Bas N, et al. Measurement of the distance and angle between the aorta and superior mesenteric artery: normal values in different BMI categories. Surg Radiol Anat 2007;29:595-9
Avgerinos ED, McEnaney R, Chaer RA. Surgical and Endovascular interventions for nutcracker syndrome. Semin Vasc Surg 2013;26:170-7
Ananthan K, Onida S, Davies AH. Nutcracker syndrome: an update on current diagnostic criteria and management guidelines. Eur J Vasc Surg 2017;3:886-94
Wang L, Yi L, Yang L, Liu Z, et al. Diagnosis and surgical treatment of nutcracker syndrome: a single-center experience. Urology 2009;73:871-6
Daily R, Matteo J, Loper T, et al. Nutcracker syndrome: symptoms of syncope and hypotension improved following endovascular stenting. Vascular 2012;20:337-41.
Berthelot JM, Douane F, Maugars Y, et al. Nutcracker syndrome: a rare cause of left flank pain that can also manifest as unexplained pelvic pain. Joint Bone Spine 2016;84:111-6
Chen S, Zhang H, Shi H, et al. Endovascular stenting for treatment of Nutcracker syndrome: report of 61 cases with long-term followup. J Urol 2011;186:570-5
Wang X, Zhang Y, Li C, et al. Results of endovascular treatment for patients with nutcracker syndrome. J Vasc Surg 2012;56:142-8
Erben Y, Gloviczki P, Kalra M, et al. Treatment of Nutcracker syndrome with open and endovascular Interventions. J Vasc Surg Venous Lymphat Disord 2015;3:389-96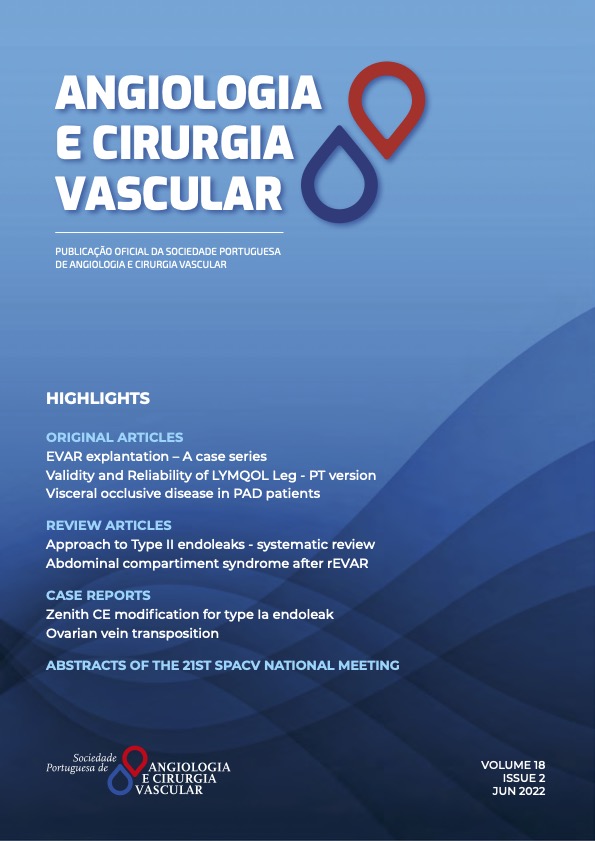 Downloads
How to Cite
1.
Antunes I, Pereira C, Veterano C, Veiga C, Mendes D, Rocha H, Castro J, Pinelo A, Almeida R. Transposição de veia ovárica como um tratamento cirúrgico menos invasivo para a síndrome de nutcracker. Angiol Cir Vasc [Internet]. 2022 Sep. 11 [cited 2023 Nov. 30];18(2):86-9. Available from: https://acvjournal.com/index.php/acv/article/view/333