RENAL AUTOTRANSPLANTATION: A SOLUTION FOR DIFFERENT COMPLEX SITUATIONS
Keywords:
Renal auto-transplant, Nutcracker syndrome, Renal artery aneurysm, Ex-vivo repair, laparoscopy
Abstract
Introduction: Renal autotransplantation (RA) is a safe and effective procedure to reconstruct the urinary tract which first successful surgery was performed by Hardy in 1963. The main indications reported to perform a RA generally include renovascular disease, ureteral pathologies and neoplastic disease. Furthermore, RA may be useful as an ultimate recourse in preventing kidney loss in highly selected patients, especially when conventional methods have failed.
Materials and Methods: The authors describe four total different situations where the RA was the key solution for the pathology initially presented.
Clinical case I – A 52 years old male with a previous history of left nephrectomy due to a preceding exacerbation of his basal Crohn's disease and also a right ureter cutaneostomie, presented now with repetitive urinary tract infections that led to renal function impairment;
Clinical case II – A 57 years old female with the diagnosis of renal artery aneurysm while being studied as a potential kidney donor;
Clinical case III – A 49 years old male admitted in the emergency room after a penetrating trauma which conditioned bowel and ureteral lesions with postoperative consecutive and recurrent peritoneal infections that compounded a necessity for a left ureterostomy, that the patient vehemently refused;
Clinical case IV – A 24 years old female with the diagnosis of Nutcracker syndrome identified after being studied regarding repetitive urgency admissions with frank haematuria.
Results: Every patient was submitted to laparoscopic nephrectomy, ex-vivo reconstruction, if necessary, and kidney transplantation to the iliac fossa. The interventions were uneventful and only one patient faced a minor post-operative complication (surgical wound dehiscende). We performed an ultrasound and renal scintigraphy evaluation on following days after each procedure to attest normal renal perfusion.
Discussion: The RA were conducted in two patients with ureteral cutaneostomie because there was no viable alternative but kidney loss. The other two clinical cases were treated with RA because they concerned a complex renovascular disease (one arterial and the other venous). Despite the existence of an endovascular option for these patients, long term follow-up studies are still lacking.
Conclusion: The RA is a viable option in specific situations for kidney salvage. The recent development of laparoscopic nephrectomy significantly decreased the surgical hostility to the patient and promoted the RA as a value option for the treatment of complex vascular pathologies, traumatic disease and specific medical situations. It represents a credible alternative with attested results already described in the literature thus requiring a vast Institutional experience withconventional renal transplantation.
Downloads
Download data is not yet available.
References
HARDY, J.D.: "High ureteral injuries. Management by autotrasplantation of the kidney". JAMA, 84: 97, 1963
GILL INDERBIR, S.; UZZO, R.G.; HOBART, M.G. y cols.: "Laparoscopic retroperitoneal live donor right nephrectomy for purposes of allotransplantation and autotransplantation". J. Urol., 164: 1500, 2000.
BLUEBOND-LANGNER, R.; RHA, K.H.; PINTO, P.A. y cols.: "Laparoscopic-assisted renal autotransplantation". Urology, 63: 853, 2004
Bleicher J, Kim RD, Hamilton B, Lau G, Campsen J; Backtable ureteroscopy for retrieval of retained stent or stone: A novel technique in renalautotransplant; Urol Case Rep. 2018 Jan 28;17:94-96. doi: 10.1016/j.eucr.2018.01.010. eCollection 2018 Mar
Salamanca-Bustos JJ, Gomez-Gomez E, Campos-Hernández JP, Carrasco-Valiente J, Ruiz-García J , Márquez-López FJ; Initial Experience in the Use of Novel Auto-expandable Metal Ureteral Stent in the Treatment of Ureter Stenosis in Kidney Transplanted Patients; Transplant Proc. 2018 Mar;50(2):587-590. doi: 10.1016/j. transproceed.2017.09.048
Strategies for open reconstruction of upper ureteral stric- tures; Knight RB1, Hudak SJ, Morey AF; Urol Clin North Am. 2013 Aug;40(3):351-61. doi: 10.1016/j.ucl.2013.04.005. Epub 2013 Jun 18
Kidney autotransplantation: long-term outcomes and complications. Experience in a tertiary hospital and literature review; Ruiz M, Hevia V, Fabuel JJ, Fernández AA, Gómez V, Burgos FJ; Int Urol Nephrol. 2017 Nov;49(11):1929-1935. doi: 10.1007/s11255-017- 1680-1. Epub 2017 Aug 21
Kamel MH1, Thomas AA, Mohan P, Hickey DP; Renal vessel reconstruction in kidney transplantation using a polytetrafluoroethylene (PTFE) vascular graft; Nephrol Dial Transplant. 2007 Apr;22(4):1030-2. Epub 2007 Jan 8
Bodie B, Novick AC, Rose M, Straffon RA; Long-term results with renal autotransplantation for ureteral replacement; J Urol. 1986 Dec;136(6):1187-9
Renal autotransplantation: a valid option in the resolution of complex cases; López-Fando Lavalle L, Burgos Revilla J, Sáenz Medina J, Linares Quevedo A, Vallejo Herrador J, De Castro Guerin C, Pascual Santos J, Marcén Letosa R.; Arch Esp Urol. 2007 Apr;60(3):255-65
Kim MJ, Lee KW, Park JB, Kim SJ; Hand-Assisted Laparoscopic Nephrectomy and Auto-Transplantation for a Hilar Renal Artery Aneurysm: A Case Report; Vasc Specialist Int. 2017 Jun;33(2):84- 87. doi: 10.5758/vsi.2017.33.2.84. Epub 2017 Jun 30
Brekke IB, Sødal G, Jakobsen A, et al. Fibro-muscular renal artery disease treated by extracorporeal vascular reconstruction and renal autotransplantation: short- and long-term results. Eur J Vasc Surg. 1992;6(5):471-476
Alameddine M, Moghadamyeghaneh Z, Guerra G, Morsi M, Osman M, Chia VJ, Burke GW, Chen L, Vianna R, Zheng I, González J, Ciancio G; Case series: Transplantation of kidneys from donors with renal artery aneurysm; Can Urol Assoc 2017 Jul;11(7):E307-E310. doi: 10.5489/cuaj.4244. Epub 2017 Jul 11
Siddiqui WJ, Bakar A, Aslam M, Arif H, Bianco BA, Trebelev AE Kelepouris E, Aggarwal S; Left Renal Vein Compression Syndrome: Cracking the Nut of Clinical Dilemmas — Three Cases and Review of Literature; Am J Case Rep. 2017 Jul 6;18:754-75
Waqas Javed Siddiqui; Left Renal Vein Compression Syndrome: Cracking the Nut of Clinical Dilemmas – Three Cases and Review of Literature; Am J Case Rep. 2017; 18: 754–75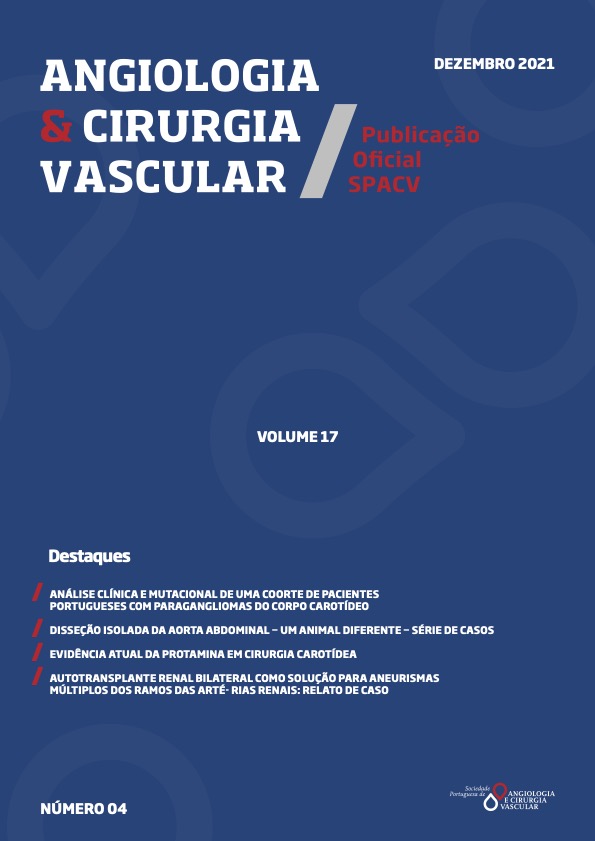 Downloads
How to Cite
1.
Pinto Sousa P, Sá Pinto P, Machado R, Almeida R. RENAL AUTOTRANSPLANTATION: A SOLUTION FOR DIFFERENT COMPLEX SITUATIONS. Angiol Cir Vasc [Internet]. 2022 Mar. 2 [cited 2023 May 27];17(4):339-43. Available from: https://acvjournal.com/index.php/acv/article/view/172