VASCULAR SURGERY PRACTICE DURING THE COVID-19 LOCKDOWN — HOSPITAL DA SENHORA DA OLIVEIRA, GUIMARÃES
Keywords:
Coronavirus, COVID-19, SARS-CoV-2, Pandemic, Vascular Surgery Department
Abstract
Introduction: Ever since the first positive case was identified on March 2nd in Lousada, a region close to the border of our catchment area, we reacted immediately by systematically repurposing our surgical wards. 
Objective: Describe the changed made by our Vascular Surgery Department from March 13 to May 14. 
Methods: We collected clinical, operative, and consultation volume data from March 13 to May 14 and we compared it with the historical averages. We also reviewed the documents related to the planification activity. 
Results: At the peak of the outbreak, we adopted a split-team policy and encouraged complete team segregation to reduce the risk of intradepartmental cross-contamination. Non-ambulatory surgical volume decreased by 54.8% (from 31 cases to 14 cases), and the ambulatory surgical activity was cancelled. Our in-person consultation volume decreased 86.4%; 73 consultations were completed by phone, in which the patient was never evaluated in-person. In the emergency room the main difference between the pre-pandemic to the pandemic was in the number of patients observed without vascular pathology (82 versus 28). 
Conclusions: The adaptation to COVID-19 pandemic reduced significantly the surgical production of our Vascular Surgery Department.
Downloads
Download data is not yet available.
References
1. Imaray C. COVID-19 virus and vascular surgery. Vascular Society for Britain and Ireland, 20th March 2020.

2. https://covid19.apple.com/mobility

3. http://www.ansr.pt/Estatisticas/RelatoriosDeSinistralidade/Documents/2020/Relat%C3%B3rios/Relat%C3%B3rio%20Julho%202020.pdf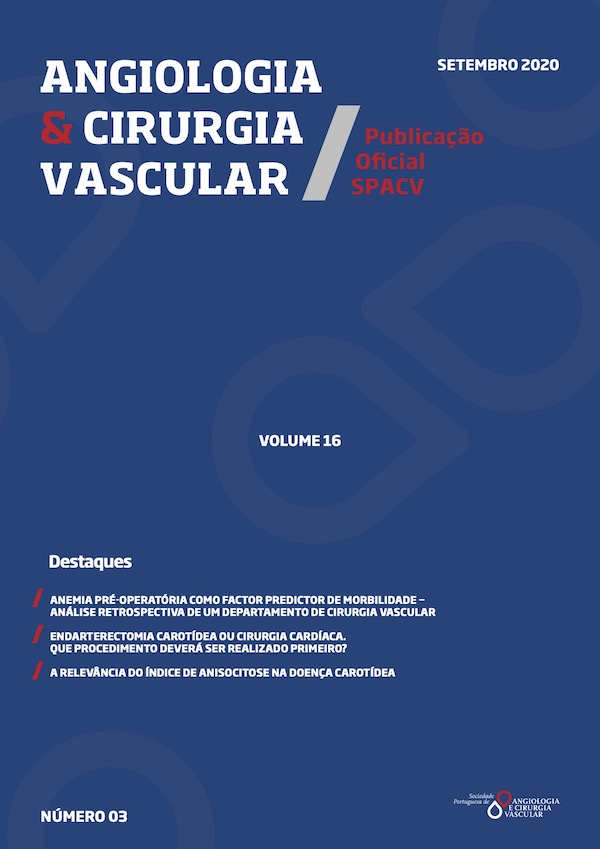 Downloads
How to Cite
1.
Ferreira J, Sousa PP, Braga S, Simões JC, Carrilho C, Mesquita A. VASCULAR SURGERY PRACTICE DURING THE COVID-19 LOCKDOWN — HOSPITAL DA SENHORA DA OLIVEIRA, GUIMARÃES. Angiol Cir Vasc [Internet]. 2020 Dec. 13 [cited 2022 Jul. 5];16(3):125-9. Available from: https://acvjournal.com/index.php/acv/article/view/369