DISSECTION FLAP FENESTRATION WITH TIPS NEEDLE, AN ADJUVANT TECHNIQUE IN ENDOVASCULAR TREATMENT OF TORACOABDOMINAL AORTIC DISSECTING ANEURYSMS
Keywords:
Chronic dissection, Thoracoabdominal aortic aneurysm, Dissection flap, Fenestration, TIPS (transjugular intrahepatic portosystemic shunt) needle, Endoprosthesis, Fenestrated/branched endovascular aortic repair (f/bEVAR)
Abstract
Introduction: In chronic aortic dissection complicated with aneurysmal degeneration, there are commonly spontaneous tears between true and false lumen at the level of visceral arteries. However, in its absence or difficult identification, treatment with f/bEVAR is limited. In these, it may be required a fenestration procedure to allow visceral vessels access.
Methods / Results: We present two case-reports of patients that underwent dissection flap fenestration procedures followed by f/bEVAR. In both patients, one-year follow-up CT scans show endoprosthesis and visceral branches patency, reduction of aneurysmal sac and absence of dissection or endoleaks.
Conclusions: In fenestration creation, chronic dissection flap rigidity may require coarse devices with increased risk of aortic rupture, as TIPS needle. To prevent this complication, besides meticulous preoperative planning by CT angiography, intraoperative identification of true and false lumen using IVUS or double aortic lumen angiography is required. In presented cases, this technique was effective.
Downloads
Download data is not yet available.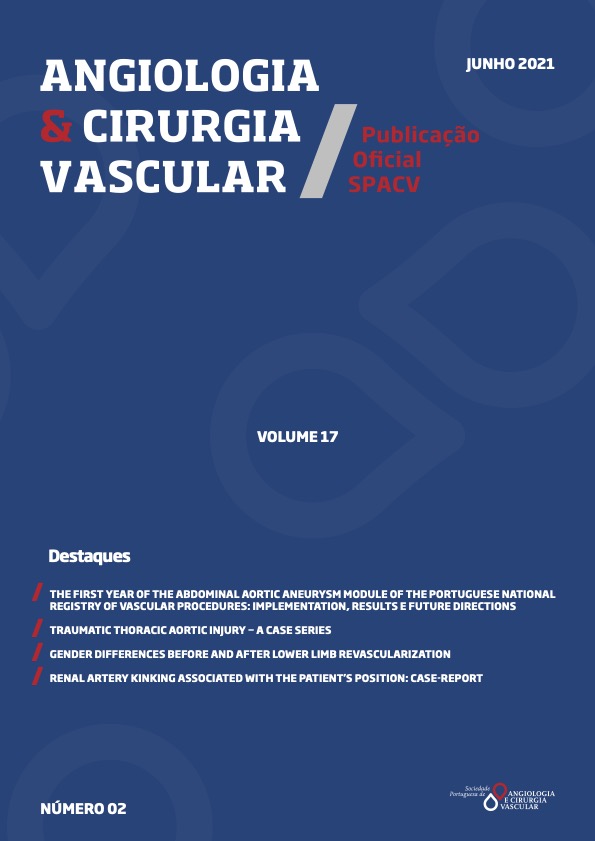 Downloads
How to Cite
1.
Correia R, Catarino J, Vieira I, Bento R, Garcia R, Pais F, Ribeiro T, Cardoso J, Alves G, Bastos Gonçalves F, Ferreira ME. DISSECTION FLAP FENESTRATION WITH TIPS NEEDLE, AN ADJUVANT TECHNIQUE IN ENDOVASCULAR TREATMENT OF TORACOABDOMINAL AORTIC DISSECTING ANEURYSMS. Angiol Cir Vasc [Internet]. 2021 Sep. 10 [cited 2023 Jun. 7];17(2):149-51. Available from: https://acvjournal.com/index.php/acv/article/view/352