FALSE LUMEN BRANCHED STENT GRAFT IMPLANTATION FOR REPAIR OF A DISSECTING THORACOABDOMINAL AORTIC ANEURYSM
Keywords:
Thoracoabdominal aneurysm, Chronic type B dissection, Frozen elephant trunk, False lumen
Abstract
Introduction: It is estimated that approximately 20 to 40% of patients with chronic type B aortic dissection (CTBAD) develop enlargement of the FL that warrants treatment. The standard endovascular treatment usually involves implant of a stent graft into the true lumen of the dissection in an effort to exclude the false lumen, with less morbidity than open surgery.
Clinical case: The patient was a 65 year old male, with a prior history of hypertension, dyslipidemia and chronic kidney disease. He was referred to our vascular center for a CTBD, with thoracoabdominal aneurysm degeneration (Crawford type II) with a maximum diameter of 85mm. The celiac trunk, superior mesenteric and right renal artery arose from the false lumen and left renal artery from the true lumen. A three stage procedure was planned. The patient was first submitted to a carotid-subclavian bypass. Subsequently, a frozen elephant trunk procedure was undertaken and the TEVAR component was intentionally deployed on the false lumen. Lastly, a customized branched stent graft was implanted into the false lumen, with the right renal artery catheterized through a fenestration created for the effect. The angioCT at 1 month showed adequate proximal and distal sealing and permeable visceral branches. The true lumen was partially thrombosed.
Conclusion: Implant of a branched graft into the false lumen of an aortic dissection in order to exclude a thoracoabdominal aortic aneurysm is possible, and can be a solution, with successful exclusion of the aneurysmal degeneration. The durability of this solution remains largely unknown and cautious follow-up is needed.
Downloads
Download data is not yet available.
References
1. Riambau V, Böckler D, et al. Management of Descending Thoracic Aorta Diseases - Clinical Practice Guidelines of the European Society for Vascular Surgery (ESVS). Eur J Vasc Endovasc Surg (2017) 53, 4 -52

2. Winnerkvist A, Lockowandt U, Rasmussen E, Radegran K. A prospective study of medically treated acute type B aortic dissection. Eur J Vasc Endovasc Surg 2006;32:349-55.

3. Evangelista A, Salas A, Ribera A, Ferreira-González I, Cuellar H, Pineda V. Long-term outcome of aortic dissection with patent false lumen: predictive role of entry tear size and location. Circulation2012;125:3133-41

4. Huang C, Weng S, et al. Factors predictive of distal stent graft-induced new entry after hybrid arch elephant trunk repair with stainless steel-based device in aortic dissection. J Thorac Cardiovasc Surg 2013;146:623-30.

5. Simring D, Raja J, et al. Placement of a branched stent graft into the false lumen of a chronic type B aortic dissection. J Vasc Surg 2011;54:1784-7

6. Watanabe A, Kuratani T, et al. Hybrid endovascular repair of a dissecting thoracoabdominal aortic aneurysm with stent graft implantation through the false lumen. J Vasc Surg 2014;59:264-7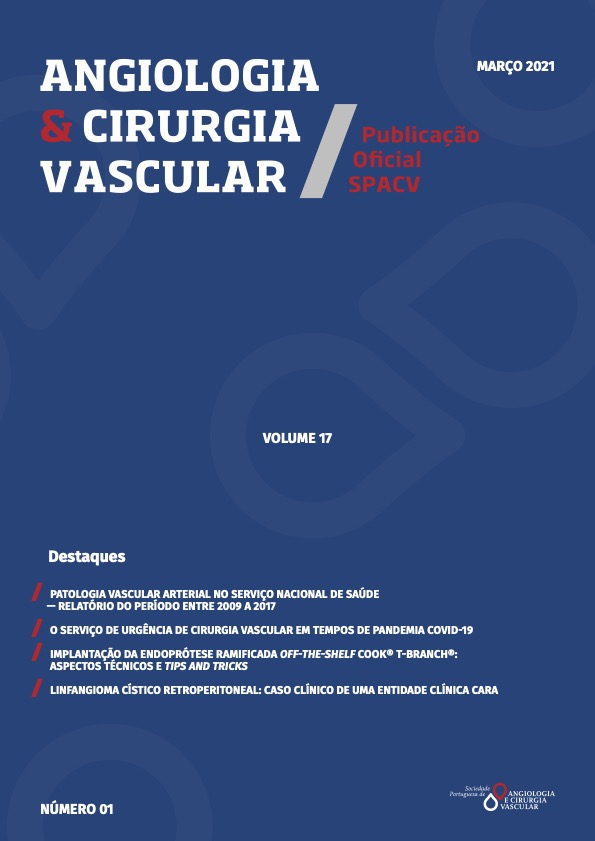 Downloads
How to Cite
1.
Catarino J, Alves G, Gonçalves F, Ferreira R, Correia R, Bento R, Ferreira ME. FALSE LUMEN BRANCHED STENT GRAFT IMPLANTATION FOR REPAIR OF A DISSECTING THORACOABDOMINAL AORTIC ANEURYSM. Angiol Cir Vasc [Internet]. 2021 Jun. 3 [cited 2023 Jun. 7];17(1):58-62. Available from: https://acvjournal.com/index.php/acv/article/view/351