ENDOVASCULAR TREATMENT OF AN AXILLARY ARTERIAL INJURY FOLLOWING A TRAUMATIC SHOULDER DISLOCATION: CASE REPORT
Keywords:
Shoulder dislocation, Axillary artery, Endovascular treatment, Vascular trauma
Abstract
Axillary artery injury after a shoulder dislocation is an extremely rare condition. Open surgery is the classical treat- ment of such lesions, consisting of direct suture at the site of the rupture or arterial reconstruction with a patch or a bypass. We report the case of a 74-years-old man who suffered a vascular and neurological injury after a recurrent glenohumeral joint dislocation and was treated with a covered stent.
Downloads
Download data is not yet available.
References
1. Sparks SR, DeLa Rosa J, Bergan JJ, et al. Arterial injury in uncomplicated upper extremity dislocation. Ann Vasc Surg 2000; 14:110e3.

2. Gates JD, Knox JB. Axillary artery injuries secondary to anterior dislocation of the shoulder. J Trauma 1995; 39: 581-583.

3. Fass G, Barchiche MR, Lemaitre J, et al. Endovascular treatment of axillary artery dissection following anterior shoulder dislocation. Acta Chir Belg 2008; 108:119-21.

4. Allie B, Kilroy DA, Riding G, Summers C. Rupture of axillary artery and neuropraxis as complications of recurrent traumatic shoulder dislocation: case report. Eur. J. Emerg. Med. 2005; 12: 121–3.

5. Milton GW: The circumflex nerve and dislocation of the shoulder. Br J Phys Med 17:136, 1954.

6. Kelleya SP, Hinsche AF, Hossain JFM. Axillary artery transection following anterior shoulder dislocation: classical presentation and current concepts. Injury 2004; 35:1128-32.

7. Karkos CD, Thomson GJ. Combined subclavian artery and brachial plexus injury following blunt trauma to the shoulder. Injury 1998;29: 395-6.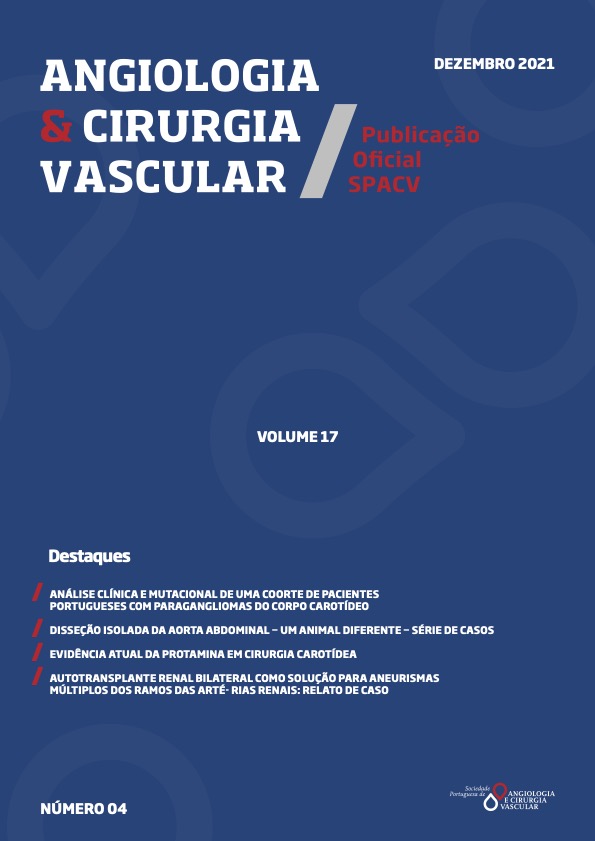 Downloads
How to Cite
1.
Rodrigues R, Moura D, G. Agostinho A, Fonseca M. ENDOVASCULAR TREATMENT OF AN AXILLARY ARTERIAL INJURY FOLLOWING A TRAUMATIC SHOULDER DISLOCATION: CASE REPORT. Angiol Cir Vasc [Internet]. 2022 Mar. 2 [cited 2022 Aug. 9];17(4):330-3. Available from: https://acvjournal.com/index.php/acv/article/view/459