SUPERIOR MESENTERIC ARTERY PSEUDOANEURYSM RUPTURE: A RARE COMPLICATION OF PANCREATIC SURGERY
Keywords:
Superior mesenteric artery pseudoaneurysm, Pseudoaneurysm rupture, Endovascular treatment
Abstract
Pseudoaneurysms after gastro-intestinal tract surgery are rare. Most of them occur after biliary tract and pancreatic surgery. They can lead to potentially serious consequences, such as rupture, hemorrhage and death. For these reasons, pseudoaneurysms should be diagnosed and treated as soon as possible. 
Downloads
Download data is not yet available.
References
1. Suzuki K, Mori Y, Komada T, Matsushima M, Ota T, Naganawa S. Stent-graft treatment for bleeding superior mesenteric artery pseudo- aneurysm after pancreaticoduodenectomy. Cardiovasc Intervent Radiol 2009;32:762–6.

2. Elton E, Howell D, Amberson S, Dykes T. Combined angiographic and endoscopic management of bleeding pancreatic pseudoaneurysms. Gastrointest Endosc 1997;46:544–8.

3. Kasumova GG, Eskander MF, Kent TS, et al. Hemorrhage after pancreaticoduodenectomy: does timing matter? HPB (Oxford) 2016;18:861–9.

4. Scott Cowan, MD et al. Superior mesenteric artery pseudoaneurysm successfully treated with polytetrafluoroethylene covered stent J Vasc Surg 2002;35:805–7

5. Nakai M, Sato H, Sato M, Ikoma A, Sanda H, Nakata K, Minamiguchi H, Kawai N, Sonomura T, Nishimura Y and Okamura Y. Endovascular stenting and stent-graft repair of a hemorrhag- ic superior mesenteric artery pseudoaneurysm and dissection associated with pancreatico- duodenectomy. J Vasc Interv Radiol 2012; 23: 1381–1384.

6. offroy R, Guiu B, D'Athis P, Mezzetta L, Gagnaire A, Jouve JL, Ortega-Deballon P, Cheynel N, Cercueil JP, Krausé D. Arterial embolotherapy for endoscopically unmanage- able acute gastroduodenal hemorrhage: pre- dictors of early rebleeding. Clin Gastroenterol Hepatol 2009; 7: 515–523.

7. Beyer L, Bonmardion R, Marciano S, Hartung O, Ramis O, Chabert L, Leone M, Emungania O, Orsoni P, Barthet M, Berdah SV, Brunet C and Moutardier V. Results of non-operative therapy for delayed hemorrhage after pancreaticoduo- denectomy. J Gastrointest Surg 2009; 13: 922–928.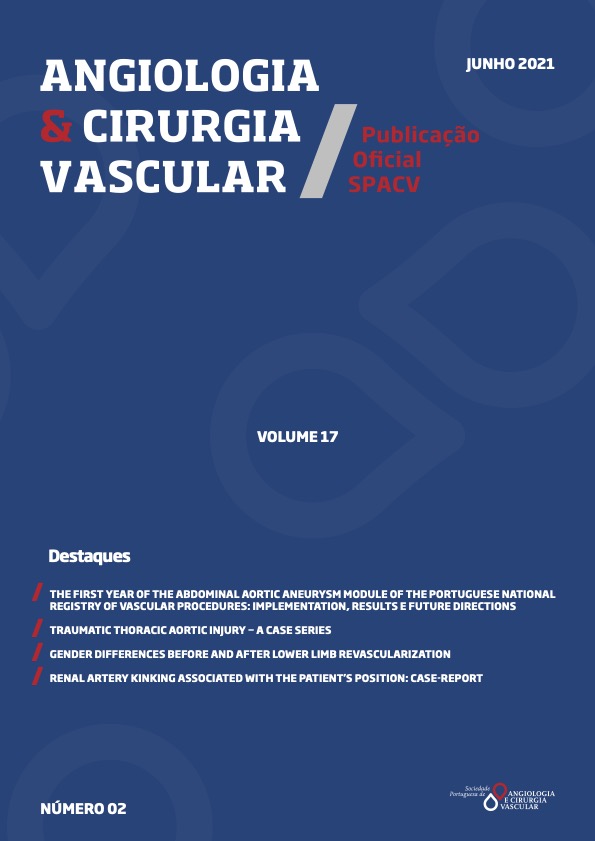 Downloads
How to Cite
1.
Semião C, Branão D, Nogueira C, Gouveia R, Augusto R, Coelho N, Pinto E, Ribeiro J, Peixoto J, Fernandes L, Canedo A. SUPERIOR MESENTERIC ARTERY PSEUDOANEURYSM RUPTURE: A RARE COMPLICATION OF PANCREATIC SURGERY. Angiol Cir Vasc [Internet]. 2021 Sep. 10 [cited 2023 Jun. 7];17(2):139-41. Available from: https://acvjournal.com/index.php/acv/article/view/320