Treatment of ischemic priapism with Grayhack surgery - case report
Keywords:
Priapism, Erectile dysfunction, Revascularization
Abstract
Ischemic priapism is a persistent erection unrelated to sexual stimulation characterized by reduced or absent intracavernous blood flow. We present a clinical case of a 30 year old man with priapism with 48 hours of progression. He underwent surgical drainage of the corpora cavernosa, instillation of ephedrine, and creation of a cavernous-spongeous shunt without improvement. On the duplex ultrasound there was no flow in the cavernous arteries, thrombosis of the cavernous veins and normal dorsal venous flow. He underwent Grayhack surgery with creation of cavernous-femoral bypass with great saphenous vein bilaterally. He underwent a Grayhack surgery with creation of a bilateral cavernous-femoral bypass with great saphenous vein. There was clinical improvement and resolution of the priapism. On the 7th post-operative day, it was documented thrombosis of the bypasses and patent cavernous arteries and veins.
Downloads
Download data is not yet available.
References
1. Broderick GA, Kadioglu A, Bivalacqua TJ, et al. Priapism: Pathogenesis, epidemiology, and management. J Sex Med. 2010;7:476-500.

2. Song PH, Moon KH. Priapism: Current updates in clinical management. Korean J Urol. 2013 Dec;54:816-23.

3. Cherian J, Rao AR, Thwaini A, et al. Medical and surgical management of priapism. Postgrad Med J. 2006;82:89-94.

4. Tabibi A, Abdi H, Mahmoudnejad N. Erectile function and dysfunction following low flow priapism: A comparison of distal and proximal shunts. Urol J. 2010 Summer;7:174-7.

5. Montague DK, Jarow J, Broderick GA. et al. American Urological Association guideline on the management of priapism. J Urol. 20031701318-1325.1325.

6. Munarriz R, Wen CC, McAuley I, et al. Management of ischemic priapism with high-dose intracavernosal phenylephrine: From bench to bedside. J Sex Med. 2006;3:918-22.

7. Grayhack JT, Mccullough W, O'Conor VJ, et al. Venous bypass to control priapism. Invest Urol. 1964;1:509---13.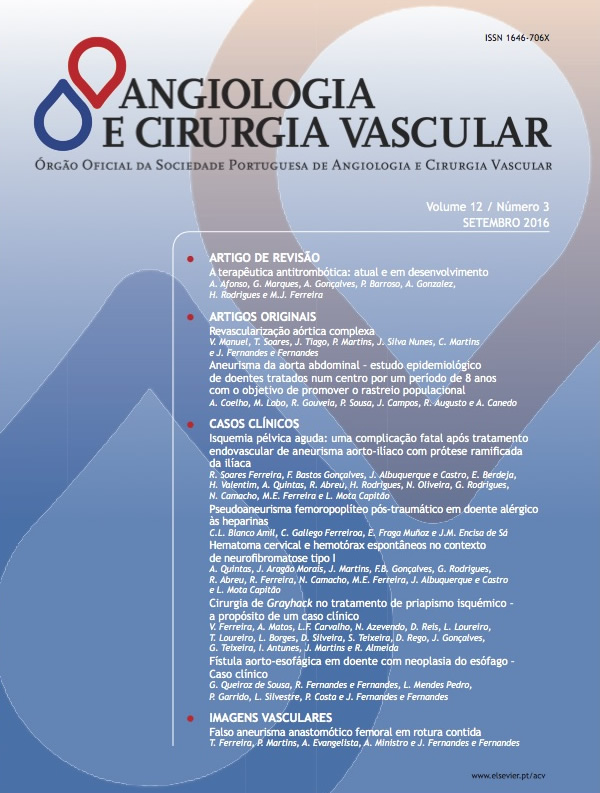 Downloads
How to Cite
1.
Ferreira V, Matos A, Carvalho LF, Azevendo N, Reis D, Loureiro L, Loureiro T, Borges L, Silveira D, Teixeira S, Rego D, Gonçalves J, Teixeira G, Antunes I, Martins J, Almeida R. Treatment of ischemic priapism with Grayhack surgery - case report. Angiol Cir Vasc [Internet]. 2016 Dec. 16 [cited 2022 Aug. 9];12(3):211-3. Available from: https://acvjournal.com/index.php/acv/article/view/10