NEUROISCHEMIC DIABETIC FOOT – THE ENDOREVOLUTION
Keywords:
Diabetic Foot; Endovascular procedures; Stent; Angioplasty; Limb salvage; Amputation
Abstract
Introduction: Currently, the prevalence of Diabetes Mellitus (DM) in Portugal is 13,3% in adult population. Patients with DM have a 15-25% lifetime risk of developing a foot ulcer. Additionally, diabetic angiopathy is a unique vascular disease that has predilection for below-the-knee arteries. Meanwhile, endovascular techniques have been revolutionizing the revascularization of neuroischemic diabetic foot (NIDF) patients, showing consistently higher limb salvage rates.
The survival of NIDF patients reaches 50% at 5 years after revascularization and limb salvage, but decreases to 50% at 2 years after a major amputation. With this study, the authors intend to describe their experience on endovascular revascularization for the treatment of NIDF patients.
Methods: Retrospective institutional review of consecutive patients requiring endodistal revascularization (January 2010 - December 2017) - 464 limbs in 326 patients.
We evaluated demographics and co-morbidities data and performed statistic analysis to determine factors and outcomes as limb salvage, major and minor amputation rates. The primary outcome was to evaluate the technical success, the limb salvage, the rate of major and minor amputation and the global survival of this population. The secondary outcomes were to characterize the population, the endovascular procedures performed and the evolution over the last years. Operative reports were reviewed to analyze the endovascular procedures and techniques.
Results and conclusions: The technical success was achieved in 85% of the procedures. The iliac sector was only treated in 0,7% of the procedures and femoro-popliteal sector in 63,2%. Antegrade femoral approach, was obtained in 91, 3% of the procedures. A complementary retrograde distal approach was performed in 7,6% of procedures. Direct angiossomic revascularization was obtained in 60,9% of the cases. In the femoral and popliteal arteries, PTA was performed in 56,3% of the procedures and recanalization, PTA and stenting in 42,4%. During FU, 14,1% of patients was submitted to major amputation and 36,4% to minor amputation. The major amputation free-survival rate was 80,1% at 12 mo and the rate of healing at 12 mo was 63,2%. The 12 mo global survival was 79,8%. Direct angiossomic revascularization (p=0,014) and the number of tibial arteries recanalized (p=0,01) were both associated with a higher limb salvage rate and a faster healing of the ulcer. In the opposite side, there was an association between the increasing of renal dysfunction and poor healing (p=0,04). The endovascular reintervention rate was 20,4%. The results of the author's study on endodistal revascularization, highlights the need to prioritize investigation and revascularization in NIDF patients to improve the outcome of foot ulcer, giving the possibility of salvaging a greater number of limbs.
Downloads
Download data is not yet available.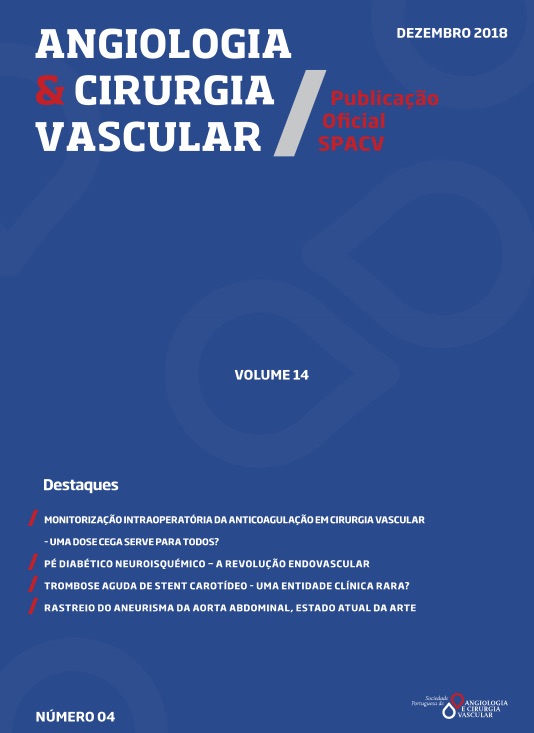 Downloads
How to Cite
1.
Augusto R, Gouveia R, Vasconcelos J, Campos J, Sousa P, Coelho A, Coelho N, Semião A, Pinto E, Ribeiro J, Brandão D, Canedo A. NEUROISCHEMIC DIABETIC FOOT – THE ENDOREVOLUTION. Angiol Cir Vasc [Internet]. 2019 May 15 [cited 2022 Aug. 9];14(4):307-14. Available from: https://acvjournal.com/index.php/acv/article/view/157