CLINICAL AND MUTATIONAL ANALYSIS OF A COHORT OF PORTUGUESE PATIENTS WITH PARAGANGLIOMAS OF THE CAROTID BODY
Keywords:
Paragangliomas, SDH mutations, Surgery
Abstract
Introduction: Representing 0.03% of all tumors, paragangliomas (PGLs) are extremely rare. During the past 15 years, there has been a significant progress in the knowledge of the genetics of PGLs. Germline mutations in succinate dehy- drogenase (SDH) genes are the commonest genetic cause of PGL.
Objective: Given the high clinical relevance of the SDH status, we aimed to evaluate the diagnostic and prognostic value of SDH mutations in a Portuguese cohort with carotid body paragangliomas.
We Report the experience of several departments of Angiology and Vascular Surgery in the management of carotid body tumors.
Methods: Forty-six individuals were included in the present study, of which forty-two were index cases and four were familial cases. Clinical features and biochemical data were retrieved by a retrospective analysis of clinical files. DNA was isolated from peripheral blood samples obtained from all individuals following their written informed consent. For all the subjects recruited, the genetic analysis involved the mutation search on the entire coding region of the SDHD gene and was extended to the SDHB gene coding region, in a subgroup of patients with a more aggressive presentation.
Results: Since 2016, genetic screening was offered to 46 patients with Carotid body PGL. The patients came from Angiology and Vascular Surgery Departments from all over the country.
The genetic analysis identified seven different heterozygous mutations in the SDHD gene (p.Met1Val, p.Met1Ile, p.Gly12Ser, p.Pro53Leu, IVS3+4G>A, IVS3-2A>C, p.Leu139Phefs)In addition, one mutation in SDHB gene (p.Ser198Alafs) was present in one index case. The SDHD mutations were identified in eight of the 41 index patients (20%), and in three of the four familial cases studied (75%). Of these, one mutation, p.Met1Ile, was present in two apparently unrelated patients. The prevalence of the Familial type has varied between reported studies from as low as 5% to as high as 30%, in our study they represent 26% (12 cases) of the sample. This wide-ranging variability stems from the existence of hidden familial cases.
Conclusion: Genetic screening allows the identification of familial cases and improves clinical decision-making and adequate management of patients and their relatives. The Present data contributes to a broader characterization of the molecular profile of European patients with PGL.
Downloads
Download data is not yet available.
References
Kruger AJ, Walker PJ, Foster WJ, et al. Important observations made managing carotid body tumours during a 25 year experience. J Vasc Surg 2010;52:1518e23.
Thompson, L.D., 2002. Pheochromocytoma of the Adrenal gland Scaled Score (PASS) to separate benign from malignant neoplasms: a clinicopathologic and immunophenotypic study of 100 cases. Am. J. Surg. Pathol. 26, 551–566.
Georgiadis GS, Lazarides MK, Tsalkidis A, et al. Carotid body tumor in a 13-year-old child: Case report and review of the literature. J Vasc Surg. 2008 Apr. 47(4):874-880. [Medline].
Sevilla Garcia MA, Llorente Pendas JL, Rodrigo Tapia JP, et al. [Head and neck paragangliomas: revision of 89 cases in 73 patients]. Acta Otorrinolaringol Esp. 2007 Mar. 58(3):94-100. [Medline].
Wee D,Goh CHK. Current Concepts in the Management of Carotid Body Tumours. Med J Malaysia Vol 65 No 4 December 2010
Dahan A, Taschner PE, Jansen JC, van der Mey A, Teppema LJ, Cornelisse CJ. Carotid body tumors in humans caused by a mutation in the gene for succinate dehydrogenase D (SDHD). Adv Exp Med Biol 2004;551:71-6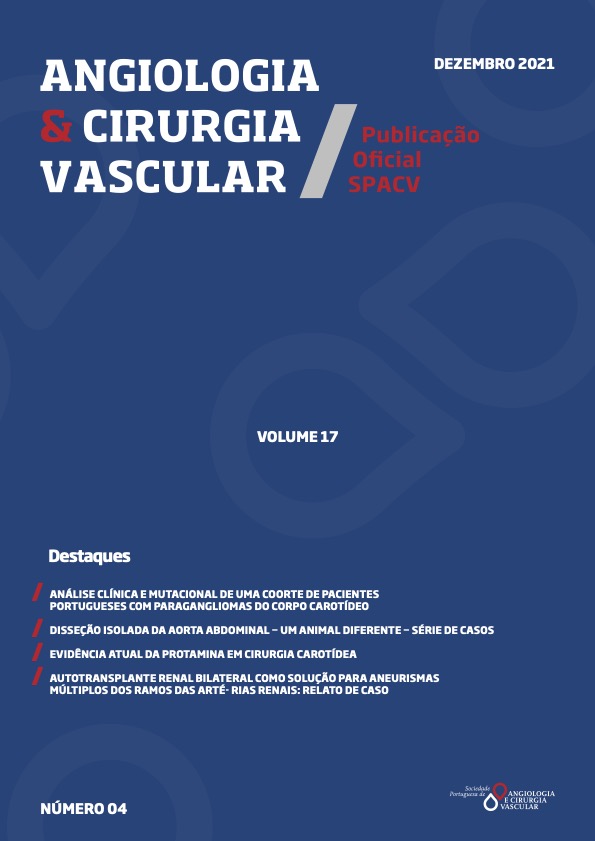 Downloads
How to Cite
1.
Rodrigues R, R. Almeida M, Carreiro J, Assunção A, Braga S, Sousa J, Camacho N, Garrido P, Maia M, Gimenez J, França J, Anacleto G, Gonçalves Óscar. CLINICAL AND MUTATIONAL ANALYSIS OF A COHORT OF PORTUGUESE PATIENTS WITH PARAGANGLIOMAS OF THE CAROTID BODY. Angiol Cir Vasc [Internet]. 2022 Mar. 2 [cited 2022 May 19];17(4):291-4. Available from: https://acvjournal.com/index.php/acv/article/view/458