RISK OF DEATH AFTER PACLITAXEL EXPOSURE DURING FEMOROPOPLITEAL ARTERY ANGIOPLASTY – NARRATIVE REVIEW
Keywords:
Peripheral Artery Disease, Endovascular Therapy, Paclitaxel Coated Devices
Abstract
Paclitaxel molecule has been on the market since 1991 and is indicated for the treatment of multiple neoplasms. Since 2012 has been used in endovascular devices for the treatment of peripheral artery disease and have become a mainstay in the treatment of symptomatic femoro-popliteal lesions, in particular for preventing arterial restenosis. They have a proven benefit in patency and freedom-from re-intervention up to 5 years. A recent meta-analysis of RCT showed an increased late-mortality rate, however, real-life cohorts analyses presents contradictory results. RCT meta-analysis is comprised mainly by claudicants, and CLTI patients are underrepresented. Further studies are needed to clarify this matter, in particular with a higher percentage of CLTI presentation. For now, patients should be advised about risks and benefits of paclitaxel exposure and a shared decision-making process should be followed.
Downloads
Download data is not yet available.
References
Weaver BA. How Taxol/Paclitaxel Kills Cancer Cells. Mol Biol Cell. 2014; 25(18): 2677–2681.
Manfredi JJ, Horwitz SB. Taxol: an antimitotic agent with a new mechanism of action. Pharmacol Ther. 1984;25(1):83-125.
Rowinsky EK, Donehower RC. Paclitaxel (taxol). N Engl J Med 1995; 332:1004–1014.
Loesch D, Greco FA, Senzer NN, Burris HA, Hainsworth JD, Jones S, Vukelja SJ, Sandbach J, Holmes F, Sedlacek S, Pippen J, Lind- quist D, McIntyre K, Blum JL, Modiano MR, Boehm KA, Zhan F, Asmar L, Robert N. Phase III multicenter trial of doxorubicin plus cyclophosphamide followed by paclitaxel compared with doxorubicin plus paclitaxel followed by weekly paclitaxel as adjuvant therapy for women with high-risk breast cancer. J Clin Oncol. 2010;28(18):2958-65
Gill PS, Tulpule A, Espina BM, Cabriales S, Bresnahan J, Ilaw M, et al. Paclitaxel is safe and effective in the treatment of advanced AIDS-related Kaposi's sarcoma. J Clin Oncol. 1999;17(6):1876-83
Mills JL, Conte MS, Murad MH. Critical review and evidence implications of paclitaxel drug-eluting balloons and stents in peripheral artery disease. J. Vasc. Surg. 2019; 70(1)1-7.
Beckmann JA, White CJ. Paclitaxel-coated Balloons and Eluting Stents: Is There a Mortality Risk in Patients with Peripheral Artery Disease? Circulation 2019; 140(16):1342-1351
Katsanos K, Spiliopoulos S. Risk of Death and Amputation with Use of Paclitaxel-Coated Balloons in the Infrapopliteal Arteries for Treatment of Critical Limb Ischemia : A Systematic Review and Meta-Analysis of Randomized Controlled Trials. J Vasc Interv Radiol. 2020;31(2):202–12.
Katsanos K, Spiliopoulos S, Kitrou P, Krokidis M, Karnabatidis D. Risk of Death Following Application of Paclitaxel-Coated Balloons and Stents in the Femoropopliteal Artery of the leg: A Systematic Review and Meta-Analysis of Randomized Controlled Trials. J. Am. Heart Assoc. 2018; 7(24): e011245
Tepe G, Schnorr B, Albrecht T, Brechtel K, Claussen CD, Scheller B, et al. Angioplasty of Femoral-Popliteal Arteries With Drug-Coated Balloons: 5-year follow-up of the THUNDER Trial. JACC Cardiovasc Interv. 2015;8(1):102-108.
Dake MD, Ansel GM, Jaff MR, Ohki T, Saxon RR, Smouse HB, et al. Durable Clinical Effectiveness With Paclitaxel-Eluting Stents in the Femoropopliteal Artery: 5-year Results of the Zilver PTX Randomized Trial. Circulation 133(15):1472–83.
Rocha-Sing KJ, Duval S, Jaff MR, Schneider PA, Ansel GM, Lyden SP et al. Mortality and Paclitaxel-Coated Devices: An individual Patient Data Meta-Analysis 2020; 141(23):1859–69.
Conte MS, Bradbury AW, Kolh P, White J , Dick F , Fitridge R et al. Global Vascular Guidelines on the Management of Chronic Limb-Threatening Ischemia. Eur J Vasc Endovasc Surg. 2019;58(1):S1-S109.e33.
Bertges DJ, Sedrakyan A, Sun T, Eslami MH, Schermerhorn M, Goodney PP et al. Mortality After Paclitaxel Coated Balloon Angioplasty and Stenting of Superficial Femoral and Popliteal Artery in the Vascular Quality Initiative. Circ. Cardiocasc. Interv. 2020;13(2):e008528.
Secemsky EA, Kundi H, Weinberg I, Jaff M, Krawisz A, Parikh SA et al. Association of Survival With Femoropopliteal Artery Revascularization With Drug-Coated Devices. JAMA Cardiol. 2019;4(4):332–40.
Freisinger E, Koeppe J, Gerss J, Malyar NM, Marschall U, Faldum A, et al. Mortality after use of paclitaxel-based devices in peripheral arteries : a real-world safety analysis. Eur. Heart J. 2020; 41(38):3732–9.
Behrendt C, Sedrakyan A, Peters F, Kreutzburg T, Schermerhorn M. Editor ' s Choice – Long Term Survival after Femoropopliteal Artery Revascularisation with Paclitaxel Coated Devices : A Propensity Score Matched Cohort Analysis. Eur J Vasc Endovasc Surg. 2020;59(4):587–96.
Moutinho M, Simões I, Rodrigues S, Abreu D, Silva E, Sousa P. Global Impact of Peripheral Obstructive Arterial Disease in Portugal : An Eight Year Study Impacto Global da Doença Arterial Obstrutiva Periférica em Portugal : Estudo num Período de Oito Anos. Acta Med Port 2019 May;32(5):348-354.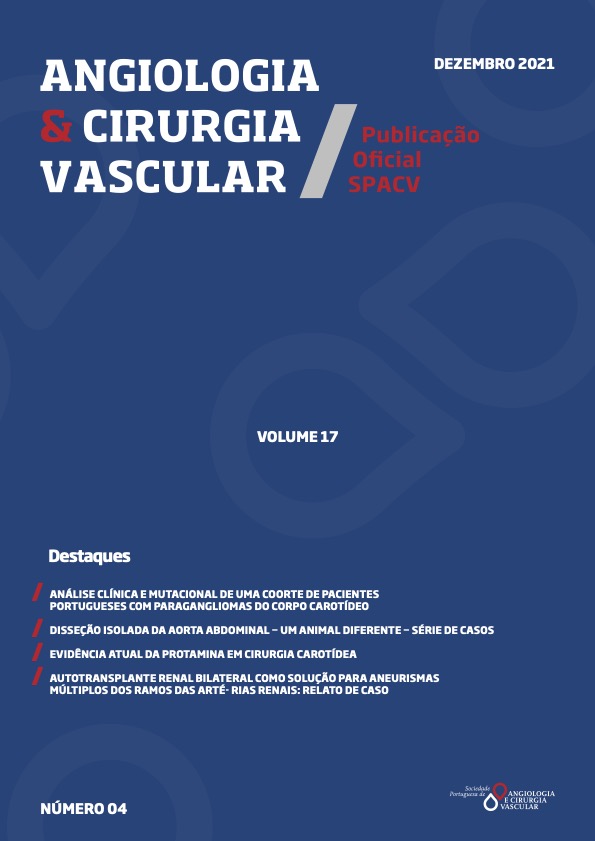 Downloads
How to Cite
1.
F. Ribeiro T, Ferreira RS, Cardoso J, Figueiredo A, Fidalgo H, Gonçalves FB, Ferreira ME. RISK OF DEATH AFTER PACLITAXEL EXPOSURE DURING FEMOROPOPLITEAL ARTERY ANGIOPLASTY – NARRATIVE REVIEW. Angiol Cir Vasc [Internet]. 2022 Mar. 2 [cited 2022 May 19];17(4):313-7. Available from: https://acvjournal.com/index.php/acv/article/view/436