IN SITU LESSER SAPHENOUS VEIN BYPASS THROUGH A POSTERIOR APPROACH: AN UNDERESTIMATED APPROACH FOR LIMB SALVAGE
Keywords:
Lower limb revascularization, Distal bypass, In situ bypass, Lesser saphenous vein, Posterior approach
Abstract
INTRODUCTION: In situ lesser saphenous vein (LSV) graft has been advocated in cases of lower limb revascularization where target arteries are confined to the lower leg and the greater saphenous vein (GSV) is neither available nor suitable. This often occurs in diabetic or end-stage renal diseased patients, whose occlusive disease pattern typically affects the tibioperoneal vessels, sparing the femoropopliteal segment. In situ technique offers the potential advantages of decreased surgical trauma to the vein, better size-matching and improved hemodynamics. The posterior approach simplifies the surgical procedure; it achieves similar graft patency and limb salvage rates compared to standard procedures.
CASE REPORT: We report a case of an 89 years-old male diabetic patient with previous attempts of endovascular revascularization of the posterior tibial and peroneal arteries; he presents with a nonhealing ulcer of the first toe of the right foot. Ultrasonographic vein mapping revealed varicose GSV in both limbs and a linear, ~3mm diameter, LSV in the right leg. The patient underwent right limb retrogeniculate popliteal to distal posterior tibial artery bypass with in situ LSV through a posterior approach. Post-operative bypass thrombosis occurred after seven days; it was resolved with surgical thrombectomy, vein angioplasty and arteriovenous shunt ligation. During follow-up at the outpatient clinic, the bypass remains patent and skin lesions healing without complications.
CONCLUSION: In situ LSV is a safe and viable option conduit for popliteal to distal arteries bypasses. Vascular surgeons should be aware of the posterior approach, which simplifies and comfortably exposes the anatomic structures required for this surgery.
Downloads
Download data is not yet available.
References
1. Veith FJ, Gupta SK, Ascer E, White-Flores S, Samson RH, Scher LA, et al. Six-year prospective multicenter randomized comparison of autologous saphenous vein and expanded polytetrafluoro- ethylene grafts in infrainguinal arterial reconstructions. J Vasc Surg [Internet]. 1986;3(1):104–14.
2. Chew DKW, Owens CD, Belkin M, Donaldson MC, Whittemore AD, Mannick JA, et al. Bypass in the absence of ipsilateral greater saphenous vein: Safety and superiority of the contralateral greater saphenous vein. J Vasc Surg [Internet]. 2002;35(6):1085–92.
3. Nierlich P, Metzger P, Enzmann FK, Aspalter M, Dabernig W, Hitzl W, et al. The Small Saphenous Vein: An Underestimated Source for Autologous Distal Vein Bypass. Eur J Vasc Endovasc Surg [Internet]. 2019;58(4):556–63.
4. Oderich GS, Panneton JM. The Case for an in Situ Lesser Saphe- nous Vein Bypass. Vasc Endovascular Surg. 2001;35(5):403–8.
5. Goyal A, Shah PM, Babu SC, Mateo RB. Popliteal-crural bypass through the posterior approach with lesser saphenous vein for limb salvage. J Vasc Surg. 2002;36(4):708–12.
6. Ouriel K. The posterior approach to popliteal-crural bypass. J Vasc Surg. 1994;19(1):74–80.
7. Leather RP, Shah DM, Chang BB, Kaufman JL. Resurrection of the in situ saphenous vein bypass. 1000 cases later. Ann Surg. 1988;208(4):435–42.
8. A A Shandall, R P Leather, J D Corson, A M Kupinski DMS. Use of the short saphenous vein in situ for popliteal-to-distal artery bypass. Am J Surg. 1987;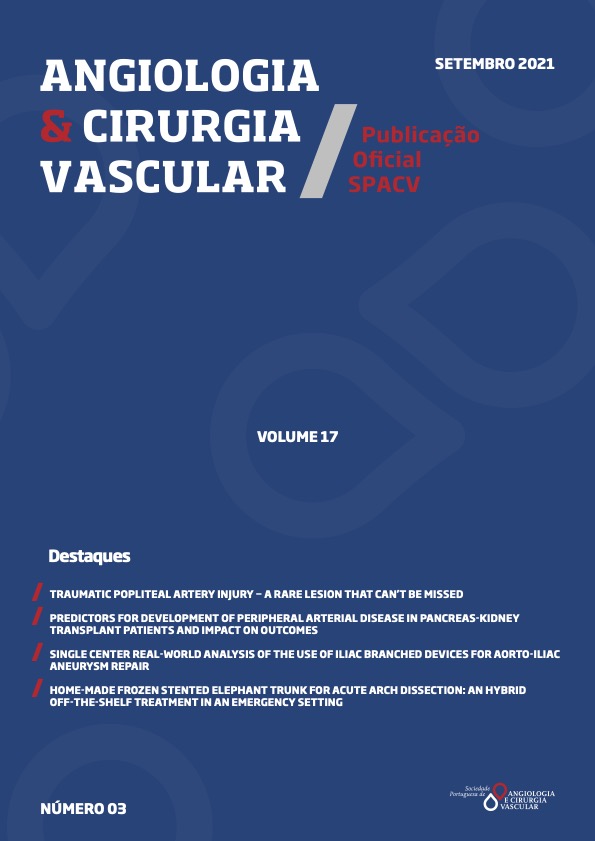 Downloads
How to Cite
1.
Rocha H, Antunes I, Rego D, Veiga C, Mendes D, Veterano C, Castro J, Pinelo A, Almeida H, Vaz C, Almeida R. IN SITU LESSER SAPHENOUS VEIN BYPASS THROUGH A POSTERIOR APPROACH: AN UNDERESTIMATED APPROACH FOR LIMB SALVAGE. Angiol Cir Vasc [Internet]. 2021 Dec. 24 [cited 2022 Jul. 5];17(3):274-7. Available from: https://acvjournal.com/index.php/acv/article/view/431