INTERNAL CAROTID PSEUDOANEURYSM CAUSED BY MIGRATION OF A CORONARY GUIDEWIRE FRAGMENT: A CASE OF A BROKEN ARROW
Keywords:
percutaneous coronary intervention complications, broken guidewire, guidewire embolization, foreign body in ascending aorta, cardiac tamponade, internal carotid pseudoaneurysm
Abstract
Introduction: Guidewire fracture is a rare complication of percutaneous coronary intervention (PCI). Retained fragments can cause thrombosis, dissection, perforation of the vessel or embolize. When is impossible to withdraw or to trap the fragment during the procedure, management is debatable between surgical removal or conservative approach. When choosing to leave the fragment in place, the patient remains at risk for all of the aforementioned complications. 
Clinical Case: 65-year-old male patient submitted to PCI with stenting of distal right coronary artery in 2017. A proximal optimization technique was performed, with a guidewire placed in the posterior descending artery (PDA). After stenting, the protection guidewire became entrapped and after several retrieval attempts, it fractured. Wire fragment remained within the RCA and ascending aorta with a free mobile distal part in the beginning of the innominate artery. Multiple attempts went in vain for wire retrieval and a conservative approach was adopted. Two and a half years later, the patient felt a sudden chest pain and then collapsed. He was transferred to our Hospital for emergent surgery due to cardiac tamponade. Intra-operatively, cardiac surgeons found the guidewire perforating the posterior descending artery. When trying to pull it out, the guidewire fractured again. Post-intervention CTA revealed migration of the fragmented guidewire now it was entrapped in a tortuous initial portion of the right internal carotid artery and a small pseudoaneurysm was visible at the distal portion of the wire. Surgical approach was performed revealing the presence of the wire within the carotid medial wall, in a subintimal plane. The 7 cm fragment was successfully withdrawn, through a common carotid transverse incision. Pseudoaneurismectomy was performed and carotid artery bifurcation reconstruction with internal carotid artery re-implantation into the bifurcation, end-to-end anastomosis. The patient had an uneventful postoperative course. 
Conclusion: Although leaving the wire in place remains an option, coronary guidewire fractured fragments can be associated not only with immediate complications but also with potential adverse events in the long run. 
Downloads
Download data is not yet available.
References
1. Shahid M Khan, David W Ho, Temujin Dinaram, Jason M Lazar, J. D. M. Conservative management of broken guidewire: Case reports. SAGE Open Med. Case Reports (2014). doi:10.1177/2050313X14554478
2. Danek, B. A., Karatasakis, A. & Brilakis, E. S. Consequences and treatment of guidewire entrapment and fracture during percutaneous coronary intervention. Cardiovasc. Revascularization Med. 1–5 (2016). doi:10.1016/j.carrev.2015.12.005
3. Idhrees, A. M., Radhakrishnan, B. K., Panicker, T., Pillai, V. & Karunakaran, J. Entrapment of guidewire in left anterior descending artery: Surgical management. Asian Cardiovasc. Thorac. Ann. 0, 1–2 (2016).
4. Ahmad, T., Chithiraichelvan, S., Patil, T. A. & Jawali, V. Surgical retrieval of entrapped coronary angioplasty guidewire from the aorta. Asian Cardiovasc. Thorac. Ann. 24, 81–84 (2016).
5. Danek, B. A., Karatasakis, A. & Brilakis, E. S. Cardiovascular Revascularization Medicine Consequences and treatment of guidewire entrapment and fracture during percutaneous coronary intervention. Cardiovasc. Revascularization Med. 1–5 (2016). doi:10.1016/j.carrev.2015.12.005
6. Capuano, F., Simon, C., Roscitano, A. & Sinatra, R. Percutaneous transluminal coronary angioplasty hardware entrapment: guidewire entrapment. J Cardiovasc Med 9, 1140–1141 (2008).
7. Domaradzki, W., Sanetra, K., Skwarna, B. & Jankowska-sanetra, J. Surgical retrieval of entrapped coronary guidewire remnant: 3-year angiographic evaluation. kardiochirurgia i Torakochirurgia 15, 4–7 (2018).
8. Valery Meledin, Vladimir Perkhulov, Gera Gandelman, Jacob George, S. S. Fractured Guidewire Entrapped in the Ostium of Right Coronary Artery Mimicking Aortic Flap. JACC Cardiovasc. Interv. 12, 12–13 (2019).
9. Stefan Baumanna, Daniel Rupp, Tobias Bechera, Michael Behnesa, Maliha Sadick, Martin Borggrefe, I. A. Retrieval of a fractured angioplasty guidewire after percutaneous retrograde revascularization of coronary chronic total occlusion. Coron. Artery Dis. 10–11 (2017). doi:10.1097/MCA.0000000000000535
10. Koulouris S, S. M. An unusual case of an angioplasty wire entrapped and fractured within the struts of a recently implanted coronary stent: Treatment with the implantation of a "jailing" stent. Hell. J. Cardiol. 10–12 (2017). doi:10.1016/j.hjc.2017.03.012
11. Yildiz BS, et al. Retrieval of a fractured guidewire with balloon support in intermediate coronary artery: A rare complication and management. Indian Hear. J. 10–12 (2016). doi:10.1016/j.ihj.2016.02.012
12. Aranzulla, T. C. One, two, three … breakdance and twist. Catheter Cardiovasc Interv. 1–8 (2019). doi:10.1002/ccd.28643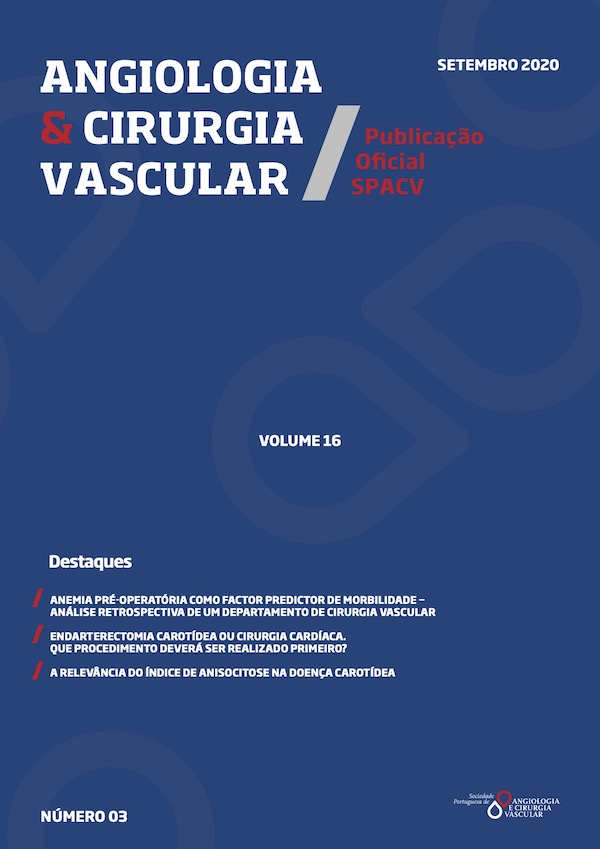 Downloads
How to Cite
1.
Coelho NH, Monteiro P, Augusto R, Pinto E, Semião C, Ribeiro J, Peixoto J, Fernandes L, Gouveia R, Martins V, Canedo A. INTERNAL CAROTID PSEUDOANEURYSM CAUSED BY MIGRATION OF A CORONARY GUIDEWIRE FRAGMENT: A CASE OF A BROKEN ARROW. Angiol Cir Vasc [Internet]. 2020 Dec. 13 [cited 2022 Jul. 5];16(3):191-4. Available from: https://acvjournal.com/index.php/acv/article/view/319