CENTRAL OCCLUSIVE VENOUS DISEASE: EARLY SOLUTION OR LATE COMPLICATION
Keywords:
Hemodialysis, Central venous occlusion, Arteriovenous access, percutaneous balloon angioplasty, Vascular access
Downloads
Download data is not yet available.
References
1. Kundu S. Central venous disease in hemodialysis patients: prevalence, etiology and treatment. J Vasc Access. 2010;11:1-7.

2. Wu TY, Wu CK, Chen YY, Lin CH. Comparison of percutaneous transluminal angioplasty with stenting for treatment of central venous stenosis
or occlusion in hemodialysis patients: A systematic review and meta-analysis, Cardiovasc Intervent Radiol 2020. https://doi.org/10.1007/s00270-019-02383-7.

3. Agarwal AK, Patel BM, Haddad NJ. Central Vein Stenosis: A Nephrologist's Perspective. Seminars in Dialysis. 2007(20):1;53–62.

4. Gür S, Oguzkurt L, Gedikoglu M. Central venous occlusion in hemodialysis access: Comparison between percutaneous transluminal angioplasty alone and nitinol or stainless-steel stent placement. Diagnostic and Interventional Imaging. 2019:100;485-92. https://doi.org/10.1016/j.diii.2019.03.011.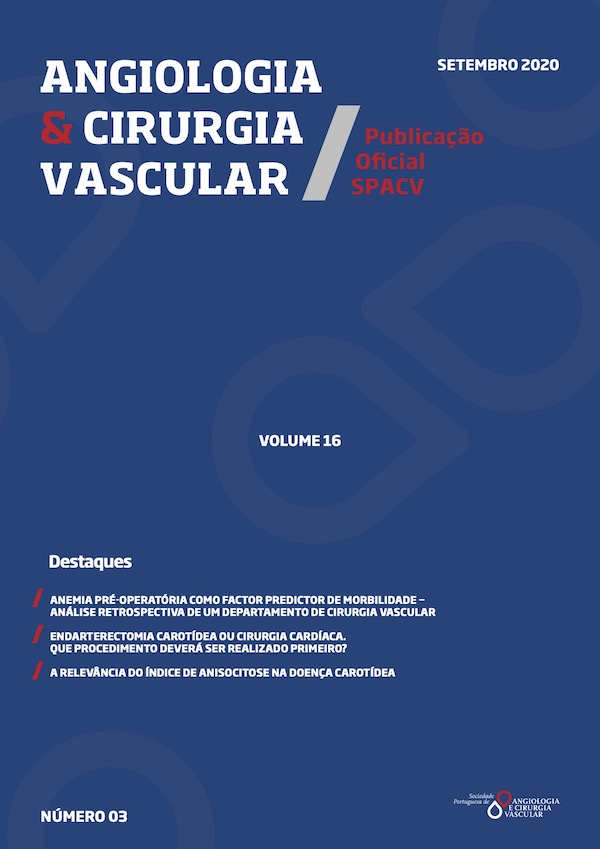 Downloads
How to Cite
1.
Caldas dos Reis JM, Figueiredo JV. CENTRAL OCCLUSIVE VENOUS DISEASE: EARLY SOLUTION OR LATE COMPLICATION. Angiol Cir Vasc [Internet]. 2020 Dec. 13 [cited 2023 May 27];16(3):195-6. Available from: https://acvjournal.com/index.php/acv/article/view/309