REVAS – RE-LIGATION OF THE SAPHENOUS FEMORAL JUNCTION IN THE XXI CENTURY?
Keywords:
Saphenous-femoral recurrence, religation sapheno-femoral junction, ambulatory surgery
Abstract
Aim: Re-ligation of the saphenous femoral junction is considered a complex and time-consuming surgery, with risk of nervous and lymphatic injury. The development of endovenous techniques replaced most of the indications, as well as the foam injection and stab avulsion. 
But we are still confronted with some patients, where those techniques can´t solve their problem, so we adapted the classical re-ligation technique to allow the ambulatorization. In the following we are going to present our experience. 
Methods: We included the patients submitted to saphenous femoral junction re-ligation in the years of 2016-17, in the ambulatory surgery department. 
The inclusion criteria included symptomatic patients (CEAP >3) with significative, dependent varicose veins. We excluded patients over 65 years of age and obese (IMC > 30), as well as patients with poor health status and other pathologies that can affect the success of this surgery. 
Topography of the varicose vein includes 3 areas: the femoral area, the thigh and the leg. 
We have been doing all ultrasonography in our vascular laboratory to confirm the saphenous femoral recurrence and its correlation with the varicose veins, as well as their magnitude. We used the Brodie-Trendlemburg test, using ultrasonography when in doubt. 
The surgical technique was done under general anesthesia and consist in an obliqua incision over the femoral arteria, discover and isolation of the femoral vein higher than the saphenous femoral junction, going down distal to the junction and ligation of the saphenous near the femoral vein, avoiding the venous "cavernoma". Associated surgery was done, like stab avulsion of the varicose veins. 
Results: Under the 67 patients included, under the average age of 48.8 years, 83% of them were female. 20% of patients were in CEAP 3, while the others were in CEAP 4. 
20 % of the patients were submitted for bilateral re-ligation and additional surgery, and 23,5 % for one limb surgery. The remaining of the patients were submitted for one limb re-ligation and other surgeries in the other limb. 
The total average of surgical time was 42,9 minutes. All patients were treated in the ambulatory surgery unit, but 3 patients stayed the night (2 because they lived further than 100 km away and the other because of the extension of the varicose veins). 
No patient came to the emergency service or was hospitalized due to early or late complications. Only one patient complained of tight paresthesia and required medication. 
Conclusion: Looking at the results, we considered the cautious selection of patients, as extremely, if not determinant for the surgery. Especially, based on the comprovation of the saphenous femoral junction recurrence, associated with the varicose veins and CEAP over 3. 
Our technique allows for the re-ligation to be done as ambulatory surgery. The redo surgery still has a place for the treatment of some patients, with a low rate of complications and a reasonable surgery duration. 
Downloads
Download data is not yet available.
References
1. Laura van Groenendael MD, J. A. (2009). Treatment of recurrent varicose veins of the great saphenous vein by conventional surgery and endovenous laser ablation. Journal of Vascular Surgery, Volume 50, Edição 5, 1106-1113.

2 . Bootun r, O. S. (2016). Varicose veins and their management. Oxford Surgery, 34;4, 165-171.

3. Gibbs P.J., F. D. (1999). Reoperation for recurrent saphenofemoral incompetence: a prospective randomized trial using a reflected flap of pectineus fascia. . Eur J Vasc Endovasc Surg 18:, 494-498.

4. Perrin M.R., G. J. (2000). Recurrent varices after surgery (REVAS), a consensus document. REVAS group. Cardiovasc Surg; 8: pp. 233-245, pp. 233-245.

5 . Thomas F. O'Donnell MD, E. M. (2016). Recurrence of varicose veins after endovenous ablation of the great saphenous vein in randomized trials. Journal of Vascular Surgery: Venous and Lymphatic Disorders, Volume 4, Edição 1, 97-105.

6. Paul Pittaluga MD, S. C. (2010). Retrospective evaluation of the need of a redo surgery at the groin for the surgical treatment of varicose vein. Journal of Vascular Surgery, Volume 51, Edição 6, , 1442-1450.

7. De Maeseneer M.G., V. C. (2005). De Maeseneer M.G., Vandenbroeck C.P., Hendriks J.M., et al: Accuracy of duplex evaluation one year after varicose vein surgery to predict recurrence at the sapheno-femoral junction after five years. Eur J Vasc Endovasc Surg; 29:, 308-312.

8 Gerontopoulou SA, K. W. (2018). Shortterm efficacy of inguinal reoperation for recurrent saphenofemoral incompetence using stump suture technique. Ann Vasc Surg;53, 197-204.

9. De Maeseneer M.G., P. T. (2007). De Maeseneer M.G., Philipsen T.E., Vandenbroeck C.P., et al: Closure of the cribriform fascia: an efficient anatomical barrier against postoperative neovascularization at the saphenofemoral junction? A prospective study. Eur J Vasc Endovasc Surg; 34:, 361-366.

10. De Maeseneer M.G., V. C. (2004). Silicone patch saphenoplasty to prevent repeat recurrence after surgery to treat recurrent saphenofemoral incompetence: long-term follow-up study. . J Vasc Surg; 40, 98-105.

11. Dominik Heim MD, P. M. (2008). Resecting the great saphenous stump with endothelial inversion decreases neither neovascularization nor thigh varicosity recurrence. Journal of Vascular Surgery, Volume 47, Edição 5, 1028-1032.

12. Mitchel P. Goldman, Jean-Jérôme Guex, with contributions by Monique Vanaman Wilson 2017, Noninvasive Examination of the Patient Before Sclerotherapy. Scleroteraphy 5, 100-136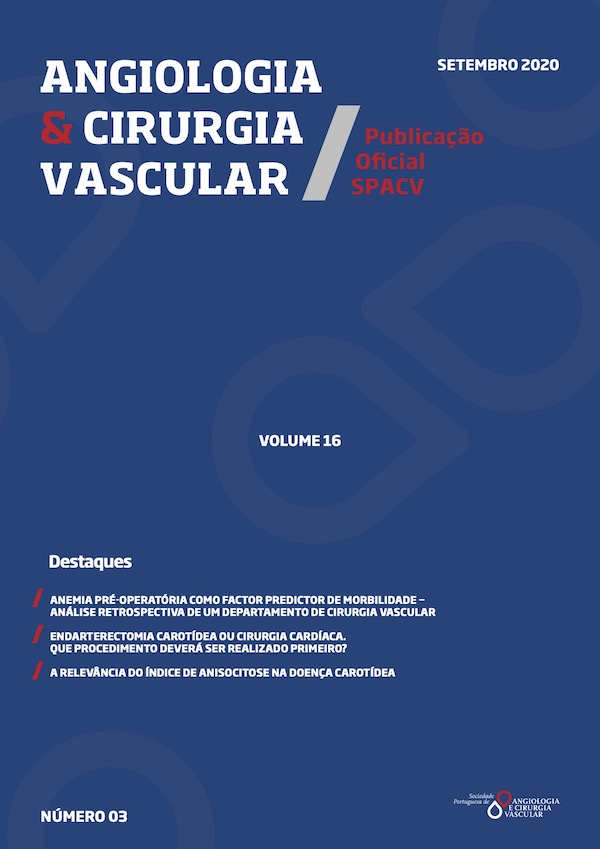 Downloads
How to Cite
1.
Barbas MJ, Gonçalves A, Barroso P, Afonso AR. REVAS – RE-LIGATION OF THE SAPHENOUS FEMORAL JUNCTION IN THE XXI CENTURY?. Angiol Cir Vasc [Internet]. 2020 Dec. 13 [cited 2022 Jul. 5];16(3):160-6. Available from: https://acvjournal.com/index.php/acv/article/view/307