OPEN HEART SURGERY OR CAROTID ENDARTERECTOMY. WHICH PROCEDURE SHOULD BE DONE FIRST?
Keywords:
Carotid endarterectomy, Open heart surgery, Carotid stenosis, Stroke, Combined surgery, Coronary event, transient ischemic attack
Abstract
Introduction: Ischemic stroke is a predictable complication of cardiac surgery specially in patients with previous diagnosed carotid stenosis. On the other side, patients undergoing carotid endarterectomy with concomitant significant valvular or coronary artery disease, may face worst peri-operative outcomes. 
Objective: Analyzing outcomes from a pool of patients with both comorbidities wondering which procedure should be conducted first. 
Material and Methods: Retrospective analysis of a group of patients submitted to carotid endarterectomy (Group I) between January 2011 and December 2017 that concomitantly presented coronary artery or valvular disease. Outcomes comparison with a group of patients submitted to cardiac surgery (Group II) that concomitantly presented carotid stenosis. 
Results: There was no statistically significant difference in patient stroke risk-factors between groups. 
Adverse events rate difference between groups did not reach statistical significance (stroke 1,7% vs 2,8% p=0,698; Acute myocardial infarct 1,7% vs 2,8% p=0,698, death 0% vs 4,6% p=0,073). 
Discussion: Handling these specific pools of patients is still debatable. Both interventions demand a multidisciplinary approach so as an experienced surgery and anaesthesiology team to individually select which approach fits each patient better. 
Downloads
Download data is not yet available.
References
1. Newman MF, Ferguson TB, White JA, Ambrosio G, Koglin J, Nussmeier NA, et al. Effect of adenosine-regulating agent acadesine on morbidity and mortality associated with coronary artery bypass grafting: the RED-CABG randomized controlled trial. JAMA : the journal of the American Medical Association. 2012;308(2):157–64.

2. Farkouh ME, Domanski M, Sleeper LA, Siami FS, Dangas G, Mack M, et al. Strategies for multivessel revascularization in patients with diabetes. The New England journal of medicine. 2012;367(25):2375–84.

3. Houlind K, Kjeldsen BJ, Madsen SN, Rasmussen BS, Holme SJ, Nielsen PH, et al. On-pump versus off-pump coronary artery bypass surgery in elderly patients: results from the Danish on-pump versus off-pump randomization study. Circulation. 2012;125(20):2431–9

4. A.R. Naylor et al; Management of atherosclerotic carotid and vertebral artery disease: 2017 clinical practice guidelines of the European society of vascular surgery; Eur J Vasc Endovasc Surg (2018) 55, 3-81

5. Yadav JS, Wholey MH, Kuntz RE, Fayad P, Katzen BT, Mishkel GJ, et al. Protected carotid-artery stenting versus endarterectomy in high-risk patients. N Engl J Med 2004;351: 1493e501.

6. de Borst GJ, Moll FL. Regarding: 'carotid angioplasty and stenting in anatomically high-risk patients: safe and durable except for radiation-induced stenosis.'. J Vasc Surg 2010;51:1077

7. Taylor AJ, Bindeman J, Le TP, et al. Progression of calcified coronary atherosclerosis: relationship to coronary risk factors and carotid intima–media thickness. Atherosclerosis 2008;197:339–45

8. Bucerius J, Gummert JF, Borger MA, Walther T, Doll N, Onnasch JF, et al. Stroke after cardiac surgery: a risk factor analysis of 16,184 consecutive adult patients. The Annals of thoracic surgery. 2003;75(2):472–8

9. John E Castaldo et al; Open Heart Surgery Does Not Increase the Incidence of Ipsilateral Ischemic Stroke in Patients With Asymptomatic Severe Carotid Stenosis; J Stroke Cerebrovasc Dis 2017 Oct;26(10):2154-2159

10. Ehtisham Mahumd et al; Carotid Revascularization Before Open Heart Surgery: The Data-Driven Treatment Strategy; J Coll Cardiol 2013 Nov 19;62(21):1957-1959

11. Mehdi H Shishehbor et al; A Direct Comparison of Early and Late Outcomes With Three Approaches to Carotid Revascularization and Open Heart Surgery; J Am Coll Cardiol; 2013 Nov 19;62(21):1948-1956;

12. Jay Giri et al; How Should We Address Carotid Artery Stenosis Around the Time of Open-Heart Surgery?; JACC Cardiovasc Interv; 2017 Feb 13;10(3):299-301

13. Lee EJ, Choi KH, Ryu JS, Jeon SB, Lee SW, Park SW, et al. Stroke risk after coronary artery bypass graft surgery and extent of cerebral artery atherosclerosis. Journal of the American College of Cardiology. 2011;57(18):1811–8

14. Naylor AR, Bown MJ, et al. Stroke after cardiac surgery and its association with asymptomatic carotid disease: an updated systematic review and meta-analysis. Eur J Vasc Endovasc Surg. 2011 May; 41(5):607-24

15. Paraskevas K, Batchelder A, Bown M, Naylor AR. An updated systematic review and meta-analysis of 30-day outcomes following staged carotid artery stenting and coronary bypass. Eur J Vasc Endovasc Surg 2017; 53:309-19

16. Shishehbor MH, Venkatachalam S, Sun Z, Rajeswaran J, Kapadia SR, Bajzer C, et al. A direct comparison of early and late outcomes with three approaches to carotid revasculari- zation and open heart surgery. JACC 2013;62:1948e56.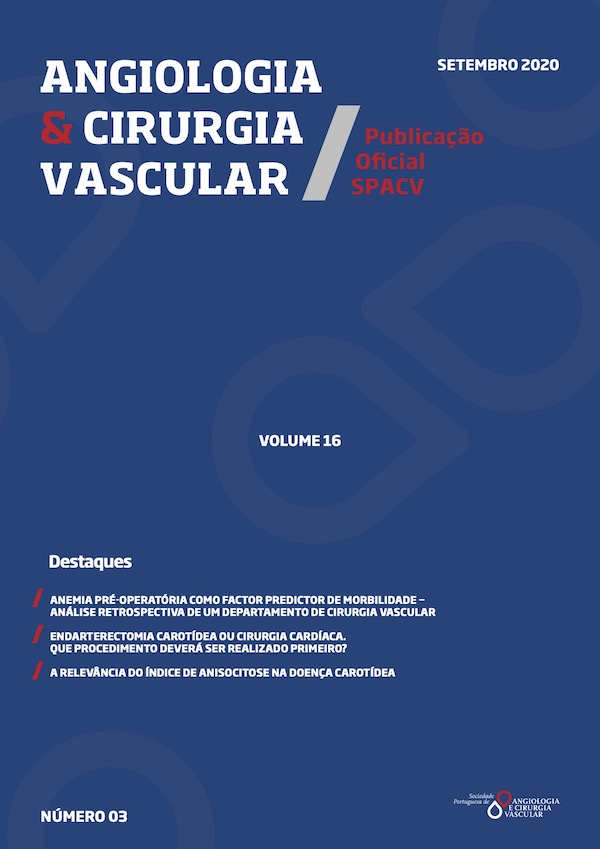 Downloads
How to Cite
1.
Sousa PP, Teixeira G, Sá Pinto P, Vouga L, Almeida R. OPEN HEART SURGERY OR CAROTID ENDARTERECTOMY. WHICH PROCEDURE SHOULD BE DONE FIRST?. Angiol Cir Vasc [Internet]. 2020 Dec. 13 [cited 2022 Aug. 9];16(3):154-9. Available from: https://acvjournal.com/index.php/acv/article/view/281