IATROGENIC INJURY OF THE SUBCLAVIAN ARTERY TREATED PERCUTANEOUSLY WITH ARTERIAL CLOSURE DEVICE
Keywords:
Central venous catheter, iatrogenic lesion, subclavian artery injury, percutaneous arterial suspension device
Abstract
Introduction: Subclavian arterial puncture is a relatively frequent complication of attempted placement of central venous catheters (CVC). The placement of a CVC in the artery is rarer, but with potential serious complications especially in its withdrawal. Anticipating these complications, control of potential bleeding in catheter withdrawal is usually performed by surgical or endovascular approach with endoprosthesis release. Our goal is to present the treatment with a percutaneous arterial closure device. 
Materials / Methods: Presentation of a clinical case of a CVC placed in the subclavian artery treated with a percutaneous arterial closure device. 
Results: A 51-year-old man hospitalized for acute myocardial infarction. On the first day of hospitalization, the introduction of a CVC into the right subclavian vein was attempted. In view of the suspected intraarterial position, CT angiography scan demonstrated that the CVC had been introduced into the subclavian artery with a point of entry proximal to the passage under the clavicle and with a path to the brachiocephalic trunk. Hypocoagulation with UFH was initiated given the risk of pericateter thrombosis and embolization. The use of percutaneous closure device ProGlide® was planned using the CVC pathway. As predictable difficulties for this option was the long CVC path to the arterial entry point, raising questions about the extent of the suture mechanism of the device and the progression of nodes in this path. Under fluoroscopic control, an angioplasty balloon was progressed until the CVC point of entrance for temporary bleeding control in case of ProGlide® failure; in which case the procedure would be completed with a covered endoprosthesis; the subclavian artery had a diameter of 12 mm and was ipsilateral to a brachiocephalic fistula. It was decided to retrograde puncture the fistula and progress the balloon to the subclavian artery. The rigid guide wire was then placed through the CVC and the CVC removed. Two Proglide® closure devices (positioned at 10 p.m. and 2 p.m.) were released. The complete resolution of clinical and imaging hemorrhage was verified. 
Discussion/Conclusions: Placement of CVC in the subclavian artery is a potentially serious complication since its removal can be complicated with severe haemorrhage. Depending on the point of entry, there may be additional complexities due to the proximity of the vertebral and carotid arteries. In this case we left open several hypotheses (endovascular and ultimately surgical), but our preference was ad initium the percutaneous introduction of closure device given the feasibility, simplicity, less aggressiveness, non-interference with the vertebral ostium, and lower cost compared to a covered endoprosthesis. 
Downloads
Download data is not yet available.
References
1. Giordano, A. Use of the Perclose Proglide Closure Device to remove a Central Venous Catheter Inadvertently Inserted in the Right Subclavian Artery. Open J Clin Med Case Reports. 2015(1):1-6.

2. Golden LR. Incidence and management of large-bore introducer sheath puncture of the carotid artery. J Cardiothorac Vasc Anesth 1995;9: 425-8

3. A, Bowdle. Vascular Complications of Central Venous Catheter Placement: Evidence-Based Methods for Preention and Treatment. Journal of cardiothoracic and Vascular Anesthesia.
2014(28):358-368.

4. Seleznova Y, Brass P, Hellmich M, Stock S, Müller D. Cost-effectiveness-analysis of ultrasound guidance for central venous catheterization compared with landmark method: a decision-analytic model. BMC Anesthesiology. 2019:19-51.

5. Shah PM, Babu SC, Goyal A, Mateo RB, Madden RE. Arterial misplacement of large-caliber cannulas during jugular vein catheterization: Case for surgical management. J Am Coll Surg. 2004:198-939.

6. Kron, I. J. Arch vessel injury during pulmonary artery catheter placement. Ann Thorac Surg. 1985(39):223–224.

7. Golden, L. Incidence and management of large-bore introducer sheath puncture of the carotid artery. J Cardiothorac Vasc Anesth. 1995(9):425-428

8. Shah, KB, Rao TL, Laughlin S, El-Etr AA. A review of pulmonary artery catheterization in 6,245 patients. Anesthesiology. 1984(61):271-275.

9. Schwartz, A. J. Carotid artery puncture with internal jugular cannulation. Anesthesiology. 1979(51) S160.

10. Guilbert MC, Elkouri S, Bracco D, Corriveau MM, Beaudoin N, Dubois MJ,et al.Arterial trauma during central venous catheter insertion: Case series, review and proposed algorithm. J Vasc Surg. 2008(48):918–925.

11. Kastler A, Chabanne R, Azarnoush K, Cosserant B, Camilleri L, Boyer L, et al. Arterial Injury Complicating Subclavian Central Venous Catheter Insertion. Journal of Cardiothoracic and Vascular Anesthesia. 2012(26):101-103.

12. Byrne RA, Cassese S, Linhardt M, Kastrati A. Vascular access and closure in coronary angiography and percutaneous intervention. Nat Rev Cardiol. 2013(10):27-40.

13. Kim TH, Shim WH.. Postclose technique for large sheath arterial access using perclose(TM) in emergency endovascular repair. Nat Rev Cardiol. 2013(83):1176-1179.

14. Schäfer U, Ho Y, Frerker C, Schewel D, Sanchez-Quintana D, Schofer J, et al. Diret percutaneous access technique for transaxillary transcatheter aortic valve implantation: "the Hamburg Sankt Georg approach". JACC Cardiovasc Interv. 2012(5):477-486.

15. Berlet MH, Steffen D, Shaughness G, Hanner J. Closure using a surgical closure device of inadvertent subclavian aretry punctures during central venous catheter placement. Cardiovasc Intervent Radiol. 2001(24):122-124.

16. Meyhoefer J, Lehmann H, Minden HH, Butter C. Closure of the subclavian aretry puncture site with a percutaneous suture device after removal of an arterial pacemaker lead. Europace. 2006(8):1070-1072.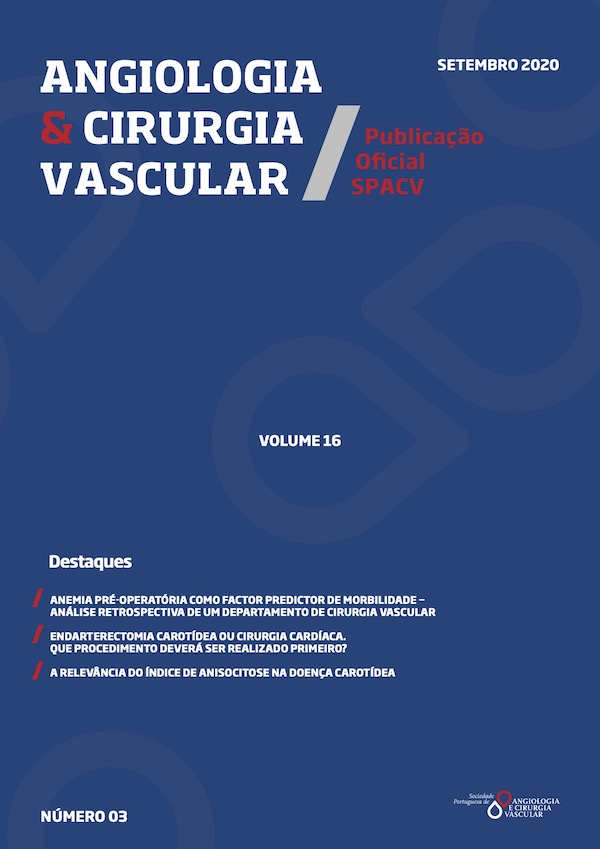 Downloads
How to Cite
1.
Antunes I, Pereira C, Teixeira G, Veiga C, Mendes D, Veterano C, Rocha H, Castro J, Almeida R. IATROGENIC INJURY OF THE SUBCLAVIAN ARTERY TREATED PERCUTANEOUSLY WITH ARTERIAL CLOSURE DEVICE. Angiol Cir Vasc [Internet]. 2020 Dec. 13 [cited 2022 Aug. 18];16(3):186-90. Available from: https://acvjournal.com/index.php/acv/article/view/228