ARCO AÓRTICO DIREITO ASSOCIADO A DIVERTÍCULO DE KOMMERELL DE ARTÉRIA SUBCLÁVIA ESQUERDA ABERRANTE
Keywords:
Right sided aortic arch, aberrant left subclavian artery, Kommerell diverticulum, hybrid treatment
Abstract
Introduction: Right sided aortic arch is a rare condition and half of the cases are associated with an aberrant left subclavian artery that can become aneurysmal (Kommerell´s diverticulum). Fewer than 50 cases have been reported in literature and a number of operative strategies are described. The authors report a case of a right aortic arch with Kommerell diverticulum of the aberrant left subclavian artery corrected through a hybrid approach.
Clinical case: The patient was a 51-year-old female with a prior history of hypertension, cervical herniated disc requiring surgery and hysterectomy. The angio CT showed a right aortic arch with a 30 mm Kommerell diverticulum, with mild esophageal compression but no associated symptoms. The patient was referred to surgical treatment through a hybrid approach. The intra and post operatory period were without any complication and patient was discharged 3 days later.
Conclusion: An endovascular hybrid approach may significantly reduce the morbidity and mortality of the repair of these aneurysms and, if effective and durable, could become an important surgical strategy for these patients. However, long term outcomes of such therapy are not yet established so, cautious follow up is needed.
Downloads
Download data is not yet available.
References
1. Ciná C, Althani H, Pasaneu J, Abouzahr L. Kommerell´s diverticulum
and right-sided aortic arch: A cohort stydy and review of the literature.
J. Vasc Surgery. 2004; 39:131–9
2. Yang M, Weng Z, Weng Y, Chang H. A right sided aortic arch with
Kommerell´s diverticulum of the aberrant left subclavian artery
presenting with syncope. J Chin Med Assoc. 2009; 72 (5): 275–277
3. Gomes M, Bernatz P, Forth RJ. Arteriosclerotic aneurysm of an aberrant
right subclavian artery. Dis Chest. 1968; 54:549–552
4. Mubarack M, Kamarul A, Noordini N. Right sided aortic arch with
aberrante left subclavian artery from Kommerell´s diverticulum.
Iran J Radiol. 2011; 8 (2):103–106
5. Hastreiter A, D´Cruz I, Cantez T, Namin E, Licata R. Right-sided aorta.
Br Heart J. 1966; 722–39
6. Muraoka M, Uchiyama Y, Yamaoka N, Yamauchi H, Hashiyada H,
Nakamura A, et al. An aberrant left subclavian artery aneurysm
with right aortic arch: report of a case. Surg Today. 1999;29:675–8
7. McElhinney D, Clark B, Weinberg P, Kenton M, McDonald- McGinn D,
Driscoll D, et al. Association of chromosome 22q11 deletion
with isolated anomalies of aortic arch laterality and branching.
J Am Coll Cardiol. 2001;37:2114–9
8. Drucker M, Symbas P. Right aortic arch with aberrant left subclavian
artery: symptomatic in adulthood. Am J Surg. 1980;139:432–5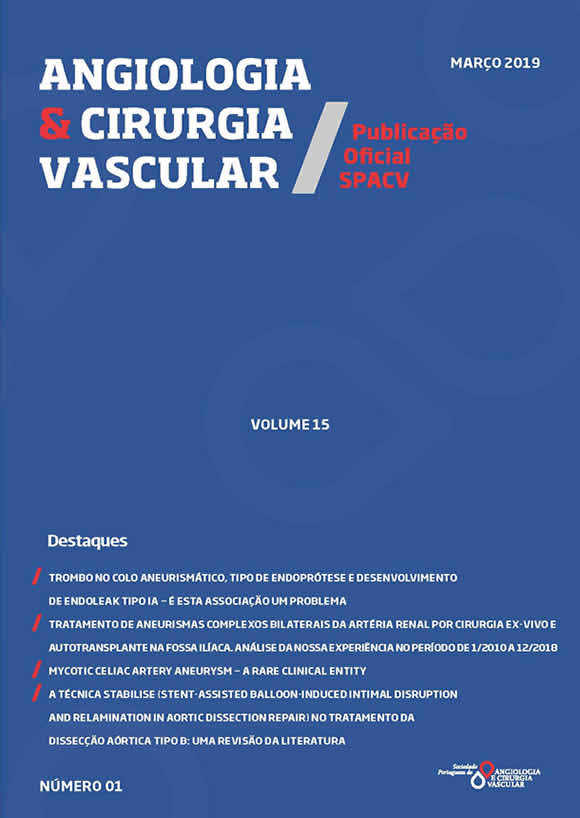 Downloads
How to Cite
1.
Catarino J, Alves G, Gonçalves F, Ferreira R, Camacho N, Correia R, Bento R, Ferreira ME. ARCO AÓRTICO DIREITO ASSOCIADO A DIVERTÍCULO DE KOMMERELL DE ARTÉRIA SUBCLÁVIA ESQUERDA ABERRANTE. Angiol Cir Vasc [Internet]. 2019 Sep. 4 [cited 2022 Jul. 5];15(1):41-4. Available from: https://acvjournal.com/index.php/acv/article/view/176