ENDOLEAK TIPO IIIB: A CASE REPORT
Keywords:
Aneurysm, Endoleak, Omentoplasty
Abstract
The endovascular aneurysm repair (EVAR) allowed a reduction of short-term morbidity and mortality; however, late endoleaks are a permanent cause of concern. Type IIIb endoleaks arise from a defect in the endograft and are associated with a high risk of rupture. In this paper, the authors describe the case of an 81-year-old male patient, submitted in 2013 to EVAR due to an abdominal aortic aneurysm of 87mm. Aneurysmatic sac growth was observed after the first 2 years, reaching 100 mm, without any evidence of endoleaks. The patient underwent open surgery: the aneurysmatic sac was opened, and a type IIIb endoleak was diagnosed; hemostasis and omentoplasty were performed.
Late type IIIb endoleaks are difficult to diagnose, sometimes only upon opening of the aneurysmatic sac. Given the potential for severe complications, correction of this type of endoleaks is indicated. The open approach allows a definitive correction, and is an option to consider.
Downloads
Download data is not yet available.
References
1. Kansal V, Nagpal S: Delayed Type IIIb endoleak secondary to graft fabric tear 7 years following implantation of a Medtronic Talent endovascular aortic device: A case report and review of the literature. SAGE Open Medical Case Reports. 2016;4: 1–4

2. Jones S, Vallabhaneni S, McWilliams R et al. Type IIIb Endoleak Is an Important Cause of Failure Following Endovascular Aneurysm Repair. J Endovasc Ther. 2014;21:723–727

3. McWilliams R, Vallabhaneni R, Naik J et al. Type IIIb Endoleak With the Endurant Stent-Graft. Journal of Endovascular Therapy. J Endovasc Ther. 2016;23(1) 229–232

4. Seike Y, Nishibe T, Ogino H et al. Hybrid repair of rare type IIIb endoleaks from an abdominal endograft: repeatedly undetected endoleaks. Interactive CardioVascular and Thoracic Surgery. 2015;21:129–131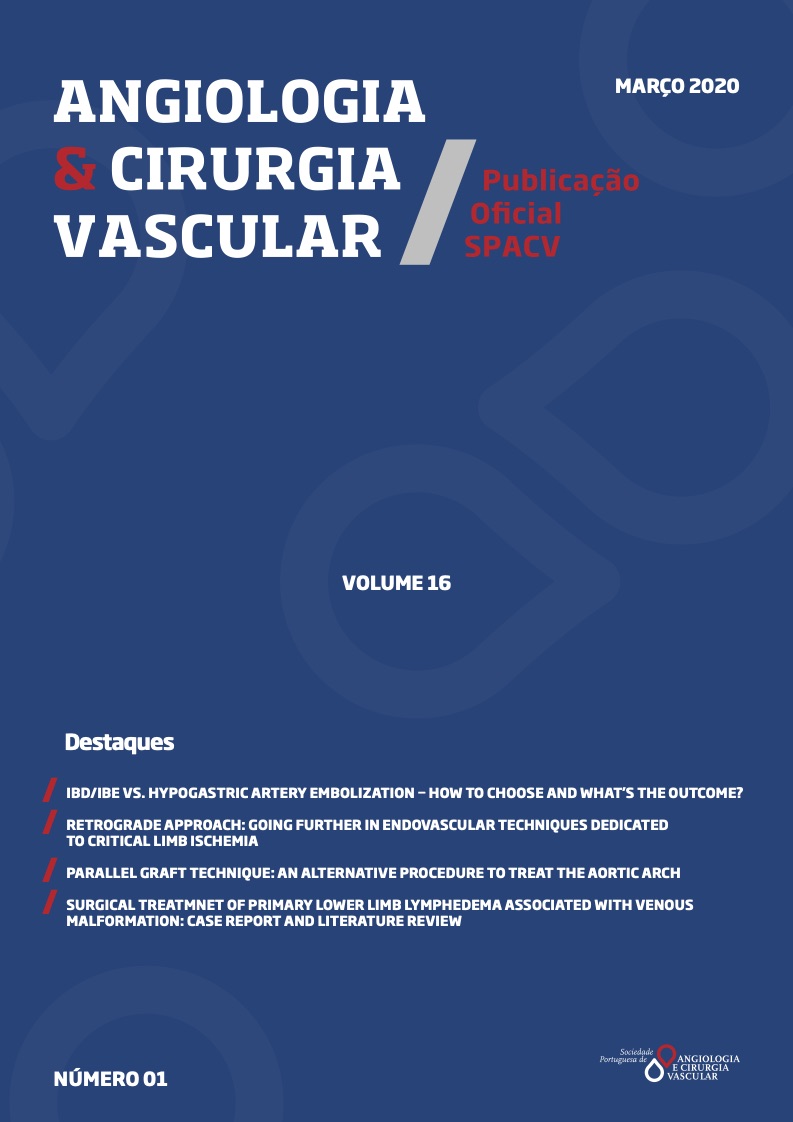 Downloads
How to Cite
1.
Lemos Gomes M, Lopes A, Sobrinho G, Ribeiro K, Leitão J, Mendes Pedro L. ENDOLEAK TIPO IIIB: A CASE REPORT. Angiol Cir Vasc [Internet]. 2020 Apr. 30 [cited 2022 Aug. 9];16(1):41-3. Available from: https://acvjournal.com/index.php/acv/article/view/169