SELECTIVE EMBOLIZATION OF ACTIVE BLEEDING AFTER RENAL CANCER BIOPSY
Keywords:
Embolization, haemorrhage, renal biopsy, microparticles, angiography
Abstract
Major haemorrhage is a known complication of renal percutaneous biopsy, with a prevalence of 2.2%.  Selective arterial embolization is a safe, effective and minimal invasive procedure, having an important role in the management of active bleeding, for instance in iatrogenic lesions after renal biopsy.
Case report of a 52-year-old woman. Imagiological diagnosis of metastasized renal cancer and therefore submitted to percutaneous renal biopsy. Admitted in the emergency room with haemorrhagic shock, 3 hours after renal biopsy. Contrast CT showing large retroperitoneal haematoma and signs of active bleeding related to the renal mass. Due to hemodynamic instability for a surgical procedure, an angiography was performed for haemorrhage control. The bleeding artery was selectively embolized using PVA microparticles (polyvinyl alcohol). Afterwards the patient favourably recovered from the haemorrhagic shock, deeming the procedure successful.
Downloads
Download data is not yet available.
References
1. Ierardi AM, Floridi C, Fontana F, Duka E, Pinto A, Petrillo M, et al.
Transcatheter embolisation of iatrogenic renal vascular injuries.
Radiol Med. 2014 Apr;119(4):261–8.
2. Lees JS, McQuarrie EP, Mordi N, Geddes CC, Fox JG, Mackinnon B. Risk
factors for bleeding complications after nephrologist-performed
native renal biopsy. Clin Kidney J. 2017 Aug;10(4):573–577.
3. Mavili E, Dönmez H, Ozcan N, Sipahioğlu M, Demirtaş A. Transarterial
embolization for renal arterial bleeding. Diagn Interv Radiol.
2009 Jun;15(2):143–7.
4. Wang HL, Xu CY, Wang HH, Xu W. Emergency Transcatheter
Arterial Embolization for Acute Renal Hemorrhage. Medicine
(Baltimore). 2015 Oct;94(42):e1667.
5. Loffroy R, Rao P, Kwak BK, Ota S, De Lin M, Liapi E, et al. Transcatheter
arterial embolization in patients with kidney diseases:
an overview of the technical aspects and clinical indications.
Korean J Radiol. 2010 May-Jun;11(3):257–68.
6. Whittier, W. L. & Korbet, S. M. Timing of complications
in percutaneous renal biopsy. J. Am. Soc. Nephrol. 15, 142–7.
7. Prasad, N. et al. Real-time ultrasound-guided percutaneous renal
biopsy with needle guide by nephrologists decreases post-biopsy
complications. Clin. Kidney J. 8, 151–6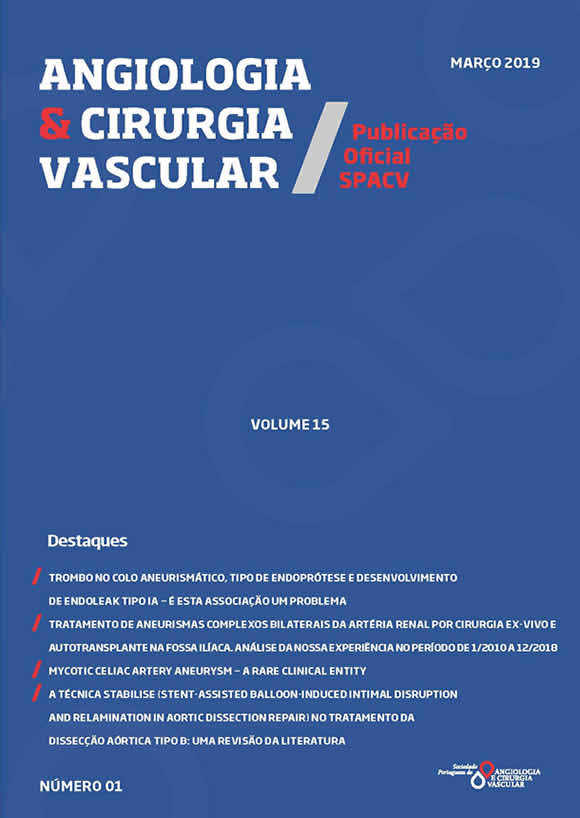 Downloads
How to Cite
1.
Veterano C, Almeida P, Antunes I, Veiga C, Rego D, Ferreira V, Gonçalves J, Teixeira G, Mendes D, Sá Pinto P, Almeida R. SELECTIVE EMBOLIZATION OF ACTIVE BLEEDING AFTER RENAL CANCER BIOPSY. Angiol Cir Vasc [Internet]. 2019 Sep. 4 [cited 2022 Jul. 5];15(1):37-40. Available from: https://acvjournal.com/index.php/acv/article/view/166