National survey to Portuguese Angiology and Vascular Surgery residents – Insights into the satisfaction and limitations of the residency program
Keywords:
Residency, Satisfaction, Vascular surgery training, Questionnaire
Abstract
INTRODUCTION: Vascular Surgery is a demanding specialty with vast technological and research advances in the last decades. This has led to an increasing complexity of providing adequate training programs for the modern Vascular Surgeon. Our aim was to understand the current satisfaction rates and perceived limitations of the Vascular Surgery residency program in Portugal by performing an online survey to residents.
METHODS: A survey study was conducted between April and June 2021 targeting Angiology and Vascular Surgery Residents in Portugal. Residents were contacted by e-mail from the National Portuguese Society of Angiology and Vascular Surgery to answer the survey. The survey was anonymized, and all residents from the 1st to 6th year were invited to participate. The survey was carried out using the Google® Forms platform and using Portuguese language. Questions were developed with two main objectives, the first being to analyze the satisfaction rates with the current residency program and the second to understand current limitations and possible areas of improvement.
RESULTS: Overall, 33 (65%) out of 51 invited residents participated in the survey, with equally distributions regarding the year of residency. Nineteen residents were male (57.6%). Most residents considered that the current one-year General Surgery rotation should be reduced and replaced by other specialties such as Radiology. Main surgical limitations were found with open aortic surgery. However, when compared to other European countries, residents considered that the main current limitation was scientific/academic training. Most residents were satisfied with their residency and felt professional fulfillment, however, most also reported having an unhealthy work-life balance and lack of time for academic and scientific research. When comparing the survey answers between younger and older residents, older residents reported more often having considered quitting and having experienced bullying or harassment.
CONCLUSION: The findings from this study provide insight into the perceptions of the trainees regarding current training limitations and satisfaction rates with the residency program and may provide a base for improvement and development strategies in the residency programs in Portugal
Downloads
Download data is not yet available.
References
Pitcher GS, Minami HR, Smeds MR. Are Vascular Surgery Trainees Satisfied and are They Using the Right Factors to Choose a Training Program? Ann Vasc Surg. 2020;67:123-33.
Janko MR, Smeds MR. Burnout, depression, perceived stress, and self-efficacy in vascular surgery trainees. J Vasc Surg. 2019;69:1233-42.
Pulcrano M, Evans SR, Sosin M. Quality of Life and Burnout Rates Across Surgical Specialties: A Systematic Review. JAMA Surg. 2016;151:970-8.
Nayahangan LJ, Konge L, Schroeder TV, Paltved C, Lindorff-Larsen KG, Nielsen BU, et al. A National Needs Assessment to Identify Technical Procedures in Vascular Surgery for Simulation Based Training. Eur J Vasc Endovasc Surg; 2017; 53: 591-9.
Schanzer A, Steppacher R, Eslami M, Arous E, Messina L, Belkin M. Vascular surgery training trends from 2001-2007: A substantial increase in total procedure volume is driven by escalating endovascular procedure volume and stable open procedure volume J Vasc Surg; 2009;49:1339-44.
Smith ME, Andraska EA, Sutzko DC, Boniakowski AM, Coleman DM, Osborne NH. The decline of open abdominal aortic aneurysm surgery among individual training programs and vascular surgery trainees. J Vasc Surg; 2020;71:1371-7.
Chakfé N., Mansilha A., Scott J. Editorial- Continuing Medical Education in Vascular Surgery: Past and Future Trends. Eur J Vasc Endovasc Surg; 2018;56: 774-5.
Zayed MA, Lilo EA, Lee JT. Impact of an Interactive Vascular Surgery Web-Based Educational Curriculum on Surgical Trainee Knowledge and Interest. J Surg Ed; 74:251-7.
Aurshina A, Hingorani A, Iadagarova E, Ascher E, Marks N, Blumberg SN. A Trainee Perspective to Issues Needing Redressal in Current Vascular Surgery Training Programs: Survey Results from 2004-2015. Annals of Vascular Surgery. 2018; 51:31-6.
Avgerinos ED; European Vascular Surgeons in Training (EVST) Writing Committee. Vascular training profiles across Europe. Eur J Vasc Endovasc Surg. 2013;46:719-25.
Calligaro KD, Pineda DM, Tyagi S, Zheng H, Troutman DA, Dougherty MJ. Variability in 2-year training programs in vascular surgery based on results of an Association of Program Directors in Vascular Surgery survey. J Vasc Surg. 2017;65:1839-44.
Orlino JP , Sura TA, Pei KY, Smeds MR. Bullying of vascular surgery trainees. J Vasc Surg. 2022;75:2065-71.
Chrysafi P. Simou A. Makris M. Malietzis G. Makris G.C. Bullying and sexual discrimination in the Greek health care system. J Surg Ed. 2017; 74: 690-7
Calligaro KD, Dougherty MJ, Sidawy AN, Cronenwett JL. Choice of vascular surgery as a specialty: Survey of vascular surgery residents, general surgery chief residents, and medical students at hospitals with vascular surgery training programs. J Vasc Surg. 2004; 40:978-84.
Machado R, Teixeira G, Mendes D, Almeida R. Analysis of the management and clinical activity of the angiology and vascular surgery department of chup during the covid-19 pandemic, from march 1 to may 31, and lessons learned. Angiol Vasc Surg. 2020; 16: 115-9.
Pereira-Neves A, Rocha-Neves J, Dias-Neto M., Cerqueira A, Teixeira JF. Adaptation of a vascular surgery department to the covid-19 pandemic. Angiol Vasc Surg. 2020; 16: 120-1.
Canedo A. The impact of pandemic sars covid-19 in vascular surgery department of centro hospitalar de vila nova de gaia/espinho. Angiol Vasc Surg. 2020; 16: 122-3.
Almeida Pinto J. Impact of covid-19 on the activity of the angiology and vascular surgery department of the CHTS. Angiol Vasc Surg. 2020; 16: 124.
Ferreira J., Pinto Sousa P., Braga S., Correia Simões J, Carrilho C, Mesquita A. Vascular surgery practice during the covid-19 lockdown — hospital da senhora da oliveira, Guimarães. Angiol Vasc Surg. 2020; 16: 124-9.
Fonseca M. Vascular surgery department of chuc activity in pandemic months. Angiol Vasc Surg. 2020; 16: 130.
Santos Simões A. The vascular surgery department of centro hospitalar tondela-viseu and covid-19 pandemic. Angiol Vasc Surg. 2020; 16: 131.
Duarte A., Melo R., Lopes A., Rato J., Rodrigues M., Henriques M., et al. Adaptations in the vascular surgery department of the chuln during the covid-19 pandemic and impact on overall activity. Angiol Vasc Surg. 2020; 16: 132-5.
Duarte A, Gouveia E Melo R, Lopes A, Rato JP, Valente J, Pedro LM. Lessons Learned from the Impact of the COVID-19 Pandemic in a Vascular Surgery Department and Preparation for Future Outbreaks. Ann Vasc Surg. 2021;73:97-106.
Gouveia E Melo R, Pedro LM. Vascular surgery department adjustments in the era of the COVID-19 pandemic. J Vasc Surg. 2020;72:375-6.
Ferreira Barbas MJ. Apocalypse now, return to the future and other action movies. Vascular surgery in Garcia de Orta Hospital in pandemic time. Angiol Vasc Surg. 2020; 16: 136-7.
Cunha e Sá D. Management of vascular surgery activity at the beatriz ângelo hospital in the context of the covid-19 pandemic. Angiol Vasc Surg. 2020; 16: 138-9.
Cassio I. Management of covid-19 pandemic in the vascular surgery department of hospital do divino espirito santo — ponta delgada. Angiol Vasc Surg. 2020; 16: 140-1.
França J. Reality of the impact of covid 19 in the autonomous region of Madeira and vascular surgery department. Angiol Vasc Surg. 2020; 16: 142-3.
Abatia E, Stelliob LN, Maninia A, Moronic F, Azzalinid J, Vilcae LM. A cross-sectional survey study of the impact of COVID-19 pandemic on the training and quality of life of Italian medical residents in the Lombardy region. Annals of medicine. 2022; 4: 2326–39.
Martelli E, Sotgiu G, Saderi L, Federici M, Sangiorgi G, Zamboni M, et al. How the First Year of the COVID-19 Pandemic Impacted Patients' Hospital Admission and Care in the Vascular Surgery Divisions of the Southern Regions of the Italian Peninsula. J Pers Med. 2022;12:1170.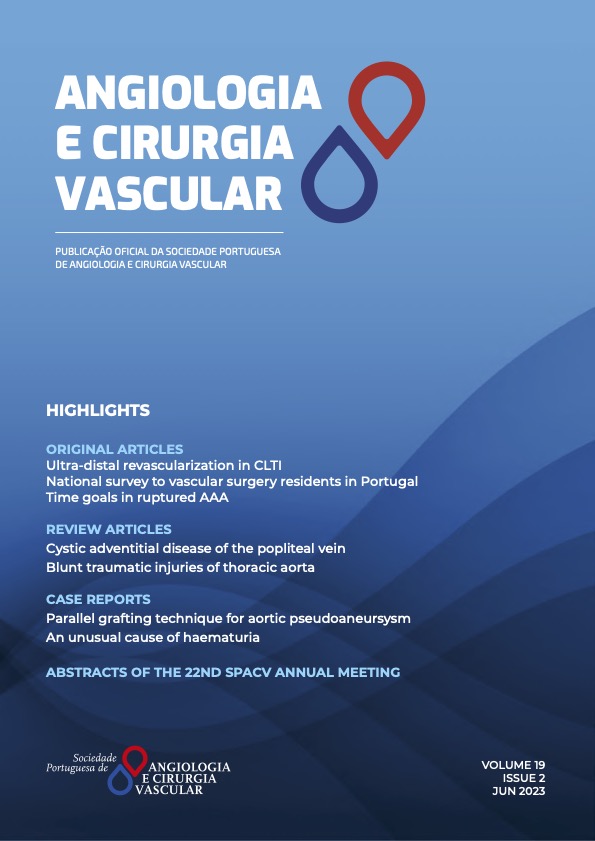 Downloads
How to Cite
1.
Gouveia e Melo R, Machado M, Bastos Gonçalves F, Pereira R, Nogueira C, Machado R, Mendes Pedro L. National survey to Portuguese Angiology and Vascular Surgery residents – Insights into the satisfaction and limitations of the residency program. Angiol Cir Vasc [Internet]. 2023 Aug. 15 [cited 2023 Nov. 30];19(2):23-34. Available from: https://acvjournal.com/index.php/acv/article/view/538