Lower extremity vasculitic ulcers – Case Report
Keywords:
Vasculitis, Leukocytoclastic, Cutaneous, Ulcer, Conservative treatment
Abstract
INTRODUCTION: Vasculitides are diseases usually caused by the deposition of immune complexes in the vascular endothelium, triggering inflammation with or without vessel necrosis. Leukocytoclastic vasculitis affects small- caliber vessels, especially venules, it's treatment can be long and complex and the condition may become extended when not followed correctly. This paper aims to report a form of vasculitis that manifests itself, among other forms, through skin ulcers, focusing on the clinical approach of the phenomenon and disease.
CASE REPORT: Female patient, 54 years old, presenting chronic venous disease and acute leukocytoclastic vasculitis, associated with persistent ulcers, pruritus and paresthesia that affected both legs and feet. The treatment, based on the use of vasodilators, corticoids and oral antibiotics, followed by dressings with antimicrobial action on the lesions, led to a complete remission of the wounds and reduction of symptoms within 6 months. As for the venous disease, radiofrequency thermoablation of saphenous veins was performed in association with phlebectomy of tributary veins, leading to significant improvement of the swelling and local paresthesia.
CONCLUSION: The treatment of patients with cutaneous ulcers associated with vasculitis demands the use of several medications and tends to be long-term. Patient's compliance is extremely important for improving the prognosis of the disease. In addition, radiofrequency thermoablation is shown to be an effective and safe option for the treatment of incompetent saphenous veins, with less recurrence of cutaneous ulcers compared to surgery.
Downloads
Download data is not yet available.
References
Yates M, Watts R. ANCA-associated vasculitis. Clin Med. 2017 Feb;17:60-4
Shavit E, Alavi A, Sibbald RG. Vasculitis—What Do We Have to Know? A
Review of Literature. Int J Low Extrem Wounds. 2018;17:218-26
Bezerra AS, Polimanti AC, Oliveira RA de Fürst RVC, Criado PR, Corrêa JA. Diagnóstico e terapêutica precoce de vasculite leucocitoclástica: relato de caso. J Vasc Bras. 2020;19:1-5
Fraticelli P, Benfaremo D, Gabrielli A. Diagnosis and management of leukocytoclastic vasculitis. Intern Emerg Med. 2021;16:831-41
Sunderkotter C, Bonsmann G, Sindrilaru1 A, Luger T. Management of leukocytoclastic vasculitis. J. Dermatol. Treat. 2005;16:193-206
Papi M, Papi C. Vasculitic Ulcers. Int J Low Extrem Wounds. 2016;15:6-16
Watts RA, Robson J. Introduction, epidemiology and classification of
vasculitis. Best Pract Res Clin Rheumatol. 2018;32:3-20
Micheletti RG, Pagnoux C. Management of cutaneous vasculitis. Press Medicale. 2020;49:104033
Chen KR, Carlson JA. Clinical approach to cutaneous vasculitis. Am J Clin Dermatol. 2008;9:71-92
Eberhardt RT, Raffetto JD. Chronic Venous Insufficiency. Circulation. 2014;130:333-46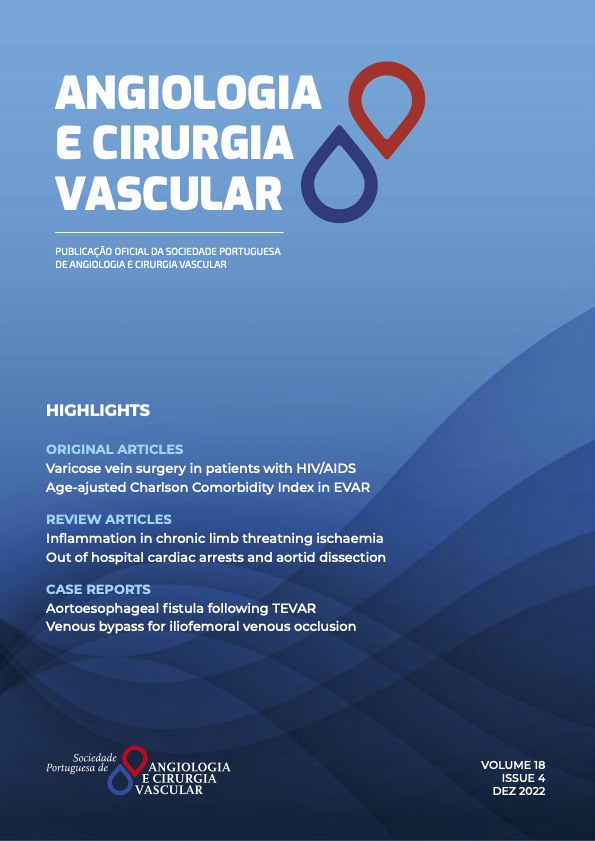 Downloads
How to Cite
1.
Cemin KN, Moro AB, Toregeani JF. Lower extremity vasculitic ulcers – Case Report. Angiol Cir Vasc [Internet]. 2023 Mar. 23 [cited 2023 Jun. 7];18(4):253-5. Available from: https://acvjournal.com/index.php/acv/article/view/531