An unusual cause of haematuria - case report
Keywords:
uretero-arterial fistula, haematuria, uretero-iliac fistula
Abstract
INTRODUCTION: The development of a uretero-arterial fistula (UAF) is a rare and life-threatening condition. Owing to its low prevalence, diagnosis and management remains a challenge for both urologists and vascular surgeons and UAF's high mortality rates may be at least partially attributed to delayed diagnosis. We present a case of UAF in a patient with previous pelvic surgery and indwelling ureter catheter.
CASE REPORT: An 82-year-old male presented to the emergency department with haemodynamic instability and gross haematuria that started one hour prior to admission. The laboratory study performed showed an acute anaemia of 7.5g/dl and a contrast enhanced computed tomography revealed a ureteral fistula betweenthe stented left ureter and the common iliac artery. The patient was taken to the angiography suit and a balloon- expandable stent-graft (GORE® VIABAHN® VBX – 11mm diameter and 59mm in length) was deployed.
Following the procedure, the haematuria resolved, and the patient had an uneventful post-operative stay. He was discharged two weeks after admission, following a course of large spectrum antibiotic therapy. The patient remained asymptomatic at 3 month follow up.
CONCLUSIONS: Uretero-arterial fistula is an uncommon condition but with an increasing prevalence, at least in part due to improved pelvic cancer treatment.
Downloads
Download data is not yet available.
References
Subiela JD, Balla A, Bollo J, et al. Endovascular Management of Ureteroarterial Fistula: Single Institution Experience and Systematic Literature Review. Vasc Endovascular Surg. 2018;52:275-86.
Kaneko T, Sakamoto A, Yamada Y, Yamamoto M, Kondo H, Nakagawa T. Uretero‐arterial fistula treated with endovascular stent graft following multiple interventions. IJU Case Reports. 2020;3:275-7.
Kamphorst K, Lock TMTW, Van Den Bergh RCN, et al. Arterio-Ureteral Fistula: Systematic Review of 445 Patients. J Urol. 2022;207:35-43.
Guntau M, Hegele A, Rheinheimer S, Hofmann R, Mahnken AH. Balloon- Expandable Stent Graft for Treating Uretero-Iliac Artery Fistula. Cardiovasc Intervent Radiol. 2017;40:831-5.
Berastegi-Santamaria C, Echevarria-Uraga JJ, Garcia-Garai N, Jiménez- Zapater C, Cura-Allende G Del. Ureteroarterial fistula treated by endovascular stent placement. Radiol Case Reports. 2020;15:1714-7.
Mahlknecht A, Bizzotto L, Gamper C, Wieser A. A rare complication of ureteral stenting: Case report of a uretero-arterial fistula and revision of the literature. Arch Ital di Urol e Androl. 2018;90:215-7.
Abbas AIA, Salhanick M, Kirkwood ML. Uretero-Arterial Fistula: A Case Report and Review of the Literature. Vasc Endovascular Surg. 2021;55:415-8.
Turo R, Hadome E, Somov P, Hamid B, Gulur DM, Pettersson BA, et al. Uretero-Arterial Fistula - Not so Rare? Curr Urol. 2018;12:54-6.
Omran S, Schäfer H, Kapahnke S, Muller V, Burger M, Konietschke F, et al. Endovascular and open surgical options in the treatment of uretero-arterial fistulas. Vascular. 2021;26:672-81.
Tijunaitis K, Mosenko V, Baltrūnas T. A Bleeding Uretero-Arterial Fistula: Open Repair After Unsuccessful Endovascular Treatment. Vasc Endovascular Surg. 2021;55:171-6.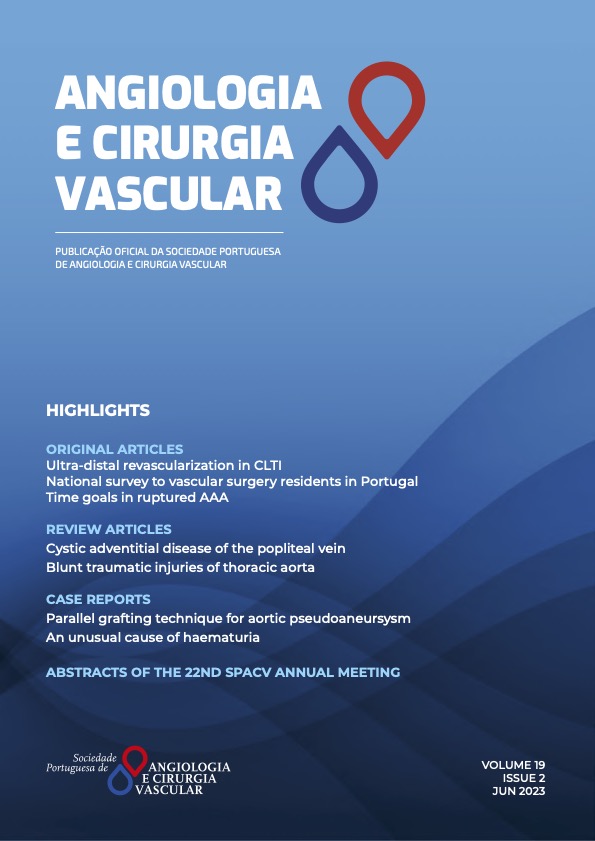 Downloads
How to Cite
1.
Peixoto J, Brandão P, Semião C, Fernandes L, Canedo A. An unusual cause of haematuria - case report. Angiol Cir Vasc [Internet]. 2023 Aug. 15 [cited 2023 Dec. 1];19(2):51-3. Available from: https://acvjournal.com/index.php/acv/article/view/512