Nellix stent graft explant: a great challenge for late open conversion of failed endovascular aortic repair
Keywords:
Nellix endograft, Endovascular aneurysm repair, Explant, Endoleak
Abstract
INTRODUCTION: The concept of the Nellix endoprosthesis is based on endovascular aneurysm sealing with endobags and was launched in the market for endovascular abdominal aortic aneurysm repair (EVAR). The manufacturer recently issued a hazard alert due to higher rates of endoleaks, migration and aneurysm enlargement.
CASE REPORT: The authors present a clinical case of a seventy year-old man previously submitted to EVAR with a Nellix device in another country. The patient presented with an asymptomatic Type Ia endoleak and proximal aortic neck aneurysmatic degeneration. The anatomy was considered unfavourable for further endovascular management. After multidisciplinary discussion and workup, open surgical conversion was selected. Complete endoprosthesis explantation and in-situ reconstruction were performed. The post-operative course was uneventful.
CONCLUSION: Once presented with a patient considered fit for open surgical conversion and with aneurysm morphology unfavourable for endovascular, the authors believe that open conversion may constitute a very acceptable method of repair and should be offered.
Downloads
Download data is not yet available.
References
Traul D, Street D, Faught W, Eaton M, Castillo J, Brawner J, et al Endoluminal stent-graft placement for repair of abdominal aortic aneurysms in the community setting. J Endovasc Ther 2008;15:688-94
Moulakakis KG, Dalainas I, Mylonas S, Giannakopoulos TG, Avgerinos ED, Liapis CD. Conversion to open repair after endografting for abdominal aortic aneurysm: a review of causes, incidence, results, and surgical techniques of reconstruction. J Endovasc Ther 2010;17:694-702
Wanhainen A, Verzini F, Van Herzeele I, Allaire E, Brown M, Cohnert T, et al. European Society for Vascular Surgery (ESVS) 2019 Clinical Practice guidelines on the Management of Abdominal Aorto-iliac Artery Aneurysms; Eur J Vasc Endovasc Surg 2019;57:8-93
van den Ham LH, Zeebregts CJ, de Vries JP, Reijnen MJ. Abdominal aortic aneurysm repair using NellixTM EndoVascular Aneurysm Sealing. Surg Technol Int. 2015;26:226-31
Ameli-Renani S, Morgan RA. Transcatheter embolization of proximal type 1 endoleaks following endovascular aneurysm sealing (EVAS) using the Nellix device: Technique and outcomes. Cardiovasc Intervent Radiol. 2015;38:1137-42
Scali ST, McNally MM, Freezor RJ, Chang CK, Waterman AL, Berceli SA, et al. Elective endovascular aortic conversion for type 1a endoleak is not associated with increased morbidity or mortality compared to primary juxtarenal aneurysm repair; J Vasc Surg. 2014;60:286-94
Verzini F, Cao P, De Rango P, Parlani G, Xanthopoulos D, Iacono G, et al. Conversion to open repair after endografting for abdominal aortic aneurysm: Causes, incidence and results. Eur J Vasc Endovasc Surg 2006;31:136-42
Turney EJ, Steenberge SP, Lyden SP, Eagleton MJ, Srivastava SD, Sarac TP, et al. Late graft explants in endovascular aneurysm repair. J Vasc Surg 2014;59:886-93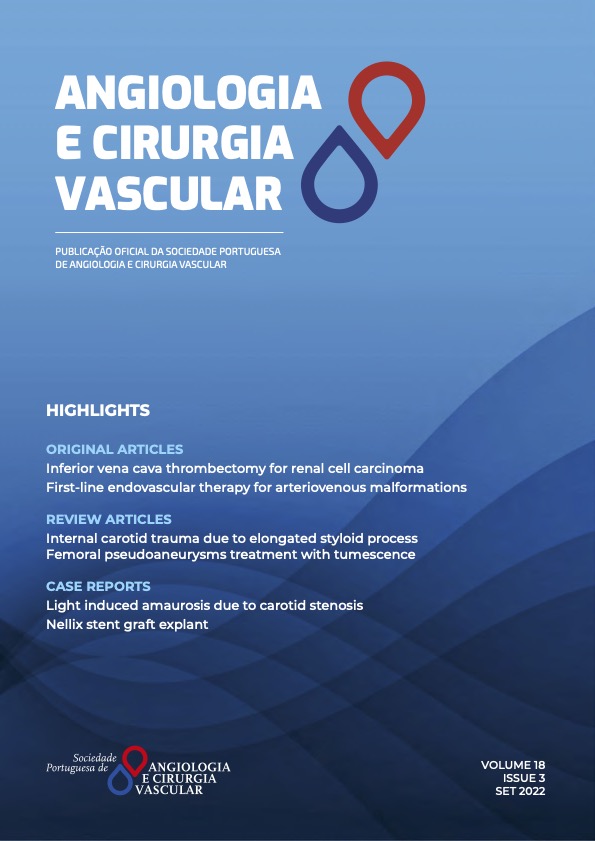 Downloads
How to Cite
1.
Sousa PP, Antunes I, Braga S, Simões JC, Carrilho C, Mesquita A. Nellix stent graft explant: a great challenge for late open conversion of failed endovascular aortic repair. Angiol Cir Vasc [Internet]. 2023 Jan. 7 [cited 2023 Sep. 23];18(3):202-5. Available from: https://acvjournal.com/index.php/acv/article/view/470