Case report of suspected Takayasu arteritis manifesting as chronic mesenteric ischaemia: a rare cause for a typical clinical picture
Keywords:
isquemia intestinal, vasculitis, Takayasu arteritis, mesenteric ischemia
Abstract
INTRODUCTION: Chronic intestinal ischemia accounts for approximately 1:1,000,000 admissions in some epidemiological studies. This condition usually affects individuals with known atherosclerotic lesion in other territories. Although typically found in female patients in their seventh decade of life with established arterial disease, chronic intestinal ischemia may manifest itself in younger patients. In the latter case, unusual causes, such as vasculitis, must be included in the differential diagnosis.
CASE REPORT: We report the case of a 31-year-old man with a known history of intermittent left and right upper limb claudication and smoking. He complained of postprandial epigastric pain in the previous year, with unvoluntary weight loss (6kg in the previous 6 months) and fear of eating. An angio CT scan was performed, which showed occlusion of the celiac trunk and superior mesenteric artery at its origin. The diagnosis of chronic intestinal ischemia was formulated, and the patient was submitted to an antegrade bypass from the supraceliac aorta to the superior mesenteric artery and common hepatic artery, with a bifurcated Dacron graft.
DISCUSSION: Given the inflammatory nature of the collected fragment of aorta, the onset of intestinal ischemia at a young age and the remaining peripheral arterial manifestations, a presumptive diagnosis of Takayasu's arteritis was formulated. This vasculitis is typically found in patients in their third decade and is associated with diffuse arterial thickening. Mesenteric manifestations in this condition can occur up to 30%.
Downloads
Download data is not yet available.
References
Schermerhorn ML, Giles KA, Hamdan AD, Wyers MC, Pomposelli FB. Mesenteric revascularization: management and outcomes in the United States, 1988-2006. J Vasc Surg 2009;50(2):341-8.
Björck M, Koelemay M, Acosta S, Bastos Goncalves F, Kölbel T, Kolkman JJ, et al. Management of the Diseases of Mesenteric Arteries and Veins. Eur J Vasc Endovasc Surg 2017;53(4):460–510.
Arend WP, Michel BA, Bloch DA, Hunder GG, Calabrese LH, Edworthy SM, et al. The American College of Rheumatology 1990 criteria for the classification of takayasu arteritis. Arthritis Rheum 1990;33(8):1129–34.
Dejaco C, Ramiro S, Duftner C, Besson FL, Bley TA, Blockmans D, et al. EULAR recommendations for the use of imaging in large vessel vasculitis in clinical practice. Ann Rheum Dis. 2018;77(5):636.
Huber TS, Björck M, Chandra A, Clouse WD, Dalsing MC, Oderich GS, et al. Chronic mesenteric ischemia: Clinical practice guidelines from the Society for Vascular Surgery. J Vasc Surg. 2021;73(1):87S-115S.
Oderich GS, Bower TC, Sullivan TM, Bjarnason H, Cha S, Gloviczki P. Open versus endovascular revascularization for chronic mesenteric ischemia: Risk-stratified outcomes. J Vasc Surg. 2009;49(6):1472-9.
van Petersen AS, Kolkman JJ, Beuk RJ, Huisman AB, Doelman CJA, Geelkerken RH. Open or percutaneous revascularization for chronic
splanchnic syndrome. J Vasc Surg. 2010;51(5):1309–16.
Rits Y, Oderich GS, Bower TC, Miller DV, Cooper L, Ricotta JJ, et al. Interventions for mesenteric vasculitis. J Vasc Surg. 2010;51(2):392-400.
Jung JH, Lee YH, Song GG, Jeong HS, Kim J-H, Choi SJ. Endovascular Versus Open Surgical Intervention in Patients with Takayasu's Arteritis: A Meta-analysis. Eur J Vasc Endovasc Surg. 2018;55(6):888–99.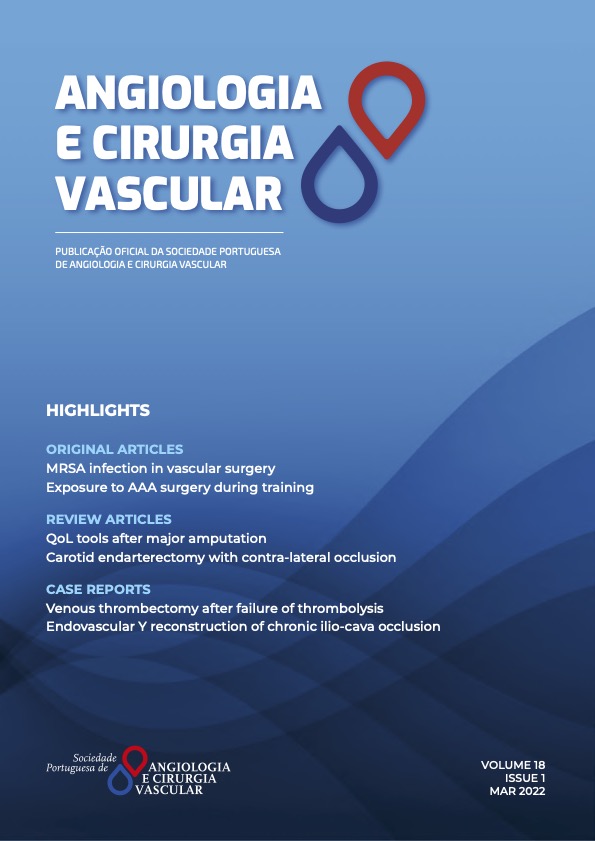 Downloads
How to Cite
1.
Duarte A, Lopes A, Sobrinho G, Mendes Pedro L. Case report of suspected Takayasu arteritis manifesting as chronic mesenteric ischaemia: a rare cause for a typical clinical picture. Angiol Cir Vasc [Internet]. 2022 Jul. 1 [cited 2022 Aug. 18];18(1):40-6. Available from: https://acvjournal.com/index.php/acv/article/view/432