HOME-MADE FROZEN STENTED ELEPHANT TRUNK FOR ACUTE ARCH DISSECTION: AN HYBRID OFF-THE-SHELF TREATMENT IN AN EMERGENCY SETTING
Keywords:
non-A non-B acute aortic dissection, aortic rupture, Frozen-Stented Elephant Trunk
Abstract
Introduction: Involvement of the ascending/aortic arch in the thoracic aorta pathology can preclude thoracic endovas- cular aortic repair (TEVAR) due to the absence of an adequate proximal landing zone. Hybrid interventions combining ascending/aortic arch replacement with TEVAR of the descending thoracic aorta (DTA) are associated with good outcomes. Despite the existence of dedicated devices (E-vita®, Thoraflex®), they may not be available in good time in emergent cases that might require inventive solutions, like the one we present.
Case Report: A 53-year-old hypertensive, active smoker male was admitted due to a non-A-non-B acute aortic dissection, complicated with a contained rupture at the aortic isthmus and a left haemothorax. Considering the absence of a secure proximal landing zone we decided on an aortic arch replacement and frozen stented elephant trunk using off-the-shelf devices. Debranching of the innominate and left common carotid arteries was performed with a 16×8mm bifurcated graft. The aortic arch replacement was performed with a 28 mm Dacron, under hypothermic circulatory arrest. A 30×30×157mm stent graft was anterogradely advanced to the DTA, under direct vision, with its proximal part parked at the level of the Dacron anastomosis. The proximal arch anastomosis was completed at the level of the sinotubular junction. Completion angiography revealed appropriately reconstructed aortic arch, successful exclusion of the entry tear and rupture site, as well as adequate renal and visceral perfusion. The patient had an uneventful postoperative course, being discharged on postoperative day 23. Control CTA demonstrated successful arch reconstruction, true lumen expansion and no signs of complications.
Conclusion: This hybrid approach with off-the-shelf devices was successful and avoided the cumulative morbidity of an additional left thoracotomy as the technical difficulty of a full open surgery in this setting. In the absence of readily available dedicated devices, hybrid techniques will undoubtedly play a role in the treatment of acute aortic syndromes. The existence of an "Aortic Team" available to evaluate, decide and combine the expertise of cardiothoracic and vascular surgery was essential in this case.
Downloads
Download data is not yet available.
References
1. Abou-Zamzam, A. M., Zhang, W., Wang, N. & Razzouk, A. Endovascular Repair of a Ruptured Descending Thoracic Aortic Aneurysm in a Patient with an Ascending Aortic Aneurysm: Hybrid Open Arch Reconstruction with Simultaneous Thoracic Stent-Graft Deployment within Elephant Trunk. Ann. Vasc. Surg. 22, 168–172 (2008).
2. Smith, H. N. et al. Classification and outcomes of extended arch repair for acute Type A aortic dissection: A systematic review and meta-analysis. Interact. Cardiovasc. Thorac. Surg. 24, 450–459 (2017).
3. Shrestha, M. et al. Current status and recommendations for use of the frozen elephant trunk technique: A position paper by the Vascular Domain of EACTS. Eur. J. Cardio-thoracic Surg. 47, 759–769 (2015).
4. Jackson, B. M. et al. Anatomic exclusion from endovascular repair of thoracic aortic aneurysm. J. Vasc. Surg. 45, 662–666 (2007).
5. Preventza, O. et al. Acute type I aortic dissection with or without antegrade stent delivery: Mid-term outcomes. J. Thorac. Cardiovasc. Surg. 158, 1273–1281 (2019).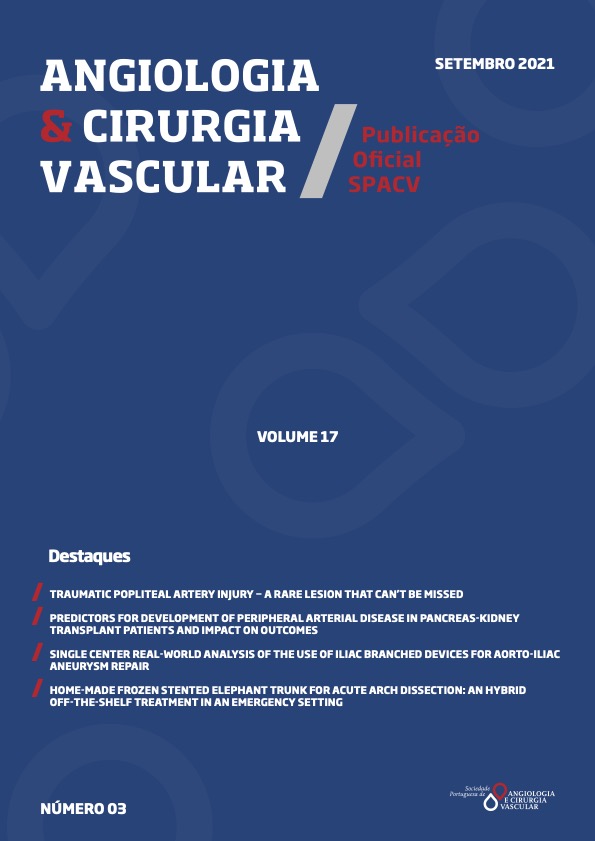 Downloads
How to Cite
1.
Coelho NH, Silveira D, Martins V, Martins D, Paulo N, Semião C, Peixoto J, Fernandes L, Machado M, Canedo A. HOME-MADE FROZEN STENTED ELEPHANT TRUNK FOR ACUTE ARCH DISSECTION: AN HYBRID OFF-THE-SHELF TREATMENT IN AN EMERGENCY SETTING. Angiol Cir Vasc [Internet]. 2021 Dec. 24 [cited 2023 May 27];17(3):264-8. Available from: https://acvjournal.com/index.php/acv/article/view/422