Endovascular Y-reconstruction of chronic ilio-cava occlusion
Keywords:
inferior vena cava agenesis, deep vein thrombosis, post-thrombotic syndrome, endovascular reconstruction
Abstract
INTRODUCTION: Inferior vena cava (IVC) agenesis is a rare pathology, associated with an increased risk of iliofemoral deep venous thrombosis (DVT), a frequent cause of disabling post-thrombotic syndrome (PTS).
CASE REPORT: Authors present a case of bilateral iliofemoral thrombosis in a patient with IVC agenesis, successfully treated at a European reference center. Patient was submitted to an endovascular Y reconstruction of the IVC and iliac veins.
Downloads
Download data is not yet available.
References
Aranda JR, Ramírez CC, Mussali SC, et al. Inferior Vena Cava Agenesis: An Unusual Cause of Deep Vein Thrombosis and Pulmonary Embolism in Young Adult Patients. EJVES Short Reports 2018; 39: 12-5.
Koppisetty S, Smith AG, Dhillon RK. Incidental Finding of Inferior Vena Cava Atresia Presenting with Deep Venous Thrombosis following Physical Exertion. Case Reports in Emergency Medicine 2015; 2015: 1-4.
Kahn SR, Comerota AJ, Cushman M, et al. The postthrombotic syndrome: evidence-based prevention, diagnosis, and treatment strategies: a scientific statement from the American Heart Association. Circulation 2014;130(18):1636-61.
Sebastian T, Barco S, Kreuzpointner R, et al. Reversal of cardiopulmonary exercise intolerance in patients with post-thrombotic obstruction of the inferior vena cava. Thromb Res 2021;208:219-25
Wittens C, Davies AH, Baekgaard N, et al. Editor's Choice - Management of Chronic Venous Disease: Clinical Practice Guidelines of the European Society for Vascular Surgery (ESVS). Eur J Vasc Endovasc Surg 2015;49(6):678-737.
Mabud TS, Sailer AM, Swee JKY, et al. Inferior Vena Cava Atresia: Characterisation of Risk Factors, Treatment, and Outcomes. Cardiovasc Interv Radiol 2020; 43: 37-45.
Sebastian T, Dopheide JF, Engelberger RP, et al. Outcomes of endovascular reconstruction of the inferior vena cava with self-expanding nitinol stents. J Vasc Surg Venous Lymphat Disord 2018;6(3):312-20.
Neglén P, Darcey R, Olivier et al. Bilateral stenting at the iliocaval confluence. J Vasc Surg 2010;51:1457-66.
Murphy EH, Johns B, Varney E, et al. Endovascular management of chronic total occlusions of the inferior vena cava and iliac veins. J Vasc Surg Venous Lymphat Disord 2017;5:47-59.
Chick JF, Jo A, Meadows JM, et al. Endovascular iliocaval stent reconstruction for inferior vena cava filter-associated iliocaval thrombosis: approach, technical success, safety, and two-year outcomes in 120 patients. J Vasc Interv Radiol 2017;28:933-9.
de Graaf R, de Wolf M, Sailer AM, et al. Iliocaval confluence stenting for chronic venous obstructions. Cardiovasc Intervent Radiol 2015;38:1198-204.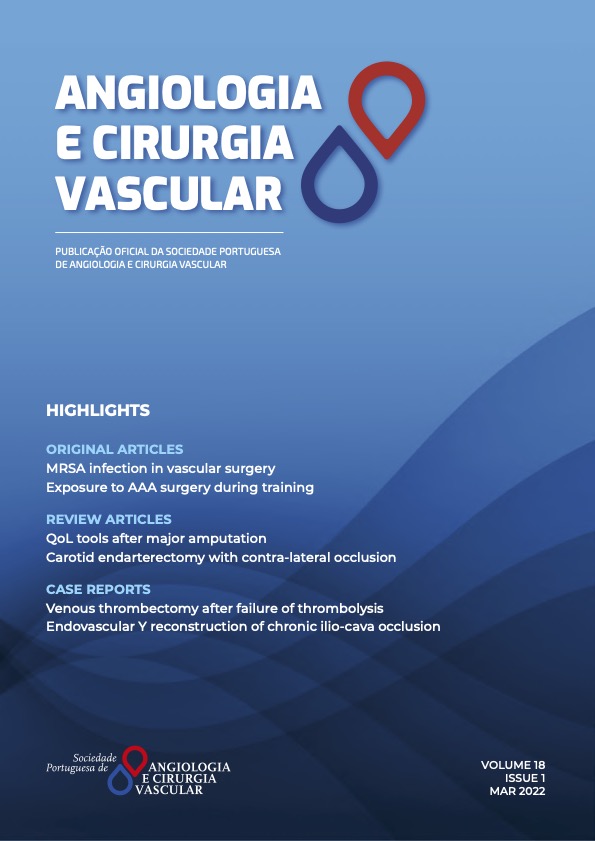 Downloads
How to Cite
1.
Figueiredo Braga S, Carrilho C, Correia Simões J, Pinto Sousa P, Mesquita A. Endovascular Y-reconstruction of chronic ilio-cava occlusion. Angiol Cir Vasc [Internet]. 2022 Jul. 1 [cited 2022 Aug. 18];18(1):40-3. Available from: https://acvjournal.com/index.php/acv/article/view/418