Human immunodeficiency virus and carotid artery disease – single center experience and literature review
Keywords:
HIV, AIDS, carotid artery disease, carotid endarterectomy
Abstract
INTRODUCTION: People infected with the human immunodeficiency virus (HIV) - People living with HIV/AIDS (PLWHA) - seem to have an increased risk of incidence and prevalence of cardiovascular diseases, namely stroke of ischemic nature. Additional etiological mechanisms, in addition to aging, appear to lie in chronic virus-mediated inflammation as well as in antiretroviral therapy (ART).
The aim of this study was to carry out a retrospective review with descriptive analysis of cases of PLWHA and with a diagnosis of carotid atherosclerotic disease in a tertiary referral center as well as a non-systematic review of the literature.
METHODS: All patients diagnosed with HIV infection and concomitantly diagnosed with carotid atherosclerotic disease, in a tertiary center, between October 2007 and December 2019, were selected. A descriptive analysis of the sample and additionally a non-systematic review of the literature using the MEDLINE database, were performed.
RESULTS: Nine patients who met the inclusion criteria were selected, 7 (78%) being male. The mean age at diagnosis of carotid disease was 59 years. The diagnosis of HIV infection preceded, on average, 12 years before the diagnosis of carotid disease, while the start of ART preceded this diagnosis by about 11 years. The most common cardiovascular risk factors are dyslipidemia (89%), high blood pressure (56%) and smoking (56%). Approximately 33% had peripheral arterial disease and 22% had coronary artery disease.
Only two (22%) patients underwent carotid endarterectomy over a median follow-up of 5 years, both for asymptomatic stenosis. Since the diagnosis of carotid disease, there have been no major cardiovascular events (stroke or acute myocardial infarction). During follow-up there were two deaths.
CONCLUSION: PLWHA have a high prevalence of multisite artery disease, manifesting it at a relatively earlier age compared to the general population. These patients benefit from multidisciplinary follow-up for therapeutic optimization in order to obtain better results. However, larger prospective studies are needed to clarify the results in these patients and to improve the therapeutic approach, particularly in those with concomitant carotid disease.
Downloads
Download data is not yet available.
References
Hemkens LG, Bucher HC. HIV infection and cardiovascular disease. Eur Heart J. 2014;35(21):1373-81.
Mondal P, Aljizeeri A, Small G, Malhotra S, Harikrishnan P, Affandi JS, et al. Coronary artery disease in patients with human immunodeficiency virus infection. J Nucl Cardiol. "2021;28:510-30".
Freiberg MS, Chang CC, Kuller LH, Skanderson M, Lowy E, Kraemer KL, et al. HIV infection and the risk of acute myocardial infarction. JAMA Intern Med. 2013;173(8):614-22.
So-Armah K, Freiberg MS. HIV and Cardiovascular Disease: Update on Clinical Events, Special Populations, and Novel Biomarkers. Curr HIV/AIDS Rep. 2018;15(3):233-44.
Hadigan C, Paules CI, Fauci AS. Association Between Human Immunodeficiency Virus Infection and Cardiovascular Diseases: Finding a Solution to Double Jeopardy. JAMA Cardiol. 2017;2(2):123-4.
de Weerd M, Greving JP, Hedblad B, Lorenz MW, Mathiesen EB, O'Leary DH, et al. Prevalence of asymptomatic carotid artery stenosis in the general population: an individual participant data meta-analysis. Stroke. 2010;41(6):1294-7.
Lin TC, Burton BN, Barleben A, Hoenigl M, Gabriel RA. Association of HIV infection with age and symptomatic carotid atherosclerotic disease at the time of carotid intervention in the United States. Vasc Med. 2018;23(5):467-75.
Green ML. Evaluation and management of dyslipidemia in patients with HIV infection. J Gen Intern Med. 2002;17(10):797-810.
El-Sadr WM, Mullin CM, Carr A, Gibert C, Rappoport C, Visnegarwala F, et al. Effects of HIV disease on lipid, glucose and insulin levels: results from a large antiretroviral-naive cohort. HIV Med. 2005;6(2):114-21.
Ji X, Leng XY, Dong Y, Ma YH, Xu W, Cao XP, et al. Modifiable risk factors for carotid atherosclerosis: a meta-analysis and systematic review. "Ann Transl Med 2019;7:632".
Hsue PY, Lo JC, Franklin A, Bolger AF, Martin JN, Deeks SG, et al. Progression of atherosclerosis as assessed by carotid intima-media thickness in patients with HIV infection. Circulation. 2004;109(13):1603-8.
Hanna DB, Post WS, Deal JA, Hodis HN, Jacobson LP, Mack WJ, et al. HIV Infection Is Associated With Progression of Subclinical Carotid Atherosclerosis. Clin Infect Dis. 2015;61(4):640-50.
Thiébaut R, Dequae-Merchadou L, Ekouevi DK, Mercié P, Malvy D, Neau D, et al. Incidence and risk factors of severe hypertriglyceridaemia in the era of highly active antiretroviral therapy: the Aquitaine Cohort, France, 1996-99. HIV Med. 2001;2(2):84-8.
Krsak M, Kent DM, Terrin N, Holcroft C, Skinner SC, Wanke C. Myocardial Infarction, Stroke, and Mortality in cART-Treated HIV Patients on Statins. AIDS Patient Care STDS. 2015;29(6):307-13.
Lubin JH, Couper D, Lutsey PL, Yatsuya H. Synergistic and Non- synergistic Associations for Cigarette Smoking and Non-tobacco Risk Factors for Cardiovascular Disease Incidence in the Atherosclerosis Risk In Communities (ARIC) Study. "Nicotine Tob Res. 2017;19:826-35".
Mangili A, Polak JF, Skinner SC, Gerrior J, Sheehan H, Harrington A, et al. HIV infection and progression of carotid and coronary atherosclerosis: the CARE study. J Acquir Immune Defic Syndr. 2011;58(2):148-53.
Ortiz G, Koch S, Romano JG, Forteza AM, Rabinstein AA. Mechanisms of ischemic stroke in HIV-infected patients. Neurology. 2007;68:1257-61.
Jericó C, Knobel H Fau - Calvo N, Calvo N Fau - Sorli ML, Sorli Ml Fau - Guelar A, Guelar A Fau - Gimeno-Bayón JL, Gimeno-Bayón Jl Fau - Saballs P, et al. Subclinical carotid atherosclerosis in HIV-infected patients: role of combination antiretroviral therapy. "Stroke 2006;37:812-7".
d'Arminio A, Sabin Ca Fau - Phillips AN, Phillips An Fau - Reiss P, Reiss P Fau - Weber R, Weber R Fau - Kirk O, Kirk O Fau - El-Sadr W, et al. Cardio- and cerebrovascular events in HIV-infected persons. "AIDS. 2004;18:1811-7".
Kaplan RC, Sinclair E, Landay AL, Lurain N, Sharrett AR, Gange SJ, et al. T cell activation predicts carotid artery stiffness among HIV-infected women. Atherosclerosis. 2011;217(1):207-13.
Lin TC, Burton BN, Barleben A, Hoenigl M, Gabriel RA. Association of HIV infection with age and symptomatic carotid atherosclerotic disease at the time of carotid intervention in the United States. Vasc Med. 2018;23(5):467-75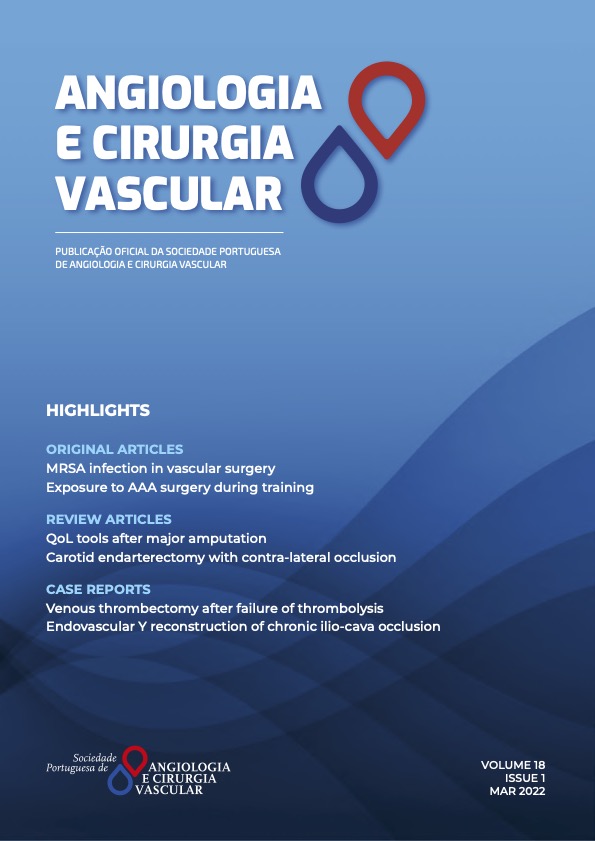 Downloads
How to Cite
1.
Pereira-Neves A, Pereira-Macedo J, Soares T, Duarte-Gamas L, Jácome F, Nóbrega L, Dias-Neto M, Rocha-Neves J, Cerqueira A, Teixeira J. Human immunodeficiency virus and carotid artery disease – single center experience and literature review. Angiol Cir Vasc [Internet]. 2022 Jul. 1 [cited 2023 Jun. 7];18(1):17-29. Available from: https://acvjournal.com/index.php/acv/article/view/408