PERICARDIUM BOVINE PATCH INFECTION AFTER AORTIC LIGATION — CLINICAL CASE
Keywords:
Aorto enteric fistula, Pericardium bovine patch, Infection
Abstract
Introduction: Prosthetic graft infection is one of the most feared complications after aortic surgery (0,19% after conventional surgery and 0,16% after EVAR).
Clinical case: Male patient, 53 years-old, with a prior history of hypertension, dyslipidemia, stroke, smoking habits, was submitted in 2015 to an aorto-bifemoral bypass for aortic occlusive disease. In October 2019 the angio CT showed signs of prosthetic graft infection and an aorto-enteric fistula. The patient was initiated on vancomycin and was submitted to an axillofemoral bypass and after 5 days, submitted to aortic ligation and correction of the enteric defect. The aortic stump was reinforced with a bovine pericardium patch. The graft microbiology identified Candida glabrata, Enterobacter cloacae e Klebsiella pneumoniae. Few months after, the follow-up angio CT showed an aortic stump collection suggesting infection and abscess formation and the authors proposed an aortic stump revision in order to remove the infected tissue. Via thoraco-phreno-laparotomy, the abdominal aorta was exposed by retroperioneal access, and all infected tissue including the pericardium patch was excised. The microbiology of the pericardium bovine patch resected revealed Candida glabrata and Enterococcus faecium. The patient was discharged with antibiotics and cautious follow-up.
Conclusion: In patients with low profile surgical risk, an aggressive strategy may offer the best effective treatment chance for patients presenting with aortic prosthetic graft infection and pericardium bovine patch infection. Nevertheless, these patients require long term follow-up due to the risk of recurrence. Pericardium patches may infect if implanted in contaminated tissue, so autologous grafts should be the preference whenever possible.
Downloads
Download data is not yet available.
References
1. Chakfé N, Diener H, Lejay A, et al: European Society for Vascular Surgery (ESVS) 2020 Clinical Practice Guidelines on the Management of Vascular Graft and Stent Graft Infections With the Endorsement of the European Association of Nuclear Medicine (EANM).Eur J Vasc Endovasc Surg; 2019

2. Argyriou C, Georgiadis GS, Lazarides MK, Georgakarakos E, Antoniou GA. Endograft infection after endovascular abdominal aortic aneurysm repair: a systematic review and meta-analysis. J Endovasc Ther 2017;24:688e97.

3. Vollmar JF, Kogel H; Aorto-enteric fistulas as postoperative complication. J Cardiovasc Surg 1987; 28:479

4. Kuestner LM, Reilly LM, Jicha DL, et al: Secondary aortoenteric fistula: contemporary outcome with use of extraanatomic bypass and infected graft excision. J Vasc Surg 1995; 21-184

5. Batt M, Jean-Baptiste E, O'Connor S, Feugier P, Haulon S. Contemporary management of infrarenal aortic graft infection: early and late results in 82 patients. Vascular 2012;20: 129e37.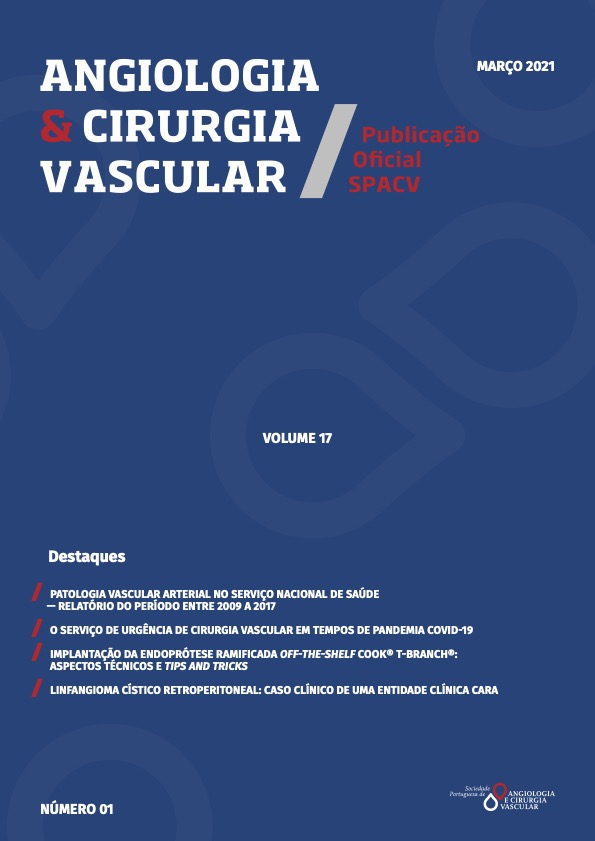 Downloads
How to Cite
1.
Catarino J, Alves G, Gonçalves F, Quintas A, Ferreira R, Correia R, Bento R, Ferreira ME. PERICARDIUM BOVINE PATCH INFECTION AFTER AORTIC LIGATION — CLINICAL CASE. Angiol Cir Vasc [Internet]. 2021 Jun. 3 [cited 2022 Aug. 9];17(1):66-9. Available from: https://acvjournal.com/index.php/acv/article/view/350