THE RIGHT WAY TO CATCH A FISH COMES FROM THE LEFT
Keywords:
arteria lusoria, right aberrant subclavian artery, hybrid surgery
Abstract
The right aberrant subclavian artery, also known as arteria lusoria, is an anatomical variation described in the literature with an incidence of < 1%. Compression related symptoms can arise from the retroesophageal space and retrotracheal course of the artery. Only a few cases are reported of ischemic symptoms derived from a stenosed or occluded right aberrant subclavian artery. We present a case of ischemic right upper limb symptoms due to an occluded right aberrant subclavian artery treated with a hybrid procedure. The patient was submitted to a left subclavian artery stenting and left to right axillary bypass without complications.
Downloads
Download data is not yet available.
References
1. Recto, C., Boddi, M., Branca, J. J. V., Morucci, G., Pacini, A., Gulisano, M., Paternostro, F. (2019). Aortic arch branching pattern variation: its incidence on a 20030 cases review. IJAE, 124(1), 5-15.
2. Popieluszko, P., Henry, B. M., Sanna, B., Hsieh, W. C., Saganiak, K., Pękala, P. A., Tomaszewski, K. A. (2018). A systematic review and meta-analysis of variations in branching patterns of the adult aortic arch. Journal of vascular surgery, 68(1), 298-306.
3. Hunauld PM. Examen de quelques parties d'un singe. Hist Acad Roy Sci 1735;2:516–23.
4. Basile, A., Lomoschitz, F., Lammer, J. (2003). Transbrachial stenting of a critical ostial arteria lusoria stenosis. Journal of Endovascular Therapy, 10(4), 829-832.
5. Machado, L., Rocha, A., Mansilha, A., Teixeira, J. (2016). Estenose sintomática da artéria subclávia direita aberrante. Angiologia e Cirurgia Vascular, 12(4), 275-278.
6. Rowe, D. M., Becker, G. J., Scott, J. A., Conces, D. J. (1988). Right subclavian steal associated with aberrant right subclavian artery. American journal of neuroradiology, 9(3), 604-606.
7. Roland, C. F., Cherry, K. J. (1991). Symptomatic atherosclerotic stenotic disease of an aberrant right subclavian artery. Annals of vascular surgery, 5(2), 196-198.
8. Kieffer, E., Bahnini, A., Koskas, F. (1994). Aberrant subclavian artery: surgical treatment in thirty-three adult patients. Journal of vascular surgery, 19(1), 100-111.
9. Stone, W. M., Ricotta II, J. J., Fowl, R. J., Garg, N., Bower, T. C., Money, S. R. (2011). Contemporary management of aberrant right subclavian arteries. Annals of vascular surgery, 25(4), 508-514.
10. Pifarre, R., Dieter, J. R., Niedballa, R. G. (1971). Definitive surgical treatment of the aberrant retroesophageal right subclavian artery in the adult. The Journal of thoracic and cardiovascular surgery, 61(1), 154-159.
11. Stone, W. M., Brewster, D. C., Moncure, A. C., Franklin, D. P., Cambria, R. P., Abbott, W. M. (1990). Aberrant right subclavian artery: varied presentations and management options. Journal of vascular surgery, 11(6), 812-817.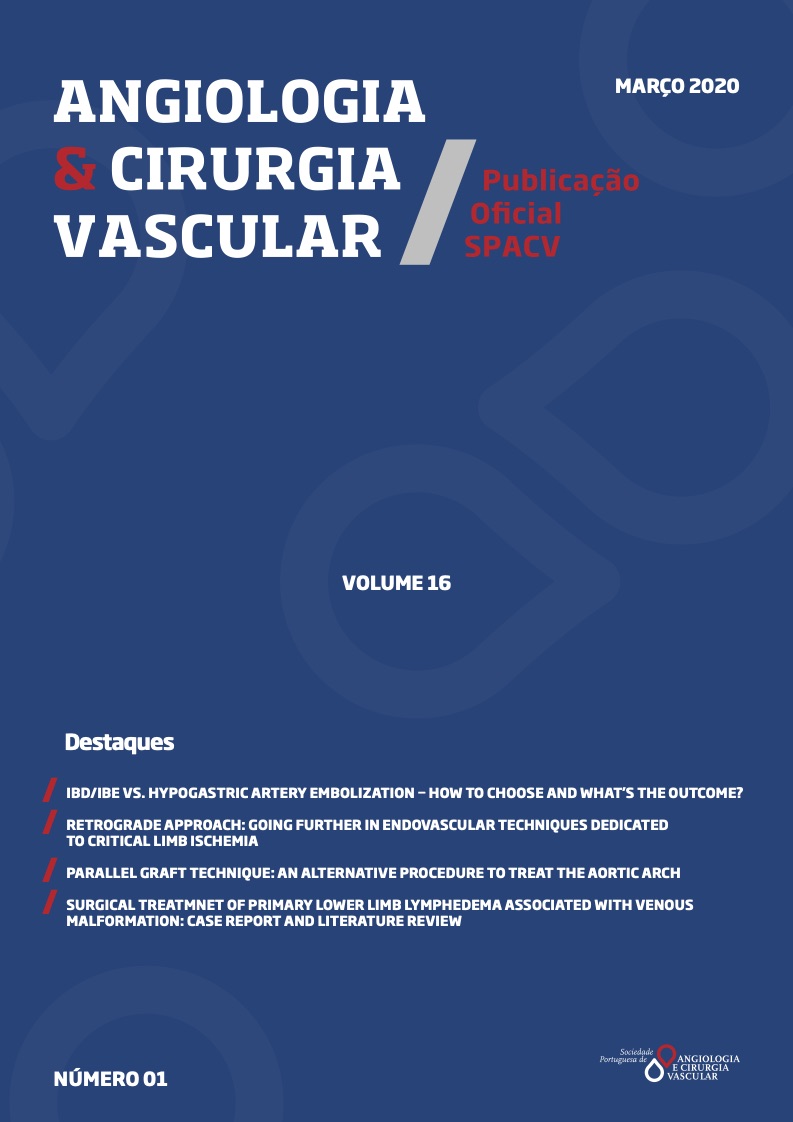 Downloads
How to Cite
1.
Loureiro L, Teixeira S, de Almeida R. THE RIGHT WAY TO CATCH A FISH COMES FROM THE LEFT. Angiol Cir Vasc [Internet]. 2020 Apr. 30 [cited 2022 Aug. 9];16(1):44-6. Available from: https://acvjournal.com/index.php/acv/article/view/292