STABILISE TECHNIQUE FOR TREATMENT OF TYPE B AORTIC DISSECTION: A LITERATURE REVIEW
Keywords:
Aortic dissection, STABILISE, TEVAR, PETTICOAT, endovascular
Abstract
Endovascular techniques are currently the treatment of choice for complicated type B aortic dissection (cTBAD). Among them is the STABILISE technique, which goal is to achieve, in a single surgical time, an immediate remodeling of the thoraco-abdominal aorta with consequent obliteration of the false lumen through the reaposition of the dissection flap to the outer layers of the aorta. This is a relatively recent technique, with few published series. Therefore, this review aims to systematize the information to date on this technique of increasing importance in the treatment of acute type B aortic dissections.
Downloads
Download data is not yet available.
References
1. Lombardi, J.V., et al., Prospective multicenter clinical trial (STABLE) on the endovascular treatment of complicated type B aortic dissection using a composite device design. J Vasc Surg, 2012. 55(3): p. 629-640 e2.
2. Melissano, G., et al., Satisfactory short-term outcomes of the STABILISE technique for type B aortic dissection. J Vasc Surg, 2018.
3. Faure, E.M., et al., Mid-term Outcomes of Stent Assisted Balloon Induced Intimal Disruption and Relamination in Aortic Dissection Repair (STABILISE) in Acute Type B Aortic Dissection. Eur J Vasc Endovasc Surg, 2018.
4. Canaud, L., et al., Systematic review of outcomes of combined proximal stent-grafting with distal bare stenting for management of aortic dissection. Ann Cardiothorac Surg, 2014. 3(3): p. 223-33.
5. Bertoglio, L., et al., The Petticoat concept for endovascular treatment of Type B aortic dissection. J Cardiovasc Surg (Torino), 2017.
6. Hofferberth, S.C., et al., Stent-assisted balloon-induced intimal disruption and relamination in aortic dissection repair: the STABILISE concept. J Thorac Cardiovasc Surg, 2014. 147(4): p. 1240-5.
7. Nienaber, C.A., et al., Endovascular repair of type B aortic dissection: long-term results of the randomized investigation of stent grafts in aortic dissection trial. Circ Cardiovasc Interv, 2013. 6(4): p. 407-16.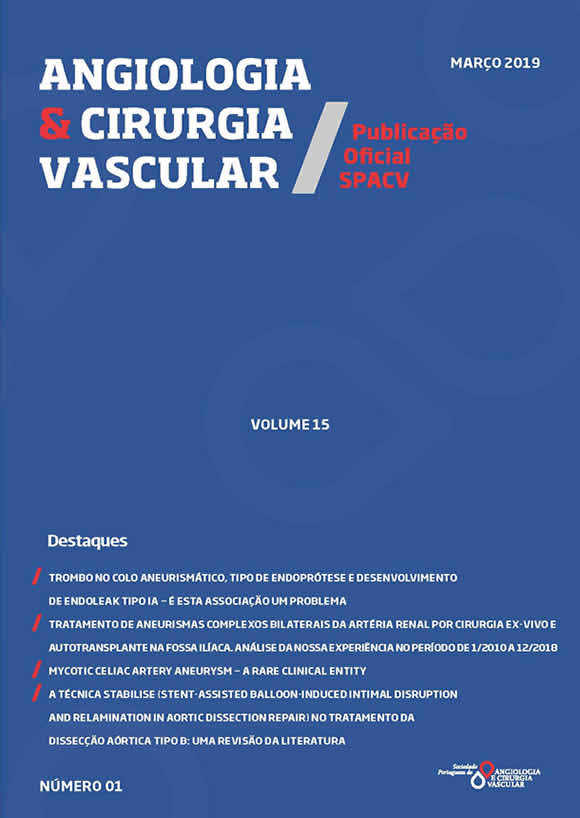 Downloads
How to Cite
1.
Lopes A, Gomes M, Sobrinho G, Mendes Pedro L. STABILISE TECHNIQUE FOR TREATMENT OF TYPE B AORTIC DISSECTION: A LITERATURE REVIEW. Angiol Cir Vasc [Internet]. 2019 Sep. 4 [cited 2022 Jul. 5];15(1):25-30. Available from: https://acvjournal.com/index.php/acv/article/view/170