Post-traumatic femoropopliteal pseudo-aneurysm in a patient allergic to heparins
Carla Lorena Blanco Amil

Vascular and Endovascular Surgery Department, Hospital Álvaro Cunqueiro, Vigo, Spain

Carolina Gallego Ferreiroa

Vascular and Endovascular Surgery Department, Hospital Álvaro Cunqueiro, Vigo, Spain

Eduardo Fraga Muñoz

Vascular and Endovascular Surgery Department, Hospital Álvaro Cunqueiro, Vigo, Spain

José Manuel Encisa de Sá

Vascular and Endovascular Surgery Department, Hospital Álvaro Cunqueiro, Vigo, Spain
Abstract
Post-traumatic pseudo-aneurysms of the femoral artery are a rare complication. They normally have iatrogenic causes and immediately appear. Less often, they appear at a later stage and are related with traumatisms, orthopaedic surgery, bone lesions, infections, etc. This report presents a case of a patient with allergy to heparin, and pseudo-aneurysm of the superficial femoral artery and 1st portion of the popliteal artery secondary to remote trauma in an extremity with serious deformities as a sequel. We performed conventional surgery using a posterior approach, and obtained a satisfactory outcome and evolution.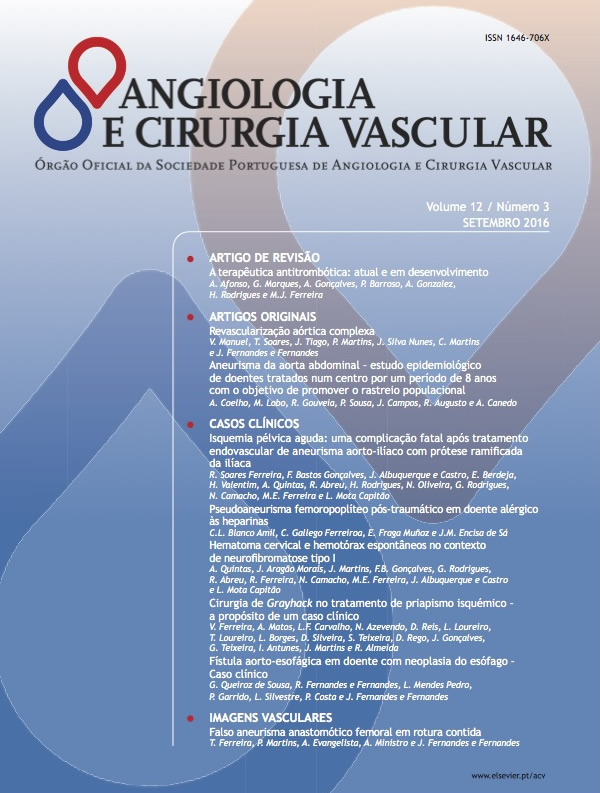 How to Cite
BLANCO AMIL, Carla Lorena et al. Post-traumatic femoropopliteal pseudo-aneurysm in a patient allergic to heparins.
Angiologia e Cirurgia Vascular
, [S.l.], v. 12, n. 3, p. 199-204, dec. 2016. ISSN 2183-0096. Available at: <
http://acvjournal.com/index.php/acv/article/view/7
>. Date accessed: 19 oct. 2017.